Green and sustainable growth is an inevitable economic trend that localities need to follow. To restrict investment projects that can threaten the environment at the start, the Vietnam Chamber of Commerce and Industry (VCCI) has recently announced the Provincial Green Index (PGI) and considered it a screening tool, contributing to greenizing each locality's production and business environment.
Vietnam's socio-economic development is causing significant challenges for environmental protection, especially as Vietnam is hoping to become a country with a high average income by 2030 and in the group of countries with a high income worldwide by 2045. Pham Ngoc Thach, deputy director of the Legal Department of VCCI, underlined this during a recent seminar titled "The Mekong Delta region develops the economy in combination with environment protection and release of PGI" held in Tra Vinh Province.
Challenges ahead
Vietnam now confronts challenges relating to environmental governance when the country's growth model has a common defect: it costs a lot of input energy, but control measures on development quality and the environment have yet to promote their effectiveness. This could lead to environmental incidents such as coal-fired power stations.
Pursuant to Resolution No. 24/NQ-TW in 2013 and Conclusion 56 in 2019 of the Politburo, the Government has had many crucial programs and policies such as Resolution 136/NQ-CP on sustainable development; the amended Law on Environment Protection 2020; and National Green Growth Strategies in 2021-2030 based on the implementation of the green growth strategy in 2011-2020 issued previously. Vietnam also joins many treaties and international commitments on environmental protection and climate change. Among those, Vietnam is an active member of commitments to net zero greenhouse gas emissions at COP26 and commitments to transition to green energy.
The Vietnamese Government targets to move toward sustainable development and green growth. However, as indicated by Thach, the Government's policies play a crucial role, but promoting the effectiveness of such policies depends on each locality, including the competent authorities, relevant agencies and the business community.
According to research conducted by VCCI, localities find it difficult to implement central policies. Firstly, information from actual situations is insufficient for localities to build programs, plans and actions. Secondly, local authorities need comprehensive policies to avoid the repetition of objectives and actions to achieve the best results, given an abundance of Government policies.
PGI participates in environment
One of the solutions that VCCI expects to help remove hardships for localities is an initiative to build the Provincial Green Index. The PGI – initiated by VCCI and supported by the United States Agency for International Development (USAID), originates from Vietnam's current situation, which will focus on supporting local administration in addressing challenges in the environment and climate change.
Simultaneously, it will contribute to building a sustainable growth model in Vietnam by creating a cooperation mechanism between authorities and relevant bodies, especially the business community. From the practical approach made by Vietnam, PGI was designed in a way that allows the locality to easily choose, determine and carry out solutions to improve the quality of environmental governance. "Criteria constituting PGI were set for the convenience of being applied, similarly to the Provincial Competitiveness Index (PCI) researched by VCCI and released annually since 2005," said Thach.
PGI will provide useful information and data for the locality's efforts in the renovation, helping determine good practices to spread positive messages and overcome shortcomings. This is a useful tool to support the local authorities in administration and management, added Thach.
For businesses and investors, PGI will provide useful references for manufacturing and business operation in localities, helping them know about policies and what should be prioritized. At the same time, policies given by localities and measured by PGI will enable investors to better seize business opportunities.
PGI has four component indexes and multiple criteria for measurement and evaluation. Of these, four component indexes include reducing environmental pollution and adverse impacts of climate change, ensuring compliance with the minimum environmental criteria, management role of the provincial authorities in promoting green practices and incentive policies and services supporting businesses in environmental protection.
The role of local administration
Nguyen Phuong Bac, head of the Bac Ninh Institute for Socio-Economic Development Studies, said that Bac Ninh had a green development plan from 2013, and green development is still crucial to this province. According to Bac, there are three issues that need to be resolved in the province: firstly, selective investment attraction. In 2013, Bac Ninh issued a list of business lines not subject to investment incentives. "This is an approach that helps investors save time as they will not need to deal with the provincial authorities if they cannot satisfy stipulated investment conditions," said Bac.
Secondly, addressing environmental issues for traditional handicrafts at industrial parks by converting industrial parks into urban areas. "One third of the industrial park will be converted to an urban area by 2030 as per the new planning," said Bac, adding that a major sector, which used to be the locality's strength, such as paper and steel production, could be considered for termination in 2026-2030.
Thirdly, there must be actual green projects that will function as samples for investors and businesses to refer to when they want to catch up with the trend of green growth. Underlining the importance of sustainable development and green growth, Vu Kim Chi, deputy head of the Quang Ninh Investment Promotion Department, said that to realize the policy, the management's mindset and vision are needed in planning.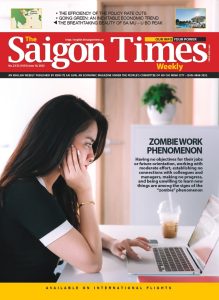 Quang Ninh Province boasts its coal mines, even in its city center. "We have applied technology to exploit cleaner coal," said Chi, stressing that the results came from a strategic vision of the local authorities.
Specifically, since 2013, when building a master plan on socio-economic development, the provincial authorities invited McKinsey & Company Vietnam Company Limited, a leading American consultant, to transition the "brown" economy to a green one, taking tourism and the processing industry as the central focus, which will be developed in a green economy model as indicated by the world's leading consultancy groups", Chi said, adding that "this is a foundation for our success today".
The green development stories of Bac Ninh and Quang Ninh provinces indicated that the provincial administration plays a crucial role in enhancing environmental protection in developing the economy. If a good policy could not be well implemented, they could hardly get results as expected.
According to Dau Anh Tuan, general secretary of VCCI, localities could apply the following measures: firstly, arranging law enforcement in environmental protection and conducting selective investment attraction. Secondly, prioritizing environmental protection and sustainable development in the public procurement programs of the local administration.
According to him, this is important as it helps orient local businesses and investors. Thirdly, consultancy to small and medium-sized enterprises to help them know about environmental protection policies.
According to Tuan, local administration could, in its authority, issue policies and provide resources to support projects in green growth. "There is ample room for local administration in this orientation," underlined Tuan and indicated that PGI will act as criteria for localities to screen investment projects when they start taking over a new one.