More than 29 years since its establishment, Novaland Group has been employing a growth strategy that harmoniously combines business and corporate social responsibility (CSR), with an attempt to spread love and kindness to the needy and create a better community. The community spirit at the group is far-reaching, with CSR activities performed in a wide range of spheres.
Taking action for a new normal stage
The role of a major group is reflected not only through its contribution to the country's economic growth, but also in its social practices, especially its actions during tough times like when the Covid pandemic hit the country.
Since the beginning of the Covid pandemic, Novaland, as a large group, and its parent company, NovaGroup, have actively accompanied the Government and the community in efforts to contain the health crisis through its numerous practical community-driven initiatives such as donating ambulances and medical equipment to hospitals and healthcare centers nationwide.
Apart from its support to establish concentrated quarantine centers, Covid field hospitals and intensive care units to improve the treatment for Covid-19 patients, Novaland has launched the zero-dong supermarket program to bring food and necessities to the disadvantaged people in areas under lockdown.
Countless nutritious meals have been presented to frontline medical workers by the group from the bottom of its heart as a way to spread positivity and offer encouragement to them for their determination in the battle against the pandemic.
Such Novaland-backed activities are aimed at spreading love and kindness around the country and enriching the community spirit.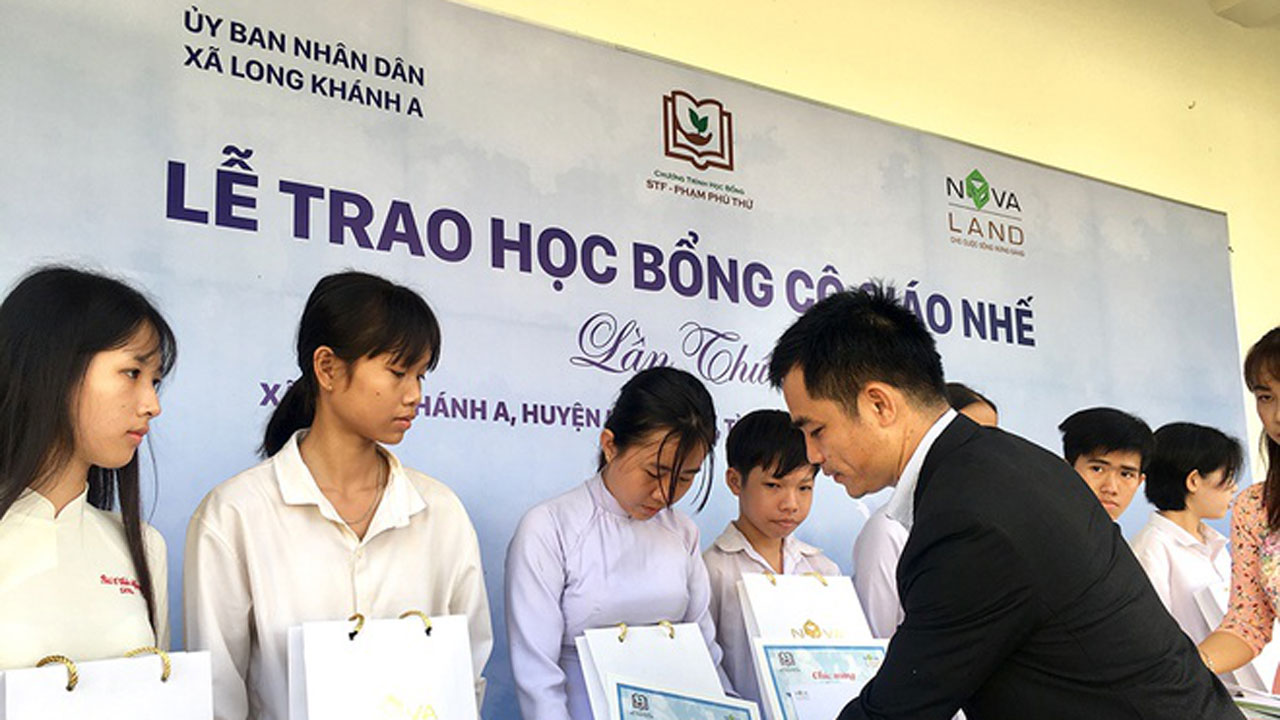 Sustained efforts to build a sustainable community
While making tremendous contributions during the tough times ushered in by the pandemic, the group has also attended to its regular CSR programs that have been implemented for many years on end.
Over the past 29 years, with its focus on education, health, social welfare and community development, Novaland has spent hundreds of billions of Vietnam dong on relevant social activities for millions of beneficiaries.
The "Clean Water for Schools" program sponsored by Novaland has reached out to many areas nationwide that are adversely affected by climate change, including Tan Tru District in Long An Province, Thanh Phu, Ba Tri and Binh Dai districts in Ben Tre Province, Nui Thanh District in Quang Nam, and Binh Thuan Province's Bac Binh District.
The program is aimed at bringing clean water meeting national standards to students and teachers at a slew of schools, contributing to creating a better life for children in Vietnam.
"Novaland's pioneering partnership in the clean and safe water program for schools gives a much-needed boost to the HCMC Sponsoring Association for Poor Patients, which launches the program, to provide schools facing difficulties in access to clean water with standard water," says Dr Tran Thanh Long, president of the association.
Furthermore, Novaland Group has used part of its own budget to implement various social programs for sustainable values, including awarding scholarships, protecting the marine environment, and collecting, classifying and recycling plastic waste to build a healthier environment.
Not only safeguarding the environment, the group has also sought to preserve nature by lending a helping hand to fulfilling the Government's goal of planting one billion trees. Novaland has kicked off the "Green Up Vietnam – One million trees for a bright life" in collaboration with its partners and customers, aimed at increasing tree coverage in many cities and provinces across the country. The program is expected to bring about positive impacts on the environment and minimize potential harm to the society.
In its journey to spread love and kindness, Novaland has maintained innumerable community activities for many years. Over the past 16 years, the Teacher Nhe Scholarship program launched by the group has benefited thousands of poor students in Long Khanh Commune in Dong Thap Province's Hong Ngu District. The program has also spent billions of Vietnam dong getting underprivileged students into school and helping many schools in the commune improve the teaching and learning quality.
After getting a scholarship, Xuan Quynh, a fourth grader at the Long Khanh A3 primary school, said, "Despite my family's financial difficulty, I have tried my best to study well and gained the scholarship from the Teacher Nhe Scholarship program for two consecutive years. We are going to study in a beautiful school sponsored by the program, so I will continue to maintain good academic performance to show gratitude to the benefactor."
In pursuit of bringing the best learning conditions to students, the group has donated VND10 billion to the Vietnam National University-HCMC Development Fund over the past three years from 2019 to 2021, built the Long Khanh A3 primary school and deployed the "School Meals" program for 5,000 students nationwide.
With the enthusiastic participation of Novaland's executives and employees in community programs, the group not only is fostering the sharing spirit, but also is on track for its goal that business operations go hand in hand with far-reaching CSR initiatives.