A liquidity squeeze is choking Vietnam's economy and banking system, making interest rate swings unavoidable
Interest rate hikes return
After a short period of interest rates easing, bank deposits took off again last week. Competition for savers in the banking system has intensified during the year-end, with more banks offering deposit rates of over 10%.
Saigon Bank for Industry and Trade raised its rates to 10% for tenors of at least 12 months, with the 13-month tenor offering the highest rates, at 10.5% annually. Interest rates for six- to 11-month tenors ranged from 9.6% to 9.8%. Overall, the bank has increased its annual deposit rates by 1.4-1.9 percentage points, placing it as one of the banks offering the highest interest rates.
An Binh Commercial Joint Stock Bank increased its 15-month tenors to 10.5%, while depositors who put their money in Global Petro Commercial Joint Stock Bank (GPBank) also enjoyed an annual rate of 10%, but with certain conditions. Clients of GPBank will be given an interest rate of 8.95% per year if they deposit over VND100 million. If they meet some requirements and own a golden bank card, the figure will add up to 10%.
An annual interest rate of 10% for 12-month tenors is also what Orient Commercial Joint Stock Bank (OCB) offers under its new incentive scheme for deposit mobilization starting from November 18 to 29.
Meanwhile, a 9% interest rate per year for its six-month tenors has become a standard deposit rate among banks at the moment. Banks offering such rates include Sai Gon Joint Stock Commercial Bank, Kienlong Commercial Joint-Stock Bank, Bao Viet Joint Stock Commercial Bank, and Petrolimex Group Commercial Joint Stock Bank, to name but a few.
Besides rate hikes, banks launch other promotional programs to woo savers. On its founding day, Saigon Thuong Tin Commercial Joint Stock Bank (Sacombank) presented an amount equivalent to half of the interest rate of six-month tenors to individual clients who have deposited over VND300 million for at least 12 months and half of that of one-month tenors to corporate clients who put over VND500 million in the bank. The program will last until December 31.
Sacombank's program is unique in the banking sector at the moment, as most banks tend to give promotions or offer additional interest for clients depositing huge amounts of money or important ones.
Banks under greater liquidity pressure
Over the past two months, banks have tightened their monetary policy on injections and withdrawals in the interbank market, causing continuous rises in lending rates.
Despite a significant drop in October, overnight rates stayed as high as around 4% to 5% per year, while short-term loans from one to three months hovered around 8% and six-month terms over 9%. With such high rates, the rates of one- to three-month terms in the interbank market have outstripped those in the domestic financial market by two percentage points. However, poor capital flows have been seen in the domestic markets, as financially-healthy banks refrained from lending out, forcing the others to attract savings by hiking interest rates.
Another cause of the current capital blockage is that banks keep the money to repay bonds as they are about to fall due or redeem bonds before maturity. It may now be challenging for banks to sell bonds and use the proceeds to settle their debts, as the bond market is in turmoil, coupled with tight control from the Government and bearish investor sentiment. Thus, banks must find ways to seek capital from households and corporations to cope with the setbacks of the bond market.
Data from the Vietnam Bond Market Association showed that many banks had recalled their bonds early from January to September, namely the Joint Stock Commercial Bank for Investment and Development of Vietnam buying bonds worth over VND12,670 billion, Vietnam International Commercial Joint Stock Bank VND8,800 billion, Lien Viet Post Joint Stock Commercial Bank VND8,000 billion, Sai Gon – Hanoi Commercial Joint Stock Bank VND5,450 billion, Tien Phong Commercial Joint Stock Bank VND4,900 billion, and OCB VND4,700 billion. On November 24, Lien Viet Post Joint Stock Commercial Bank continued to buy over VND1,810 billion worth of bonds under its right to redeem the bond prior to maturity.
Still, banks can succeed in issuing more bonds if market conditions allow. The management board of the Vietnam Joint Stock Commercial Bank for Industry and Trade, on November 25, agreed to adjust the 2022 plan for issuing bonds to the public and using proceeds from bond sales.
Accordingly, the bank is projected to sell bonds with tenors of eight and 10 years, totaling VND9,000 billion.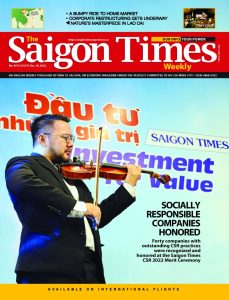 Last but not least, funding activities often decline by the end of the year, while competition for depositors intensifies in this period as credit needs usually surge during the new year, forcing banks to participate in the race to hike interest rates.
According to the latest figures released by the central bank, deposits of individuals at the end of September stood at VND5,630 trillion, up 6.38% over the beginning of the year. However, the figure only increases by 4.33% if corporate deposits are added, amounting to VND11,400 trillion, which lags far behind the credit growth of 11.05% from January to September. This shows that the banking system's liquidity is not as good as in previous years, while liquidity pressure has heightened since the third quarter of the year.