In recent years, the south-central coastal province of Binh Dinh has become a magnet for information industry professionals and home to local high-tech companies.
High-tech focus for the next development stage
Given its diverse socioeconomic advantages and well-developed infrastructure systems, Quy Nhon, the capital city of Binh Dinh Province, has been a preferred choice for ambitious investors, including Becamex VSIP Binh Dinh Industrial Park, FPT Technology Center for research, production, and training, and TMA Innovation Park, among others. Together, the endeavors have transformed the city into a science and technology powerhouse, taking the lead in the country's artificial intelligence (AI) and software technology research, development and manufacturing sectors.
In Quy Nhon City, the Technology Complex project by FPT Software is expected to facilitate the transition of the local growth model, with priorities laid on the industrial and services aspects. The project, approved in early 2023, is part of the provincial government's effort to bolster local high-tech, high value-added and marine economic industries.
The first phase of the project will be executed in the third quarter of this year, expected to make Quy Nhon City a Southeast Asian AI hub and an international experimental science center. It will pioneer in high-tech services, strengthening local enterprises' competitiveness and integrating technology into Binh Dinh Province's economic engine.
Quy Nhon City is one of the few provincial cities with fully developed road, rail, river and air transportation networks. With the improvements of the Quy Nhon Port and the Phu Cat Airport, the local government has made substantial efforts to enhance local traffic connectivity. As planned, the airport will be upgraded to accommodate international flights.
For those interested in sustainable business plans, Quy Nhon City appears to be a novel, appealing destination thanks to its tourism development potentials and convenient transit network for domestic and international travelers. More importantly, Quy Nhon's attractiveness could help woo many top-tier personnel at home and abroad, entailing a boom in hospitality service and housing demand in the city. However, a limited land resource for constructions is halting local realty development initiatives, especially those with prime locations in the city center.
Mixed-use properties dominate the market
Market-savvy developers have long taken notice of Quy Nhon City given its promising real estate prospects. Even so, service infrastructure, especially in the commercial and recreational sectors, has failed to meet the expectations of the newcomers, mostly Vietnamese and international professionals.
To meet the increasing demand, Hung Thinh Land, a real estate developer of Hung Thinh Corporation, has introduced the MerryLand Quy Nhon project on Hai Giang Peninsula. The complex offers a fresh supply of townhouses to quench the thirst for multi-use properties in the market.
The three-story townhouse with an extra loft provides 200-300 square meters of comfortable living space for workers and their families. The project's position delivers immense commercial benefits of a super-connectivity point. Each townhouse is conveniently located at the entrance to the MerryLand Quy Nhon project and in the dynamic center of Canal District. For homebuyers, the townhouse's proximity makes its ground floor available for commercial uses, such as leasing, opening showrooms, operating food and beverage stores or running fashion and souvenir shops. For tech businesses, the neighborhood could become a so-called technology street thanks to local residents' expertise. Its accessibility to regional areas makes it convenient for daily commute to work. FPT employees, for example, spend roughly 10-15 minutes from home to office.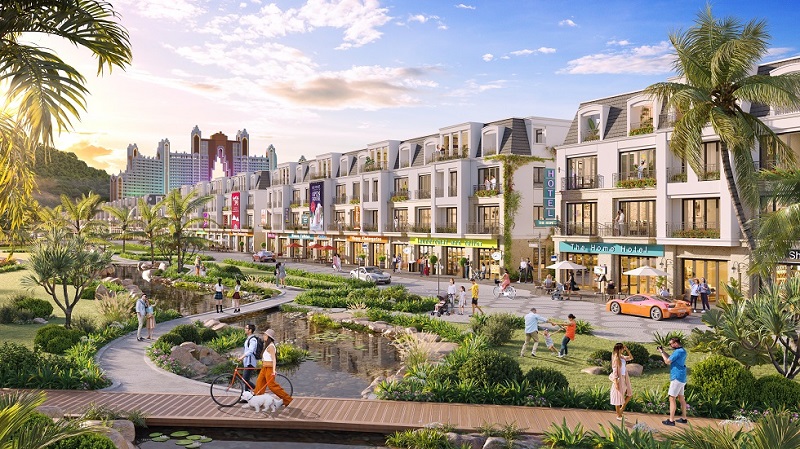 In the eyes of the locals in Quy Nhon City and the larger province of Binh Dinh, the project offers flexible options for those seeking to either buy a house or run a business. Hung Thinh Land strives to create a caring community with well-designed living spaces and high-standard conveniences.
As part of the project, there will be a musical fountain, an international-standard golf course, an adventure park and a convention and event center, as well as nearby educational and medical facilities to meet homebuyers' needs.
The townhouse is now available with many financial incentives, including a 3% discount on a closed transaction, an extra 4% discount for buyers who are not subject to the lending interest rate support policy, and a 1% discount on the second deal. Prior to property transfers, the investor also rolls out a 24-month lending interest rate support, as well as a 100% discount on management costs for two years and a 20-24% annual interest rate for each prepayment.