Despite weak global consumer demand, many foreign buyers are still looking to Vietnam for sourcing goods and business cooperation. This is crucial for manufacturers and exporters in Vietnam to seize this opportunity to retain existing buyers and attract new customers.
Promising opportunities ahead
It has been proven that enhancing trade promotion activities is one of the practical solutions to look for new orders, especially in tough economic times.
Cao Van Dong, CEO of Kettle Interiors Asia, stated that his company participated in the Vietnam International Furniture and Home Accessories Fair (VIFA EXPO 2023) in HCMC and received significant attention from international buyers.
Kettle Interiors Asia successfully sold 24 containers of wooden products worth over half a million U.S. dollars right at the trade fair. Over 40 new foreign buyers came to discuss supply opportunities and requested visits to their factory in Binh Duong Province.
Similarly, Huynh Thi Phuong Vi, deputy CEO of Hiep Long Company, said that after VIFA EXPO 2023, the company successfully gained an additional 20% of new customers, primarily from Europe and Australia. Notably, some of these customers have already started placing orders. "International trade fairs offer great chances for businesses to boost sales and look for new customers, especially amidst an economic slowdown," Vi said.
Currently, the Vietnamese wood industry continues to attract the interest of many international buyers due to its reputation for high-quality products and competitive prices. As evidence of this, the VIFA EXPO 2023 was attended by nearly 6,000 international buyers who came to seek product suppliers. Additionally, Vietnamese wood businesses at the fair signed contracts and memoranda of understanding worth nearly US$100 million.
The textile, garment, and footwear sectors are no exception. Quach Kien Lan, the founder of Bao Lan Textiles Company, noted that the company has continued to attract new buyers interested in establishing future business relationships. Notably, since its participation in the Global Sourcing Fair Vietnam in HCMC at the end of April, Bao Lan Textiles Company has connected with over 20 new international buyers for business links.
"These buyers may not be ready to place orders immediately. However, they are highly potential customers when the business market bounces back," said Lan. The majority of these buyers come from markets with strict requirements for product quality and sustainability, such as Europe, the U.S., the UK, and Australia.
Wei Hu, CEO of Global Sources, highlighted Vietnam's emergence as a global manufacturing hub through the success of Global Sourcing Fair Vietnam.
"Multiple buyers from the U.S., Europe, and Asia have approached us to establish connections for sourcing goods from Vietnam and neighboring countries. Importers from the U.S. and Europe are keen on finding business opportunities in Vietnam, Thailand, and Cambodia, instead of traditional supply markets such as Hong Kong and Japan. Furthermore, the growing quality and competitive pricing of Vietnamese goods have gained popularity among consumers in these countries," he said.
Vo Van Hoan, vice chairman of the HCMC People's Committee, believes that this positive signal indicates opportunities for domestic exporters to expand their target markets in the future. With many formidable challenges ahead, businesses need to make further efforts to create products that are suitable for the cultural, religious, and ethnic characteristics, as well as the specific regulations of each country.
Retaining customers
"Vietnam has received special interest from multiple countries in recent years, especially those seeking a reliable source market to diversify their products. Even when the world is suffering from the aftermath of the Covid-19 pandemic, Vietnam has seen an increase in the number of international buyers asking for new supply sources," said Wei Hu, CEO of Global Sources.
Apparently, there are ample opportunities for Vietnamese exporters and manufacturers to expand their markets. However, it is not easy for them to retain existing customers and embrace new buyers as they may face intense competition from multiple countries in the region, such as China, India, Indonesia, and Bangladesh.
At the HCMC EXPO 2023, Do Thang Hai, deputy minister of Industry and Trade, also emphasized that many countries have strengthened their trade protectionism amidst the adjustment of the global supply chain. Therefore, Vietnamese businesses need to regularly update information, change production and business methods, diversify trade promotion approaches, and align them with major global trends such as digital transformation, green transition, and technological advancements.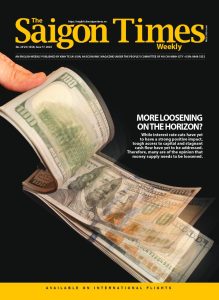 Stable product quality and competitive prices are always important factors in attracting customers. However, manufacturers and exporters are now required to satisfy stringent conditions set by brands and importing countries, including eco-friendly production practices, resource efficiency, and labor safety standards.
During a green exports forum held in HCMC on May 25, Nguyen Duy Minh, secretary general of the Vietnam Logistics Service Business Association, emphasized that the requirements for green supply chain transformation are now clearly defined and have a significant impact on the opportunity to secure export orders. It is no longer merely an aspiration but a tangible necessity.
Expert Vo Tri Thanh also believes that "green" and "digital" transformation are the two key priorities for businesses seeking to adapt to international market demands. "Going green is crucial for preserving competitiveness, sustaining production, expanding international sales, and attracting brand interest," he said.
It is noteworthy that the requirements for green production are becoming more stringent. As an illustration, Thanh highlighted that the global textile industry now requires manufacturers to recycle excess fabric or defective products rather than dispose of them.
Businesses with ESG standards (Environmental, Social, and Governance) may receive more and better orders. Recently, while Vietnamese businesses have been grappling with shortages of orders, Bangladesh has secured its position as the world's second-largest textile and garment exporter and is working tirelessly to fulfill its orders. Bangladesh's achievement is the result of its non-stop efforts toward green transition.
Nguyen Dinh Tung, vice chairman of the Vietnam Fruit and Vegetables Association, said that Vietnam's major markets, including the U.S., Japan, China, and the EU, are focusing on the green economy and green agriculture. Multiple exporters with GlobalGAP and SMETA have seen good growth in export orders and values.
Tung said that the entire fruit and vegetable industry recorded a 20% increase in export revenue to US$1.4 billion in the first four months of this year. It stood out as one of the rare sectors with positive and high export growth in the current challenging situation.
The green economy is a clear growth trend in the world, so Vietnamese businesses should invest immediately in this trend instead of waiting for their importers to impose regulations. Moreover, many experts believe that the green transformation requires a lot of effort from both individual businesses and the Government.
In search for effective collaboration
To achieve export growth and expand into new markets, businesses should enhance connectivity with each other and with the local authorities.
At the conference on market information held in HCMC on May 26, Nguyen Nguyen Phuong, deputy director of the Department of Industry and Trade, said that Vietnamese exports, in general, and agricultural products, in particular, have great potential to grow as the country has signed numerous Free Trade Agreements (FTAs) with most major export markets. However, many businesses have yet to take advantage of those agreements.
"One of the crucial solutions is for export businesses to strengthen their connections and collaboration with partners to meet the technical requirements of export markets," Phuong suggested.
Statistics from the Department of Industry and Trade show that HCMC is currently home to thousands of foreign-invested enterprises, representative offices of foreign traders, and numerous foreign trade agencies. Therefore, the city could be considered a convergence and connection point for export supply chains.
Regarding agricultural products, Dr. Ha Thuy Hanh, former deputy director of the National Agricultural Promotion Center, highly appreciates the linkage between HCMC and the 13 provinces in the Mekong Delta region. This collaboration helps create consistently high-quality products and reduces logistics costs.
Nguyen Dinh Tung, chairman of Vina T&T Group, believes that product quality and brand reputation are key to success. To expand into new markets, businesses must have an abundant source of raw materials and quality products that are distinctive and suitable for the importing country and its target consumers.
Along with a skilled workforce, it is essential for businesses to closely collaborate with farmers in establishing a sustainable supply chain throughout the entire process, from seed selection and cultivation to harvest. Moreover, Vietnamese exporters should also focus on their digital transformation, as well as leverage online platforms and marketplaces to reduce costs and enable faster access to customers.
These are some of the insights and recommendations provided in the article "Bright spots amid the gloom" by Hung Le, which highlights the opportunities and challenges facing Vietnamese manufacturers and exporters in the current economic climate. It emphasizes the importance of trade promotion activities, green and digital transformation, and cooperation among businesses and with the Government to retain existing customers and attract new buyers.