Corporate social responsibility (CSR) is no longer a novel term for companies in Vietnam. When a company implements its CSR just as well as with its business strategy, not only does its market competitiveness increase, but its ability to contribute positively toward sustainable development and addressing social issues is also complemented as well.
Putting elements of CSR into practice
A study shows that CSR can be defined in 37 different ways and this is why it is important that our efforts are to focus on identifying a universally applicable definition to help us steer our CSR activities. It has become common to see corporates in Vietnam resorting to the Pyramid model of CSR by Prof. Archie B. Carroll from Georgia University in 1991. The model suggests that corporates are bound by social responsibilities on four dimensions, namely economic, legality, morality and philanthropy
The development of a CSR strategy focusing on either one or more dimensions is additionally up to the corporate internal capacity. In reality, most companies have brought their CSR approaches beyond philanthropy, identifying CSR as an investment worth receiving further attention. For instance, there are large-scale companies promoting legality and morality such as Heineken, committing to neutralize the carbon levels at all of its breweries worldwide by 2030, and eliminate it by 2050. Or, Coca-Cola with its ambition for "A World Without Waste" has committed to protecting the environment by collecting and recycling Cola bottles and cans globally by 2030.
Overcoming the obstacles through success stories
Understanding CSR is the first step for companies to do it in sync with their realities. However, from having the awareness to practicing it right can be a tricky journey with external and internal hindering factors that would ask for committed investments by the companies. Some still find themselves struggling with resource associated matters – "We haven't been able to secure enough budget!", or "We are just too understaffed to initiate it.", "We are focusing our attention on other priorities.", etc.
In 2002, the World Bank conducted research on applying CSR in the textile and garment industry of Vietnam and found that there were barriers and challenges prohibiting companies. For instance, they noticed a significant difference between awareness and understanding of CSR within, and among Vietnamese companies. There was also a stark lack of financial and technical inputs to implement standards of CSR (particularly for SMEs), and a lack of transparency in CSR activities.
Examining success stories of CSR not only helps companies to gain awareness about CSR but also supports them to find solutions for said barriers. Engaging in this experience should reinforce their confidence in developing CSR as an indispensable part of achieving sustainable development goals.
EZLand and the Corporate Citizen strategy
At EZLand, the Corporate Citizen strategy is the duty to be carried out simultaneously with the rights and profits that EZL benefits from as a corporation.
EZLand is an ethical, impact and value driven business, holding social responsibilities of a company in compliance with the Vietnamese law and in alignment with the UN's Sustainable Development Goals. Based on this foundation, it has cooperated and synergized resources together with NGOs and local authorities to create long-lasting impacts on the community in terms of environment, social and governance issues.
Implementing the Corporate Citizen helps EZLand to enhance engagement and commitment with staff as well as its customers, develop sustainable projects, attract investment and build a positive image for the company. All these are deemed added values for EZLand.
EZLand has officially kicked off the Corporate Citizen program in 2019. Since then, it has been recognized as an EDGE Champion by IFC of World Bank Group which supports Vietnam market to move further with green projects at affordable pricing range; participated in GRESB assessment (Global Real Estate Sustainability Benchmark); been awarded the Brain-Child medal for a Covid fundraising campaign named "BreathAgain"; participated in the UNPRI for responsible investment coordinated by the United Nations; built the orphanage in Lam Dong and schools in the MeKong Delta, etc.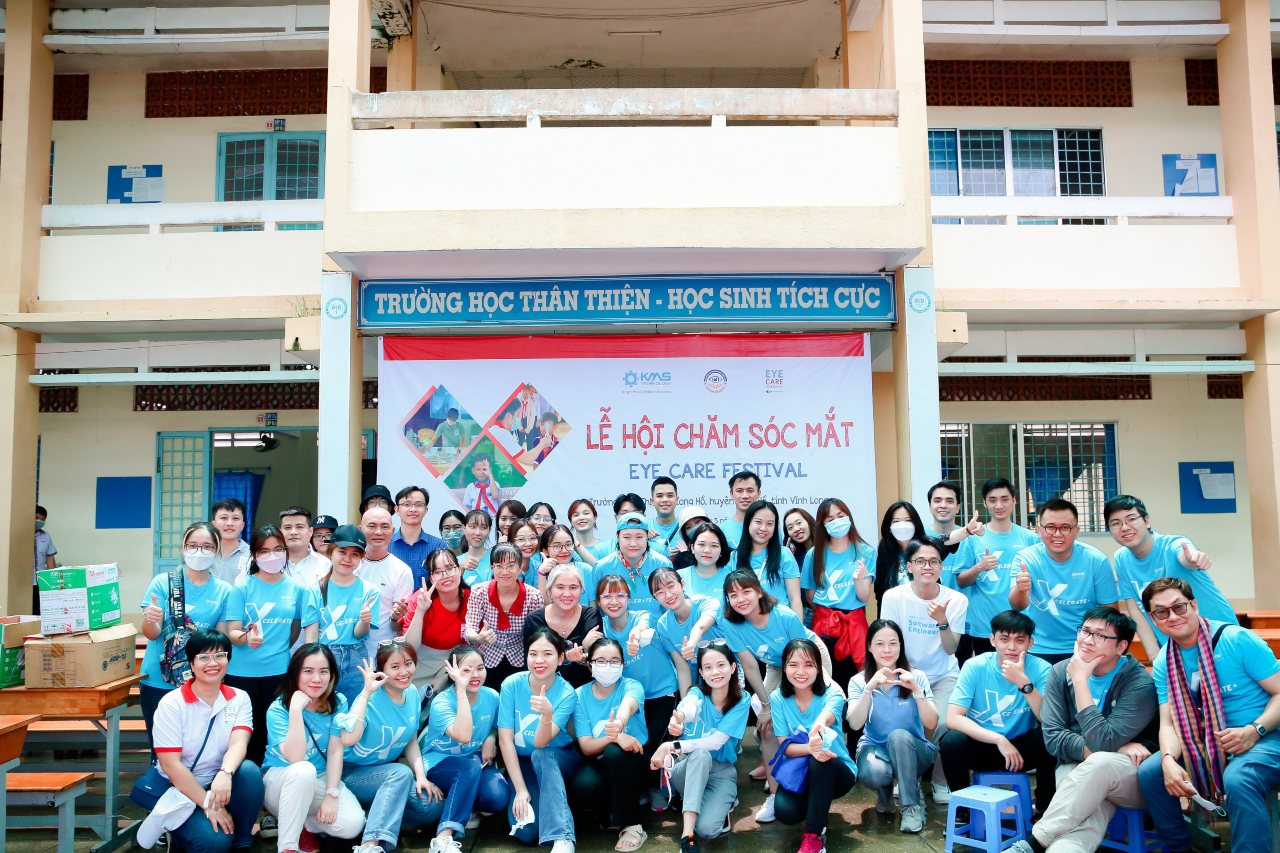 KMS Technology – Technical focused contributions
In giving back to the community, KMS looks to contribute in terms of technicality and to motivate staff to join forces. KMS is committed to donating 1% of product and service earnings and 1% of staff working time to society, concentrating on CSR programs with tangible and sustainable impact that can be measured properly.
KMS established KMS Gives, which serves as the focal point for implementing and monitoring the company's social community activities. It also plays as a facilitator of community initiatives from staff proposals. KMS further provides directions, information and support through project phases on behalf of the company toward individual staff and departments. The project activities come in diverse forms. They are, yet, rooted in a general provided direction and core values of the company. As a result, all CSR projects and programs are pinned with distinguishing traits of KMS. Thanks to this method, KMS is enabled to manage and implement multiple CSR projects without having to run a heavy operational body or over-strict regulations.
In the case of EZLand and KMS technology, cross-sector collaboration constitutes a recipe for a successful CSR strategy. The role of nonprofits such as LIN Center, Saigon Children Charity, Passerelles numériques, CHANGE in such collaborations is to be highlighted.