The above compliment is given by Gricha Safarian, CEO of Puratos Grand-Place Indochina (PGPI) when demonstrating his pride-worthy journey to create a sustainable cocoa supply chain in Vietnam with global standards.
Gricha Safarian, a Belgium chocolate enthusiast, has dedicated more than half of his life to the cocoa industry. In 1985, he founded the Grand-Place chocolate brand in his hometown. In the early 1990s, his spontaneous visit to Vietnam got him immediately to "fall in love" with the creative and hardworking people . As he saw Vietnam as a promising country for chocolate production, he moved here to make his vision come true.
In 2001, Safarian founded Grand-Place Vietnam (GPV) and opened its first Chocolate Factory in Binh Duong Province. GPV later turned into a joint venture between two Belgian companies joining forces in Vietnam, Puratos Group and Grand-Place Holding Belgium and was renamed Puratos Grand-Place Indochina (PGPI). Today, according to its own published data, Puratos Grand-Place Indochina (PGPI) holds a chocolate market share of around 65% in Vietnam. Also, it has become a prestigious ingredient provider for all bakeries in Vietnam. 60DAYS Chocolate is a passion by Safarian to fulfill his dream of developing unique-tasting and responsibly-sourced chocolate.
60DAYS Chocolate is the groundbreaking product of Puratos Grand-Place Indochina (PGPI) and the Puratos Group as it goes beyond industry standards. It aims to reinvent the chocolate process by combining fermentation in wooden acacia boxes with slow roast methods to create 'tree to bar' chocolate in 60 days. This process generates lower emissions, thanks to its close-to-source production and short transition time. From a taste and quality perspective, customers benefit from a fresher and more flavorsome product, with low sugar content.
Puratos Grand-Place Indochina (PGPI) recently achieved carbon neutral certification for 60DAYS Chocolate. This achievement is a demonstration of how Gricha has put his heart into Vietnam cocoa industry.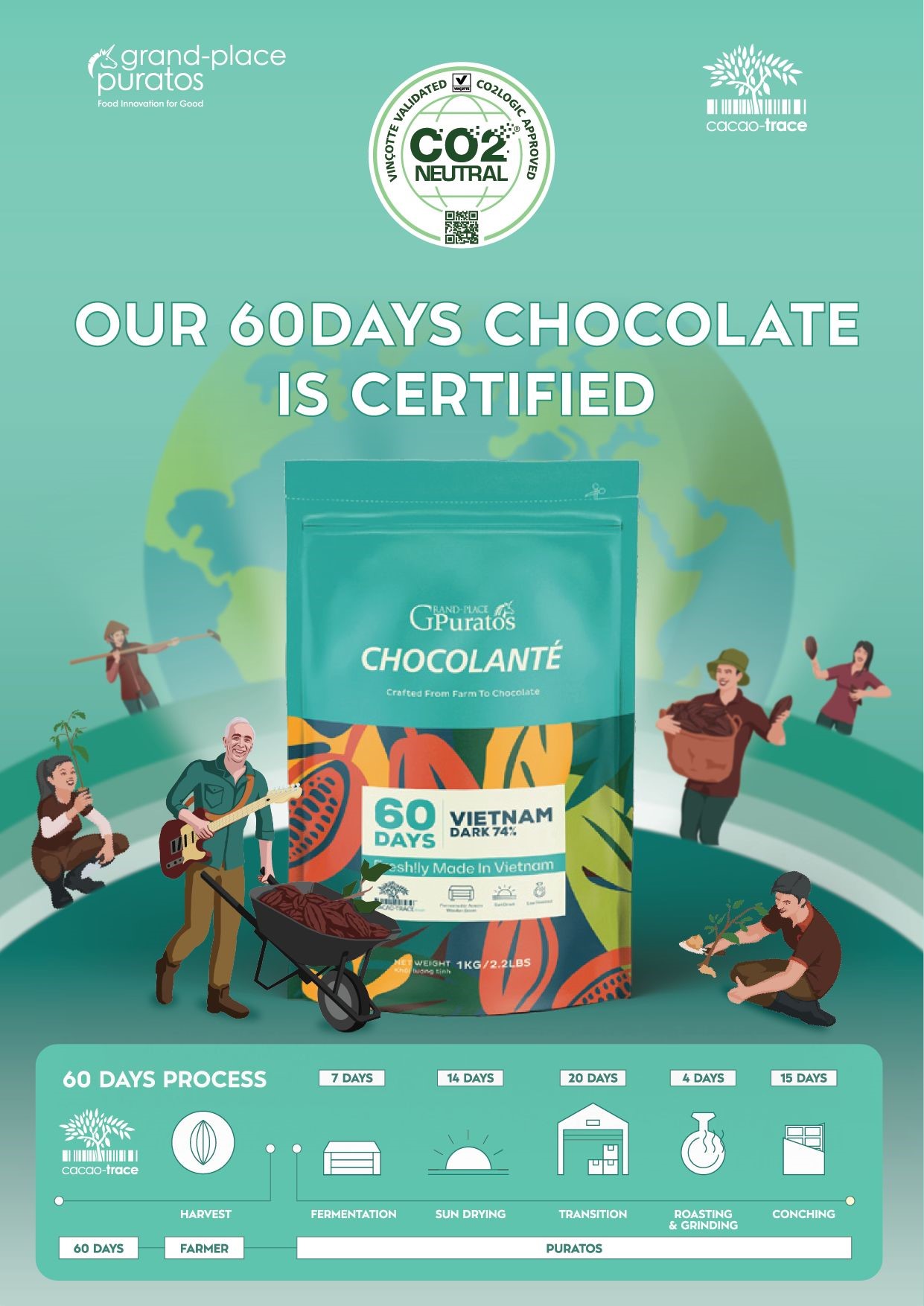 The Saigon Times had an interview with Gricha about his ambition of "greening" a cocoa supply chain in Vietnam to become a world-class sustainable model.
Born and raised in the "chocolate kingdom", can you share the dream of developing your own chocolate?
We are reaching our dream of developing in Vietnam, a cocoa-producing country, a fully sustainable chocolate with prominent points as follows: carbon neutral certified by a global leader in sustainability; environmental-friendly through tree planting programs; farmer-friendly through a system of profit sharing called chocolate bonus; cacao-friendly by developing new aromas in our chocolate via fermentation and slow roasting.
As PGPI CEO cum Honorary Consul of Belgium in Vietnam, what do you think about Vietnam's potential in the chocolate sector?
Vietnam possesses a huge potential to become a medium-sized cocoa-producing country, as encouraged by the International Cocoa Organization (ICCO). Unfortunately, this possibility has yet to be fully taken up. In contrast, despite a later start in the cocoa industry, the Philippines' production is far better today.
In your opinion, where does Vietnam stands on the world's sustainable development map?
In terms of willingness, I want to say that Vietnam is showing a very strong and pro-active attitude towards the green economy. It is too early to talk about the results. The green economy is a very long and challenging journey, in which the biggest challenge is greenwashing which takes place when companies make green claims without any action behind, just words. As per my estimation, in the world, 80% of sustainability claims by businesses are greenwashing.
Where does PGPI's participation in the sustainable development journey come from? Why did you choose this path?
I chose this path because this is the only option to build up a better planet for the future generations — our children and grandchildren. I want to share with you my great happiness that I just became a grandfather two weeks ago. I consider this to be my big motivation to do the right thing in business.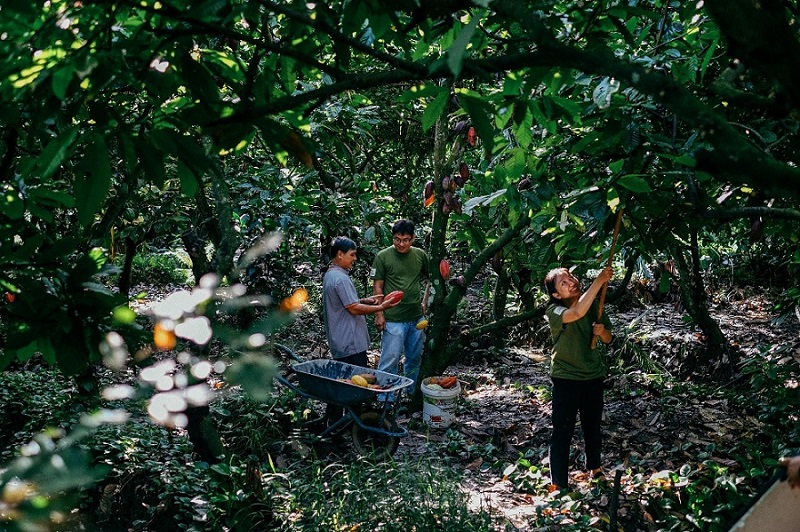 What are the challenges that you and PGPI have encountered in the journey to pursue carbon neutrality in Vietnam?
Carbon neutrality is quite an expensive journey. If the company sees it as a cost, it will not happen. It has to be seen as a mandatory investment with a long-term return.
Normally, a standard chocolate production process takes 6 months to 2 years. However, PGPI chocolate is produced in only 60 days. How do you do this? What makes it different from others, sir?
As I said at the beginning, our business model is based on processing the end product in the country where the raw material cocoa is grown, in contrast to most of our competitors, who process their final products and the intermediary products in different locations around the world. Not only do they emit a lot of CO2 via useless transports, but they also lose a lot of the taste through oxidation.
Up to now, the Carbon Neutral certificate for 60DAYS products is considered a great achievement which PGPI has made. What does this mean to you?
It simply means we are doing the right thing and we have to get better at it every day with a spirit of continuous improvement. I also want to influence my competitors to do the same, as it will improve the planet.
With current achievements on the ESG path, PGPI certainly will not stop. Could you please share the future development orientations/plans of PGPI?
We want to change the entire cocoa and chocolate supply chain worldwide. We have a white paper ready to be presented at the World Bank for a radical change in the practice of this supply chain.
And soon, sustainable development will be mentioned very densely in all aspects, in all industries and fields. Does PGPI have any sustainability commitments?
PGPI does not commit; we execute. We believe actions speak louder than words.
The upcoming 2023 is forecasted to be a challenging year for the world economy. So, what values will help PGPI overcome this instability, sir?
In my opinion, companies that are doing the right things in terms of higher purpose will go through any turmoil in a much smoother way than those who do not have an ESG strategy. Please consider this as my humble opinion.