Most enterprises have reported their profits for the first quarter of 2023. Besides those suffering a sharp decline as predicted, there are still businesses with unexpectedly strong growth, making their valuations attractive.
Looking for opportunities
The stock market staged a major rally on May 8, with the VN-Index picking up 13 points, or nearly 1.3%, marking its biggest gain in over a month. Moreover, the cash flows engaged got more dynamic toward the end of that session. Bank stocks were the market leader, with Vietcombank alone rising 3.6% and contributing nearly 3.9 points to the growth of the VN-Index.
Recent positive news about the banking industry, such as the downward trend of interest rates, the policy of debt restructuring, the extension of provisioning, or the repurchase of corporate bonds, seems to have started to permeate the market, serving as the driving force for bank stocks to react more positively. If this trend continues, May will probably not be as bad as feared.
Recently, the Governor of the State Bank of Vietnam (SBV) said that some US$6 billion had been bought since the beginning of 2023, equivalent to around VND140 trillion. Since credit growth remains sluggish, only 2.75% by April 25, the volume of dong injected into the banking system via the SBV's foreign currency buying may help keep the system's liquidity ample, creating favorable conditions for further interest rate cuts. Recent reports by the SBV show that both deposit and lending rates have gone down since the beginning of the year, with the central bank looking to further lower lending rates in the near future.
Meanwhile, the season for Q1 financial statements with negative results as forecast is gradually over. Investors are expecting corporate profits to recover soon. The fact that the monetary policy is being relaxed again, along with the more expansionary fiscal policy, will spread the growth momentum to the private sector and bring down financing costs in the coming months.
In particular, there are still businesses whose profit growth in the first quarter of 2023 was surprisingly spectacular, contrary to the general trend, making their stock valuations much more appealing.
With the prospect the stock market will likely continue to struggle, cash flows will probably get lured into these stocks to make gains and wait for the opportunity to achieve a breakthrough once the market enters a strong uptrend again.
Attractive valuations?
Thanh Dat Investment Development Joint Stock Company (HNX: DTD) saw its stock hit the ceiling for three of the four sessions from April 28 to May 8. The profit after tax of this firm unexpectedly soared to VND130 billion in the first quarter, 26 times greater than in the same period last year, taking its EPS (earnings per share) to nearly VND3,700 in the first three months alone and more than VND6,200 in the latest four quarters. Despite the rapid increase in its stock price in recent sessions, its P/E (price to earnings) ratio as of May 8 was still only 3.6.
Thanh Dat attributed such impressive profit growth to the fact that its subsidiary, Dong Van III Industrial Zone Infrastructure Development Investment Joint Stock Company, has entered into an agreement with its new partner on the lease of the premises available in the second phase of Dong Van III Industrial Park, leading to a surge in its revenue from infrastructure rental and management. With this, Thanh Dat's profit will probably be much better this year. Since the target set for 2023 is VND150 billion, Thanh Dat has almost reached that level after just one quarter.
At Transimex Corporation (HNX: TOT), despite a modest profit of VND5.8 billion in the first quarter, this figure is still more than nine times higher than in the same period last year. With its small size and limited number of shares, this company still generated more than VND1,000 as EPS in the first quarter and nearly VND3,300 in the latest four quarters, making its P/E ratio only as low as 4.2 at present. The price of TOT, after a big rally in late February, has mainly moved sideways within the range of VND13,000-14,000 per share with relatively meager liquidity.
Rang Dong Light Source and Vacuum Flask Joint Stock Company (HOSE: RAL), a company with the tradition of offering very high EPS and paying dividends regularly, has also achieved considerable growth in its Q1 profit, earning VND182 billion, up 42% year-on-year.
Its EPS was nearly VND8,400 in January-March alone, taking the accumulated EPS of the latest four quarters to over VND24,800. Although its stock price has shot up more than 20% in just a month, its P/E ratio remains enticing at around 4.3.
Kinh Bac City Development Holding Corporation (HOSE: KBC), thanks to its substantial revenue from industrial park leasing, has posted a two-fold increase in its Q1 profit, about VND941 billion. Its EPS in the first quarter and the latest four quarters was respectively over VND1,300 and more than VND5,900, with a P/E ratio of 4.4, as the price of KBC has almost been flat in the year to date. A disadvantage of Kinh Bac is that its profitability is are often unstable, like how in the fourth quarter of 2022, the company reported a loss of VND540 billion.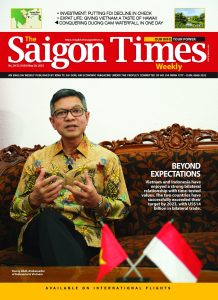 In the banking group, some banks now have a relatively low P/E ratio, with their profits growing further in the first quarter. Citing Saigon – Hanoi Commercial Joint Stock Bank (HOSE: SHB) as an example, its Q1 profit rose 12% year-on-year and its P/E ratio is now 3.9. The respective figures for Military Commercial Joint Stock Bank (HOSE: MBB), Vietnam International Commercial Joint Stock Bank (HOSE: VIB) and Asia Commercial Joint Stock Bank (HOSE: ACB) are 11% and 4.3, 18% and 4.7, and 26% and 5.6.
In addition, a number of other businesses also enjoy significant growth in their profits. Dinh Vu Port Investment and Development Joint Stock Company (HOSE: DVP) has reported a profit after tax of VND105 billion, nearly double the year-ago figure. Vinhomes Joint Stock Company (HOSE: VHM) made a profit of over VND11.91 trillion, up 162% year-on-year. Vietnam National Reinsurance Corporation (HNX: VNR) reaped VND10 billion in profit, a surge of more than 150%. The Q1 profit of Son La Sugar Joint Stock Company (HNX: SLS) is put at VND81 billion, up 143% over the same period last year, whereas Binh Minh Plastics Joint Stock Company (HOSE: BMP) fetched VND281 billion, up 120%.