Besides limited technological capability, Vietnamese mechanical engineering enterprises are upset about their trained workers leaving for foreign-invested companies or searching for opportunities to work abroad in labor cooperation programs. Meanwhile, the number of fresh technical and mechanical engineering graduates remains low and they would have to be retrained if employed.
Current labor shortages
Viet Air Filters Manufacturing Corporation (VAF), an air filters and clean room equipment manufacturer whose output is over 100,000 products annually, is facing difficulties in recruiting skilled, professional and technically qualified workers.
Its sales manager, Phan Dinh Quan, said the firm needs to employ technical workers in response to the production expansion at its factories in Binh Duong Province in southern Vietnam and to make up for the layoffs caused by the Covid-19 pandemic.
It plans to hire 50 engineers and technicians this year, but the firm has employed only two or three new employees after three months of advertising job openings.
While technicians and engineers in the province are much-needed, workers in HCMC and other areas are unwilling to relocate. "Though we offer accommodation benefits and have a good welfare regime, we still fail to attract workers from HCMC and other provinces," he said.
Meanwhile, Lap Phuc Company, which specializes in exporting molds to France, Germany, Italy and the U.S., was concerned about employees leaving for foreign-invested companies after training at domestic firms.
Speaking at a conference on assisting small- and medium-sized enterprises (SMEs) in participating in global supply chains held in HCMC, Nguyen Van Tri, general director of Lap Phuc, said domestic SMEs in supporting industries are at a disadvantage.
According to him, fresh graduates of the technical and engineering fields often sought job opportunities in local companies. Due to their lack of experience, they might damage equipment and machinery, which costs the firm a lot of money. However, they quit after training or gaining some experience and apply to FDI firms.
"The more skilled workers moving to FDI businesses, the more severe the labor shortage among local enterprises," Tri said.
Businesses in the northern provinces also face the same fate.
According to the Promotion and Investment Assistance Board of Quang Ninh, the province needs more qualified workers to carry out high-tech projects, which resulted from a shortage of local factories and high-tech projects in previous years, forcing technicians and engineers to relocate to other provinces.
Disadvantages in the home market 
Human resources are valuable assets for manufacturing enterprises, yet they are easily lured. Vietnam is experiencing a shortage of mechanical engineering workers, Tri said, adding that he was distressed when managing agencies boasted about their achievements in labor cooperation programs.
He attributed the skilled worker shortages to labor export, as domestic companies help their employees sharpen their skills; however, they then look for job opportunities in foreign countries, while the education system has yet to provide workers that meet the market demand.
It is argued that working in countries and territories such as Japan, Korea, and Taiwan provides workers with well-paid jobs and opportunities to learn about advanced technologies. "However, reality has shown that they find it difficult to adjust to Vietnam's working pace after returning home," he said.
Meanwhile, experts attributed the reasons for workers seeking opportunities abroad to the uneven development of the domestic mechanical industry, lower salaries and obsolete technologies and equipment.
More is needed to attract quality workers 
Though labor demand in the mechanical engineering industry remains huge, parents and students express little interest in it and prefer other sectors such as information technology, finance and banking and business administration. This has forced universities to lower their admission scores to attract more learners, leading to a drop in quality assurance.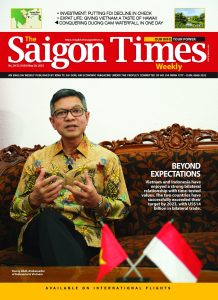 Besides, old-fashioned teaching methods, machinery and equipment have made Vietnam's mechanical training program inferior to other countries and affected training quality. Meanwhile, difficulties in recruiting new employees forced companies to devise good policies to maintain and retain their talent pool. Thus, VAF offers an average annual raise of 10% to keep employees.
As for Lap Phuc, the company reviews salaries for capable and dedicated employees every year and rewards employees with a 13-month salary and senior managers with a car allowance scheme.
Experts advise businesses to put a premium on human resource development and devise a mechanism that attracts young engineers and technicians from universities, colleges and postgraduate institutions.