The fourth Covid-19 wave has spread nationwide, with HCMC bearing the brunt of losses. The protracted pandemic has put millions of people, especially vulnerable laborers, at a disadvantage. Besides the support from the Government and local authorities at all levels and many associations and agencies, many enterprises have joined hands to support disadvantaged people with an aim to leave no one behind.
While many enterprises choose to make donations, in kind and in cash, to the poor through intermediary organizations, Saigon Construction Corporation (SCC), a local housing developer, has effectively reached out to the underprivileged via its own charity club.
The firm, through its Am Tinh Yeu Thuong Club, has launched multiple programs to help the poor, not only those affected by the Covid-19 pandemic but also people and children in poverty-stricken localities.
Marginalized people in the pandemic
Many laborers who have to toil away daily to earn their living, such as workers, stevedores, masons, vendors, lottery ticket sellers and motorbike taxi drivers, have found their subsistence tougher during the social distancing period that lasted for months in HCMC and many other localities, as they could not venture out to work.
To share the difficulties with them, since early July, SCC has coordinated with the Vietnam Fatherland Front Committee of wards, communes and districts of HCMC to provide meals to the poor in areas under lockdown and boarding houses. Despite the difficulties in travel during the social distancing period, members of SCC's Am Tinh Yeu Thuong Club actively transported food to these areas.
Nguyen Thi Nhung, a resident in Xuan Thoi Son Commune, Hoc Mon District, said she was moved when receiving food from the club, adding that it had been two or three days that she had not had such a quality meal.
When receiving rice from the club, Nguyen Thanh, a resident in Qui Duc Commune, Binh Chanh District, thanked the local authorities and the Am Tinh Yeu Thuong Club, saying that their support helped his family overcome the difficulties during the pandemic.
The happiness of these residents has strengthened SCC's motivation to continue spreading love to the needy.
As of mid-October, the club has donated more than 34,000 meals to the underprivileged in areas under lockdown, and 52 tons of rice to 10,400 poor households in 32 wards and communes in Thu Duc City and Binh Tan, 12, Tan Phu, Binh Chanh and Hoc Mon districts.
Additionally, the club has presented 5,500 protective suits, 1,000 medical face masks and other medical equipment to frontline forces in the fight against the pandemic.
These programs cost a total VND2 billion.
The donations have given frontliners and poor residents a leg up over the difficulties caused by the pandemic.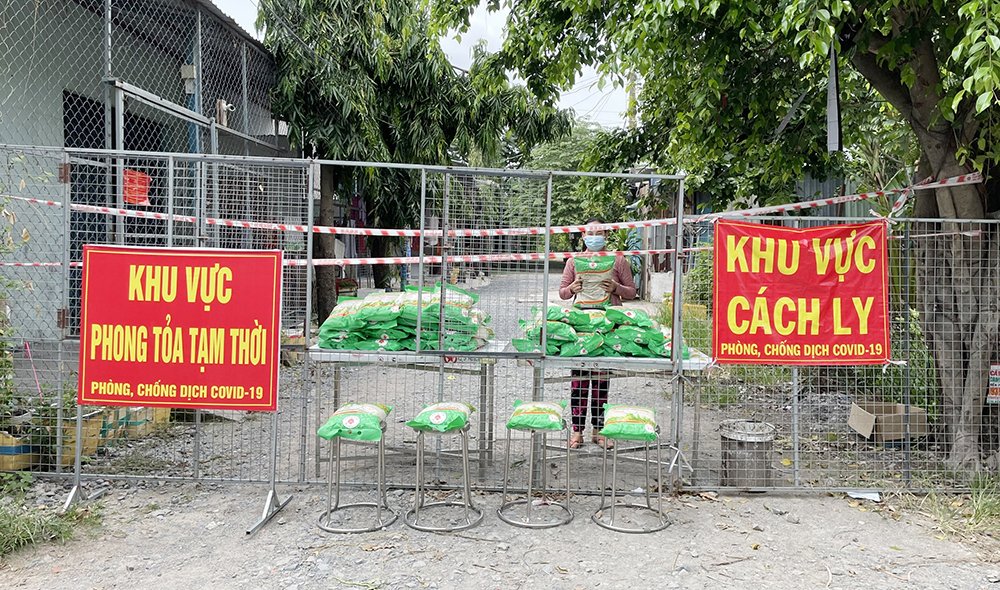 Supporting poor children
Activities to support vulnerable people during the pandemic are just the latest good deeds by members of the club.
Since the club was established in June 2019, the Am Tinh Yeu Thuong Club has sent its members to various parts of the country to soothe the sufferings of poor people.
In July 2019, or just weeks after the club's establishment, its members visited and handed 200 gift sets to students and poor households in five out-of-the-way communes in Binh Dinh Province's An Lao District. The next month, many club members visited a boarding school for ethnic minority children in a hinterland comune named Sang Ma Sao in the northern upland province of Lao Cai's Bat Xat District, and gave notebooks to the children.
Other beneficiaries of the club's charitable activities include children at two SOS Children's Villages in Dien Bien and Thanh Hoa Province, and residents in the Mekong Delta suffering from drought and salinity intrusion last year.
To date, the club has carried out 73 social welfare and education development programs worth some VND8 billion in 28 cities and provinces, such as building houses for dioxin victims, bridges for students, and schools. It has also sponsored libraries, presented scholarships to poor students who had excellent achievements and supported residents victimized by natural disasters.
The company is committed to its non-stop journey to share the difficulties with the disadvantaged to light up a brighter future.