The whole world is facing the problem of building material price hikes. However, developed nations may have to solve a problem even harder relevant to human resources, and this can provide Vietnam's construction industry with a wonderful opportunity.
In September this year, DR Horton, America's largest house developer, announced a cut of the number of houses it planned to build this year. The reason for the reduction was this home construction company could not employ enough workers. Nor could it make up for the late deliveries of building materials and rising costs. The United States is not the only place in the world to suffer from these dilemmas. Other nations are confronting the same issues.
Rising material costs
Prices of materials in general and those of building materials in particular have entered a new cycle of price hikes as a result of the disruption of supply chains due to the global pandemic.
Since the end of 2020, steel prices on the Shanghai Metals Market and the London Metal Exchange have surged to the highest level it reached in mid-2008. At the beginning of May, steel price set a new record at 5,975 yuan per ton before declining slightly in the two months that followed. Since August to date, steel price has been on the constant rise. On October 8, the price stood at 5,917 yuan per ton.
Covid-19 has forced manufacturers to scale down their exploitation of raw materials. The production of iron ores declined from 2.46 billion tons in 2018 to about 2.2 billion tons in 2020. It will take the market a few years to be able to climb back to the pre-pandemic level.
Additionally, as China, the world's largest steel mill, is pursuing its agenda for cutting the carbon footprint, steel mills across the nation were urged to bring down the steel production, improve the recycling ratio and encourage the application of electric arc in furnace technology. What is happening in China in line with this scenario will surely exert adverse impact on steel supplies in the future.
Considering the global backdrop, the demand for this kind of material has kept rising substantially as economic powerhouses—such as the U.S., the European Union and China—are on the recovery path bouncing from the bottom in 2020.
Last but not least, the construction industry has to go uphill with another problem that is prohibitive shipping costs because cargo ships have become harder to find.
Acute shortages of human resources
Experts have forecast that the shortage of materials and exorbitant prices may become less intense in the coming years. However, the lack of skilled construction workers is a harder nut to crack.
According to the Economist, about 88% of American building contractors said they were facing human resource challenges. The U.S. construction industry is in short of some 300,000 workers although salaries have been raised. In Britain, two-thirds of estate developers find it hard to recruit bricklayers and carpenters. Half of French building firms that engaged in a survey said they did not have enough recruitments to fill vacancies, which turns the construction sector into France's hardest hit sector. In Germany, a fifth of construction companies said they were lacking skilled personnel.
The shortage of skilled construction workers in developed countries has worsened because many of the work force have already aged. In the next decade, some 41% of the U.S. contingent of construction workers will enter retirement.
Recruitments have become a tougher job for headhunting companies, too. High school graduates have largely shunned from this profession saying it is too dirty, dangerous and tedious.
Automation may be a solution to the labor shortage. However, it has been integrated too slowly into the construction industry of these countries. Only half of construction enterprises have made use of robots to various extents versus the 80% rate in the car-making industry.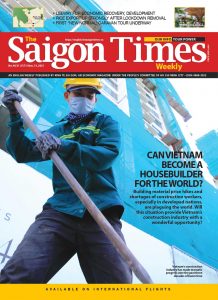 Opportunity for Vietnam's construction
The conundrums of the global construction industry, particularly in developed nations, may give an opportunity to Vietnam whose construction sector has taken great strides over the past three decades. It can be said that Vietnam incorporates all the basic elements of the industry, including building materials and human resources.
Le Viet Hai, chairman of Hoa Binh Construction Group, said the young work force in developed economies stays aloof to construction jobs, where the rate of skilled building workers is about 3,000/1,000,000 people. The rate in Vietnam is triple in size. The boom time of the construction sector over the past three decades in Vietnam has created a remarkable work force for the industry.
What's more, being a formerly importer of building materials, Vietnam has become an exporter of a number of construction products. In 2020, the total value of building materials in use in Vietnam was put at US$22 billion, accounting for 6.5-7% of the country's GDP (Gross Domestic Product), according to a source from the Saigon Construction and Building Material Association (SACA). Vietnam ranks fifth in the world when it comes to her cement production. In 2018, Vietnam produced 602 million square meters of floor and wall tiles, ranking fourth globally.
Vietnam's construction materials have gone beyond the national border. Dinh Hong Ky, vice chairman of SACA, said compared with three decades ago, when none of Vietnam's building products were exported, the country's building materials have now been exported to 120 markets. In 2020, Vietnam shipped abroad 101 million tons of cement and clinker, behind only China and India. However, building material production is an industry which is resource-intensive and consumes huge volumes of fossil fuel.
"It's time Vietnam had to introduce her finished construction products to foreign countries," said Le Viet Hai. Retail of construction materials or export of labor is no longer a good choice any more. Vietnam's supply chain of construction industry must forge close links among general contractors, construction service providers, material suppliers and designers to create high-value finished products. Vietnam may choose to develop one of her strengths, for instance, becoming a housebuilder for the world.
The local construction industry has made dramatic progress. In industrial construction, Vietnamese enterprises can execute construction projects in a short time. Mr. Hai argued that the execution management capacity of some Vietnamese general contractors is comparable to that of their regional counterparts.