I recently received a call asking for information on trademark registration in Australia. During our conversation, I found out that the caller was a Vietnamese living and working in Australia. She had come up with a plan to sell well-known Vietnamese agricultural products in Australia, for which she saw tremendous potential. Why, then, did she want to register a trademark in Australia?
The call reminded me of the dispute between VIFON and their agent in Australia, L&T Trading Pty Limited. Before acting as an agent, L&T in 2009 applied for protection of the VIFON trademark for the items the Vietnamese company sold. Therefore, after a period of conflict, VIFON sent IP Australia a request to revoke this trademark due to non-use (2018). Eventually, L&T remained the owner of the VIFON trademark for the items they do business with.
I can't help but think about the future of well-known Vietnamese brands in the international market. There are two questions that businesses interested in trademarks in foreign countries often ask: is there a mechanism for international trademark registration, i.e. a single registration for protection in all countries across the world? And why, when and how to register a trademark in the international market?
The answer to the first question is that the concept of an internationally protected trademark does not exist, since one of the basic traits of a trademark is its "territorial rights", meaning a trademark can only be protected in the nation or territory where it is officially registered.
In other words, a trademark registered and accepted for protection in Vietnam does not mean it is protected in the U.S. or Australia. For your trademark to be protected in any country, it must be registered in that country.
That is the reason you can't find the Burger King brand in Australia. In 1971, when Burger King set foot in Australia, it was discovered that a small restaurant owner already registered and owned the Burger King trademark. That was when the name Hunger Jack's was chosen to replace Burger King.
Reasons to register trademarks abroad
A trademark is an indicator to differentiate between goods and services of different organizations and individuals. For this reason, two identical or confusingly similar trademarks for identical or related goods or services are not allowed to coexist in the market of a nation or territory. Therefore, the application for trademark protection abroad gives businesses the confidence to develop and do business since their brand name has been officially recognized by law to be under their ownership via a trademark protection title. This protection also helps prevent infringements of the rights to trademarks that have been protected in foreign countries.
Without registration, businesses will not know whether a certain trademark has been recognized by law for protection or not.
In addition, a trademark protection title is an effective tool for dealing with counterfeits and the unauthorized use of domain names with an intent to resell the goods of someone else at a high price, also known as cybersquatting.
When is the best time for registration?
This depends on the strategy and business situation of each company. Here I would like to suggest a few occasions when enterprises should consider applying for trademark registration abroad:
First, enterprises need to register their trademarks in countries where their goods and services are currently available, whether they export and sell their items on their own or indirectly via agents in those countries. The cases of Pho Thin or VIFON struggling to reclaim their trademarks in Australia are clear evidence of the risks of not registering your trademarks before engaging in commercial activities in a foreign market.
Second, it is when enterprises intend to expand their business overseas in the next 5-10 years. This lays the foundation for their decision to expand or not expand or to take appropriate action upon learning whether their trademarks are protected in a foreign country or not.
Third, it is when they have been or are about to do marketing, communication and advertising activities abroad, even in cyberspace. It is because doing business in cyberspace is becoming more and more popular and has become more so ever since the Covid-19 pandemic with the presence of Amazon, eBay, and social networks such as Facebook and TikTok. Online selling sites are an increasingly big help for businesses to expand their customer base, not limited to just their home market as before. Therefore, it is necessary to evaluate the number of potential customers accessing and interacting via communication tools, another factor to consider when choosing a country to register your trademarks.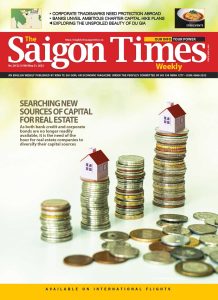 When should applications be filed?
The ideal time is as soon as your trademarks have been registered in Vietnam. The main reason for this decision is the "priority date" principle in trademark registration. Since most countries are already members of the Paris Convention for the Protection of Industrial Property, like Vietnam, they will allow enterprises to claim a priority (for registration) within six months from filing the first application.
For example, Company A filed a trademark registration application on April 20, 2021, in Vietnam. Five months later, it filed a similar application in the U.S. on September 20, 2021. In this case, Company A has the right to claim priority so that the date of filing the first application in Vietnam (April 20, 2021) is as effective as the date of filing their application stateside. Therefore, identical or similar trademarks registered after April 20, 2021, in the U.S. will not be accepted.
For trademarks that have been officially protected and used for a long time in Vietnam, the best time is, of course, as soon as enterprises intend to broaden their markets or discover potential customers in a foreign country.
How to register?
At present, there are two ways for enterprises to register their trademarks abroad. The first one is via the Madrid System for international registration of trademarks. By simply preparing an application for trademark registration in one language and paying the fee in one currency, enterprises can designate over 120 member states in the Madrid System. Also, it is possible to expand the scope of designation to more countries if there is a need in the future. This helps enterprises save a lot of money, time and effort.
However, the biggest drawback of this method is the principle of central attack, i.e. within five years from the date of filing, the international application depends entirely on the application for trademark registration in the country of origin (where the first application is filed).
In other words, if there is any problem that makes the application in the country of origin no longer valid, the international application will be invalidated in all countries. It is not until five years later that the international application will be completely independent of the trademark registration application filed in the country of origin.
The solution in this case is that the applicant exercises the right to convert the invalidated international application into a national or regional application within three months after they receive the notice of invalidation and pay the conversion fee as prescribed by the law of each country (priority date i.e. the date of filing the international application that has been invalidated in the country of origin is retained).
For nations and territories that are not members of the Madrid System, enterprises need to file a trademark registration application directly to those countries, such as Peru or Taiwan.
In the current era of thriving e-commerce, it is not rare for an entrepreneur selling handicrafts or coffee in Vietnam to have customers in Australia or the U.S. Therefore, along with business development, the strategy of broadening the scope of trademark protection in foreign markets needs to be given due attention to help Vietnamese enterprises confidently expand their business in the international market.
(*) Ngan Tran is CEO of Maygust Trademark Attorneys, Canberra, Australia.