HCMC – Phu Quy Island has emerged as an attractive destination in Binh Thuan Province due to its charming nature, fresh atmosphere and beautiful beaches. In the following article, we as a group of travelers recount our trip to the island off the south-central province.
After spending a night in Binh Thuan's Phan Thiet City, we got on board a high-speed boat to depart for Phu Quy Island. It was a beautiful morning when sunrays shone brightly on the calm sea. The immense sea and the broad sky clearly showed us how humans remained humble before nature.
An island of charming beaches
We were totally enchanted by the blue sea during the boat trip. Occasionally, silver fishes jumped out of the water onto our boat.
After we had traveled for more than six hours at sea, Phu Quy Island appeared before our eyes, looking like a giant whale.
Phu Quy, also known as Thu or Khoai Xu Island, is 16 square kilometers in size and about 56 nautical miles (more than 100 kilometers) from Phan Thiet City. The island has emerged as a new tourist destination embellished by white sand beaches.
On the weekend, the beach in Trieu Duong Bay was quite crowded. Mingling with tourists were many local people.
Aside from the wide beach, its white sand and the crystal clear sea, a forest of poplar trees is nearby, ideal for having a picnic.
Islets in different shapes and sizes dotted the magnificent sea view. We indulged ourselves in the cool seawater to feel waves slashing against us. What a relaxing emotion!
Aside from the beach in Trieu Duong Bay, other beaches—such as Doi Dua, Nho Ganh Hang, Mo Thay—were also wonderful.
Seafood is indispensable on a trip to Phu Quy Island. Local dishes prepared from king crabs and groupers satisfied our taste buds. Plus, the prices of the fresh seafood were quite reasonable.
There was no public transport on Phu Quy. But don't worry! Tourists could hire motorbike to go around the island.
A religious island
Historically, Phu Quy Island has received inhabitants from the mainland. It is now home to various ethnic groups. Around 90% of people living on the island are fishermen who are both friendly and hospitable.
Linh Quang Pagoda should be the first religious facility to be mentioned. The pagoda, which is said to be built 250 years ago, is where royal documents in Nguyen Dynasty (1802-1945) are displayed.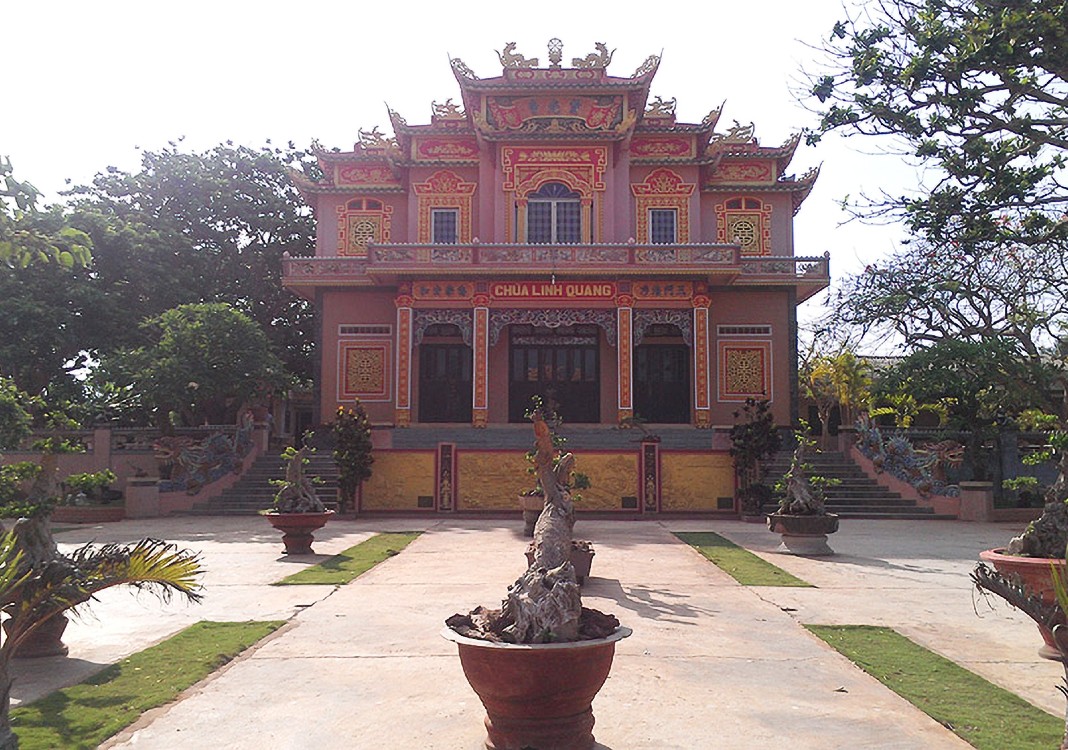 Linh Son Pagoda is another place where a giant statue of Avalokitesvara Bodhisattva is located on the top of Cao Cat Mountain. Locals consider the mountain a holy place.
Standing on the peak, we were able to admire the panoramic view of Phu Quy Island beneath. Since a long time ago, Linh Son Pagoda has been a venue for pilgrims nationwide.
Other religious shrines on the island preferred by pilgrims are Ba Chua Banh Tranh Temple, Cao Dai Ngu Phung Temple, to name but a few.
Among them, An Thanh Temple or Van An Thanh in Vietnamese in Tam Thanh Commune should not be missed. The temple is where whales are worshiped. Fishermen on Phu Quy call whales as Nam Hai God as they believe the whale protects and supports them in both their daily life and at sea.
On display at Van An Thanh are nearly 100 preserved skeletons of marine creatures, such as whales and turtles. The biggest of all was a 17-meter-long skeleton of a sperm whale which is the second biggest one in Binh Thuan. Islanders worship these skeletons as they consider them their ancestors.