Mr. Michael Koetsier is Vice President for Client Engagement at Skyrora UK Ltd., an orbital launch vehicle manufacturer that provides clients with low-cost access to space for a range of satellites. He has helped organize the Vietnam Space Week that took place this month in Hau Giang Province, HCMC, and Binh Dinh Province. The scientist also joined the Vietnam Space Week alongside NASA's astronaut Michael A. Baker and NASA's Flight Surgeon Josefs Schmid. Koetsier spoke with The Saigon Times about the importance of STEM in general and about nurturing the scientific spirit in particular.
The Saigon Times: I've got to know that you have promoted the organization of Vietnam Space Week to raise awareness about STEM career opportunities among young people to support Vietnam's ambitions to build on the global space sector. What is the outcome that you expect from this much-awaited event in Vietnam?
Michael Koetsier: The outcome that I'd like to see is a raised awareness in young people that a STEM career can be very varied and exciting – but importantly open to everyone who wishes to pursue it. I hope that by hearing wonderful and inspiring stories from Mike (Michael A. Baker) they understand that it takes many people working together to enable a person to visit space. In fact it's been estimated that up to 25,000 people can be involved in a single mission! And I hope they get a sense of the impacts that these missions can have on everyday life, in areas such as medical, computing and engineering. Are they aware that water filters were developed in the 1960s due to the need to sanitize water in space? Other items invented for space include cordless headphones, memory foam pillows, ear thermometers, freeze dried food, camera phones, scratch resistant glasses, long life tires and sports shoes.
And when they hear from Josef (the Flight Surgeon), they understand that you don't have to go into space to play a key role in putting people there – such as ensuring that the crew are healthy before they fly, that they remain healthy in space, and when they return to earth. In fact, medical people like Josef, although super important, are just a small portion of necessary functions – engineers, computer specialists, linguists, chemists, geologists, photographers, videographers, analysts, administrators, cooks, fitness coaches, drivers and many more are also involved.
You organized Scottish Space Schools Week in 2019 introducing young people to STEM career choices, and also supported the delivery of a space school in Scotland, with the involvement of many astronauts and scientists. Can Vietnam expect to have your support for a similar initiative, if any, in space science?
Our aim is to establish Vietnam Space Week during 2023, but the ambition is to continue to grow the event each year and to broaden the range of participants. The Scottish Space School is similar in concept and was established by Hyang Lloyd, a former NASA employee who retains an ongoing relationship with the organization. It has been running for almost 20 years and was credited with increasing awareness and demand for STEM related careers in my country. I have been fortunate enough to support her at this event for many years and the move to Vietnam was driven by my first visit to your beautiful country last year and a fortunate meeting with Mr Binh of Steamzone. He has gained support within Vietnam and our event from June 5 is down to a lot of hard work by many people. It will be good to broaden the event and to invite participation from your academic institutes to ensure that students can see a clear path for them to take.
Do you think the space science is of great value for a developing country like Vietnam?
I think that STEM (Science, Technology, Engineering and Math) career opportunities are an absolute necessity and of great value to any country, while enabling people to have a highly satisfying and well-paid career. If you look around the world you will see virtually every country has highlighted skills gaps in these areas and a desire to attract young people to consider such careers. The real need is to help those looking to understand the education required and the career path to follow. The world is hungry for technology and if Vietnam has the volume of skilled people, then demand for Vietnamese products will grow, and with that so will the Vietnamese companies. Additionally, those skills will attract foreign investors to consider establishing a presence in Vietnam, and this will create high value jobs and supply chain opportunities for many companies too.
It is widely recognized that one of the key foundations for a country's long-term prosperity is to nurture the scientific spirit. In your opinion, who are key stakeholders? Government, business or scientists? And how to stir up that spirit among young people?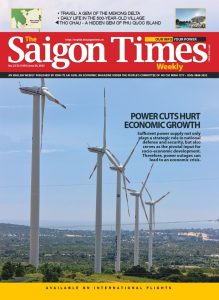 I'd agree that a key foundation for long term prosperity is to nurture the scientific spirit, and I'd suggest that this begins with nurturing young people – helping them see the opportunities, and importantly help them access them. There will be many young people who could be future Elon Musks but who will never have that opportunity because they feel they cannot afford to pursue the opportunity. It's very important to help them by providing some funding or scholarships, by creating apprenticeship, by encouraging entrepreneurialism at school and beyond. There's a role for parents to tell their children: 'They can be who they want to be', a role for educators and business to recognize the current and future demand and to work together to create the skills that will fulfil the demands, and a role for government to ensure that their priorities are clear and that support can be provided broadly across the country to give people everywhere access to these opportunities. Media also has a role as it has the ability to get inside everyone's home and to tell a story. Media can be the match that ignites the desire and awareness in your young people.
STEM development has been attended to lately in Vietnam, among the business community as well as government agencies, with STEAMZone Vietnam in Ho Chi Minh City and Explora Science Quy Nhon in Binh Dinh Province being some examples. As a practitioner in the STEM field, what do you think is needed to further inspire young people and the general public to pursue these science-based studies?
I love this question. As we get older most of us lose our curiosity and accept life as we know it. We need to inspire our people when they are very young to be curious and to learn to problem solve. I'd suggest that rather than make people stick to a process we encourage them to 'think outside the box'. We say 'ok here is the process but can you look at this problem from a different perspective and come up with a solution'. Young minds are inquisitive and not constrained by what they know is possible and what is not possible. In fact aren't we constantly finding that previously impossible situations suddenly have a solution? Many years ago a telephone was a fixed line, but now we carry a telephone in our pocket! Can you imagine having been stuck on a desert island 25 years ago and being brought back into the world as it is today? You would be amazed and a little afraid possibly. Therefore, to inspire our young people we must give them the opportunity to be curious, and we must teach them to problem solve by taking a different perspective. Encourage creativity and provide them with many opportunities to build this skill.
What is the key message you will present to young people in Vietnam?
The key message we will present to young people is that a STEM career can open the world to them. It will enable them to develop skills that are in significant demand both domestically and internationally, and that by having these skills their services will be in demand. Not only will they have the opportunity to have a great career with strong promotion prospects as they build their knowledge and capability. Additionally, as there is demand for these skills from employers, they will also have the opportunity to have a good financial income for them and their family.
Are there any other points you want to share with the Vietnamese audience that I fail to mention in this interview?
I think a key point is that we are all doing this because we believe in it and because we want to spread the word. Everyone is providing their time voluntarily and with no fee which I hope highlights the strong belief that we all have.
Thank you for your time.
Reported by Van Thang