The exchange rate and market volatility, alongside inflation, have been challenging many enterprises in Vietnam regarding domestic consumption and import-export management.
A plunge of consumption
In early October, Chu Thi Hong Lieu, a small delicacy trader, said that consumption dropped by 20-30%, with 50 to 60 purchase orders daily, more or less. It appeared that even when clients were offered discounts, not many were eager to spend money.
Facing the same fate, suppliers and distributors have faced challenges on multiple fronts.
Nguyen Van Tuan, director of MTV Suc Song Xanh Limited Company, a fruit distributor in HCMC, said that fruit imports fell 30% against the previous year, even down to 50% in the high-end segment. Customers used to have no problem buying cherries priced at VND500,000 per kilogram, which has just been adjusted down to VND300,000 in response to the dwindling demand.
Post-pandemic worries and fears have tightened the purse strings of the world. In the European market, the fashion denim item of Viet Thang Jean Co., Ltd., abbreviated as VitaJean, has seen a consumption reduction of 20-30% over the previous winter.
Pham Van Viet, chairman of the board of directors of Viet Thang Jean Co., Ltd., said that high-priced fashionable items suffered as consumers worldwide have started curbing their spending.
"Given the situation, we have no choice but to shorten the working days to five a week without overtime, waiting for goods shipments," he said.
Besides, he assumed the EU market could not regain its full strength until the end of this winter. Still, the U.S. market offered some hope amid the unpredictable conflict between Russia and Ukraine, causing fluctuations in the interest rates and inflation in the global market.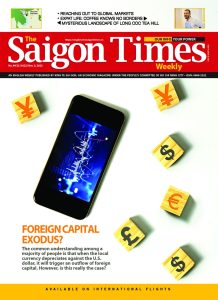 Pressure from economic volatility
Economic turbulence has decreased consumer demand and directly influenced business performance.
Nguyen Xuan Duong, chairman of the board of directors of Hung Yen Garment Corporation – Joint Stock Company, said that export-oriented industries such as textile and garments could not be exempt from the current exchange rate tension.
On the scale of comparison to Africa and Bangladesh, whose local currency lost value, Vietnam saw few merits. The company's purchasing order in the last two months of this year has been 50% ready, while customers insist on a 10-20% decline in machining rates.
Suc Song Xanh said the U.S. dollar skyrocketing globally has raised the cost of imported goods and eaten into consumption.
Unfavorable fluctuations in the currency exchange rate and the U.S. dollar's rise against the Vietnamese dong have spelled trouble for companies with a dollar-dominated debt, according to VNDirect Securities company.
The strong rally of the U.S. dollar in the global market entailed a hike in the cost of borrowing and principal debt, which were then cashed out into Vietnamese dong.
The director of a screw manufacturing business in Nha Be District, HCMC, shared that the interest rate hike posed challenges to short-term cash flows.
Given the situation, the Government has promptly offered businesses aid packages with preferential interest rates. Besides, importers and consumer goods retailers are encouraged to proactively seek client sources and well-proportioned sources of supply.