In early November last year, traders in the Saigon Square shopping center in downtown HCMC tidied up their goods, closed their stores and quickly left the mall when a market surveillance force rushed in. Three months later, the shopping center seemed to return to normal.
The Office of the United States Trade Representative listed the Saigon Square shopping center in its 2022 Review of Notorious Markets for Counterfeiting and Piracy (the Notorious Markets List – NML) released on January 31. What happened at Saigon Square was a great cooperative effort between Vietnam and the U.S. in fighting against counterfeits and protecting intellectual property in Vietnam.
However, the remote preventive measures applied by the U.S. are the only way to protect Vietnamese products from being counterfeited, committing origin fraud and a high tax rate as a trade remedy for the largest buyers of Vietnamese export goods.
Vietnamese market becomes notorious
In early November last year, traders in the Saigon Square shopping center tidied up their goods, closed their stores and quickly left the mall when a market surveillance force rushed in. Since then, the number of guests shopping at this mall has decreased.
Three months later, Saigon Square seemed to be back to normal. Tourists came to buy fake imitations of Nike, Adidas and New Balance sports shoes at several hundred thousand dong. Meanwhile, European visitors preferred buying counterfeit sportswear and winter clothes. The traders said the bustling trading ambience was only seen on weekends. As a result, many of them had to close their businesses.
This was the first time Saigon Square had been included in the 2022 Notorious Markets List, in addition to Tan Thanh Market in Lang Son Province and Shopee, an e-commerce platform. The market, located right at the heart of the city, was described as a place where a large number of different types of luxury goods were traded, such as handbags, wallets, jewelry and watches. USTR recognized the continued efforts of Vietnam in enforcing laws frequently and repeatedly to fight against counterfeits, but this organization thought that the fine was not strict enough and had a less deterrent effect.
USTR officially released its NML in 2011. This organization underlined that counterfeiting and intellectual property infringement seriously affected the benefits of the rights holders and enterprises in the U.S., causing a loss of around US$30 billion annually.
In 2017, USTR, for the first time, put the traditional Vietnamese wet markets into the NML, including the Ninh Hiep Market in Hanoi and the Tan Binh Market in HCMC. During the four consecutive years from 2018 to 2021, the Ben Thanh and Dong Xuan markets had been mentioned in many reports of the U.S.
Though these two markets were inspected frequently, the volume of counterfeit goods which were detained for handling was low. For example, the 2020 NML said Vietnamese authorities seized 1,276 counterfeit items valued at US$5,000 at the Ben Thanh Market in 2020. In another report, USTR urged Vietnam to reinforce and maintain preventive measures in trading counterfeits.
The bumpy battle against counterfeits
The global counterfeits market is valued at US$3,000 billion; among those, the U.S., France and Italy are the three largest markets. The losses suffered by consumers and manufacturers and the cost incurred by the law enforcement authority resulting from the counterfeiting amounted to US$600 billion annually.
Being considered a global workshop, China is also the cradle of counterfeits. The report of the NML 2022 stressed that China is the world's leading country in manufacturing and trading counterfeit goods.
The U.S. trade representative, Katherine Tai, showed that China's most popular messaging app WeChat was one of the largest platforms for counterfeits.
The counterfeit goods and contraband from China and those transited from China to Hong Kong accounted for 75% of the fake goods seized by the U.S. Customs and Border Protection in 2021. In previous discussions with the Saigon Times in HCMC, Peter Fowler, former senior adviser of the United States Patent and Trademark Office, said that counterfeit goods originating from China made up a majority of 80-87% of cases of counterfeiting detected in the U.S. in the past. Meanwhile, Vietnamese goods had a low ratio.
"Fake goods from China could be packaged and shipped to the U.S. via smuggling routes or by coordinating with local partners in Vietnam. We have detected Vietnamese tea, coffee and fish sauce being duplicated by China in the U.S. market. Besides, Cambodia's pepper and Thailand's jasmine rice faced the same fate. They targeted popular brand names of the farm produce of many countries," said Fowler.
Therefore, shipments from ports in China and Hong Kong were inspected thoroughly by the U.S. Customs and Border Protection. Corporate criminals usually copied trademarks and shipped the batches through many seaports of different countries such as Singapore, Thailand, the Middle East, and even Brazil; then, goods were transported by road to another seaport before arriving in the U.S. All these acts aimed to remove all traces of the crime.
Goods of popular brand names and well-known products are at higher risk of being counterfeited. The cross-border corporate criminals always managed to ship counterfeit goods from 300 seaports worldwide to the U.S. market. When a batch is considered counterfeit or declared as faked goods by USPTO, FBI, FDA or other U.S. authorities, it is immediately destroyed.
"We will inform the legal owner of the products. They can use the provided information to conduct an investigation, trace the origin and verify products on their own. They have to know how to protect themselves," underlined Fowler.
In a conference on fighting against counterfeit goods held by Vietnam and the U.S. governments in April 2019, the U.S. Department of Justice said they had established six offices worldwide in Hong Kong (China), Bangkok (Thailand), Kuala Lumpur (Malaysia), Bucharest (Romania), Sao Paulo (Brazil) and Abuja (Nigeria) to coordinate with these countries' authorities in fighting against the counterfeiting. The U.S. also set up 24 federal organizations and international law enforcement agencies to deal with this issue.
Smuggled goods transported via seaway are out-of-date in the age of information technology. E-commerce platforms such as Alibaba, Taobao, Amazon and eBay have become emerging playgrounds of corporate criminals. "With convenient payment and delivery methods, these e-commerce platforms are being used at their full capacity, making the fight against counterfeit goods tougher," Fowler remarked.
Prestige of Vietnamese goods
When the U.S.-China trade war began in early 2018, the then U.S. President Donald Trump imposed a tax rate of 10%, which was then adjusted up to 25% on products imported from China.
China, the world's top honey producer, has faced applied trade remedies by the U.S. since 2011. For many years, Chinese companies have transported honey barrels without a trademark to Thailand and Vietnam and divided honey into smaller bottles under the brand names of Vietnam or Thailand. This honey would later be shipped to the U.S. market at a lower tax rate. The U.S. market consumed up to 95% of honey imported from Vietnam. Since late 2021, the U.S. has applied the highest tax rate of 412.49%, putting beekeeping households and farms in Vietnam in trouble. Even when Vietnam succeeded in bringing the tax rate down to 60%, Vietnamese honey could not compete with India's product, which is subject to a tax rate of 5.85% in the U.S.
Chinese plywood was also transported to Vietnam, unsealed and packed before being sent to the U.S. under the brand names of Vietnamese companies. Chinese solar panels faced the same situation in Vietnam, Korea, Malaysia and Thailand before they were shipped to the U.S. market. And China was not the only country which was keen on Vietnam.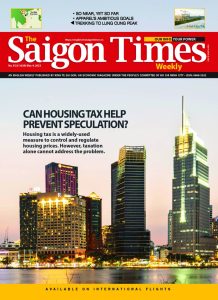 There are no official statistics on the volume of counterfeits passing off as Vietnamese goods in the U.S. market. However, according to USPTO and USTR, the counterfeit product volume originating from China has declined in the past three years in the U.S. market, from 87% in 2019 to 75% in 2022. The continued cooperation between the U.S. and China was finally recognized in the fight against counterfeit goods and illicit transhipment of goods, according to Fowler. However, the risks of counterfeiting under Vietnamese brand names are increasing.
Authentic Trung Nguyen coffee, Thai Nguyen tea, and traditional brand names of fish sauce have been copied by China and sold in the U.S. market. Thailand has also been counterfeiting Phu Quoc fish sauce for many years.
According to Fowler, the counterfeit ratio originating from Vietnam—under 1% in the U.S. market—presented an opportunity for Vietnamese manufacturers to boost the production of high-quality goods for export to the U.S. market. He said that "if you can step up the manufacturing of quality goods and strictly control counterfeits in the Vietnamese market, your prestige and reputation will increase".