The Ngan Thong Glass Bridge, the first of its kind in Dalat City to connect the Valley of Love tourist area and Thong Nhat Hill, has been opened to tourists since August 19.
The glass bridge is some 90 meters above a pine forest, with a total length of 325 meters and a width of three meters. It can serve 200 tourists at a time, from which tourists can have a panoramic view of Langbiang Mountain and part of Dalat City at a height of 2,167 meters above sea level.
Dalat's glass bridge was the fourth in Vietnam after the Rong May (Cloud Dragon) Bridge in Lai Chau, Tinh Yeu (Love) Bridge in Moc Chau, and Bach Long (White Dragon) in Son La. It is expected to serve as a unique entertainment complex in the city, attracting domestic and international travelers.
Admission tickets for the glass bridge cost VND400,000 each. Additionally, visitors can buy the combo option for VND600,000 to enter the entire tourist area and the glass bridge.
HCMC to hold mass wedding for 150 couples
The HCMC Youth Workers Support Center has announced that it will hold a mass wedding ceremony in mid-October for 150 couples who could not afford a proper ceremony for their love.
This event is expected to set a new record in Vietnam for the biggest group wedding, featuring the highest number of participating couples, according to the Tien Phong news site (tienphong.vn).
The eligible couples for the program were workers, teachers, ex-soldiers, laborers, and needy people working in industrial zones, export processing zones, institutions, and businesses in HCMC and neighboring areas.
They will receive free wedding rings, make-up services, wedding celebrations, photos, and health checkup packages. The organizing committee will grant housing support to those in great financial difficulty.
The HCMC Youth Workers Support Center will also organize the "Couple Run 2023" event to raise funds for the mass wedding. The running event is scheduled for August 27 at the Tan Thuan Export Processing Zone in District 7, HCMC.
Young ethnic minorities protect cultural identities
The costumes of the four ethnic minority groups – Nung, Phu La, Dao and Mong – are being preserved and promoted by young people in Xin Man District, Ha Giang Province, through a project to make dolls wearing such traditional costumes to be sold as souvenirs to visitors.
Hoping to preserve the cultural identities of the ethnic minority groups in Xin Man, and to have exclusive products to promote tourism and to earn income for local residents, the district's Youth Union has cooperated with its young members in four communes to implement the project to make dolls wearing the traditional costumes of these four ethnic minority groups.
Hang Thanh Tung, deputy secretary of the Xin Man Youth Union, told vietnamplus.vn that since March this year, the youth members in four communes have made quite a few different dolls wearing various costumes of the Nung, Phu La, Dao and Mong people.
To ensure the authenticity of the traditional costumes, the dolls with their traditional costumes are assigned to be made by the very people of these four ethnic minority groups, Tung said, adding that a youth digital agricultural cooperative would be set up in the near future to boost the production of dolls donning traditional costumes.
Young woman riding motorbike across four nations
Nguyen Thi Tuyet Minh, 29, spent 65 days riding her motorbike from Vietnam's HCMC to Laos, Thailand, Cambodia and back to HCMC, covering a total distance of about 15,000 kilometers.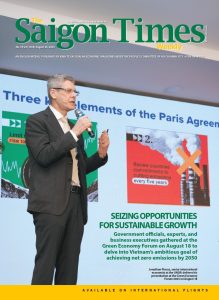 A travel lover, Minh started her longest journey on June 1 this year. She had her motorbike transported to Hanoi by train, while she flew to the capital city by air. She rode her motorbike from Hanoi to the northwestern region and then to Laos via Tay Trang border gate in Dien Bien Province.
In Laos, Minh rode her bike from Luang Prabang City to Vang Vieng Town, the capital city of Vientiane, Pakse City and Champasak Province, where she visited Si Phan Don before entering Cambodia.
From Siem Reap City in Cambodia, Minh went to Bangkok, the capital city of Thailand, and continued riding her motorbike from Bangkok to Siem Reap, and then to Cambodia's capital city of Phnom Penh, Sihanoukville City, Bokor Mountain and Kampot Province. She re-entered Vietnam via Ha Tien border gate to visit some provinces in the Mekong Delta.
Minh returned to HCMC after 65 days traveling across four countries on her motorbike, vnexpress.net reported.