Staying true to its name, Bach Moc Luong Tu boasts a majestic beauty with a dreamy landscape of clouds, fog and sunshine. It is not only a popular trekking path, but also offers a beautiful view of the sunrise over a sea of clouds that only a few places can match.
Bach Moc Luong Tu, also known as the Ky Quan San Mountain, is the fourth highest mountain peak in Vietnam, located 3,046 meters above sea level. It is a natural boundary between Lai Chau and Lao Cai provinces.
There are two ways trekkers can conquer the mountain. The first is to depart from Den Sung village, Sin Suoi Ho Commune, Phong Tho District, Lai Chau Province, while the other is to start from Ky Quan San village, Sang Ma Sao Commune, Bat Xat District, Lao Cai Province. The second route, with a total length of some 30 kilometers, is more popular because it is easier to travel.
It takes tourists at least three days to reach the mountain peak. Tourists can experience many different terrains, such as bare hills, bamboo forests, large wood forests, dwarf bamboo forests and steep cliffs covered with moss.
Starting from Sang Ma Sao Commune, trekkers follow the trail through terraced fields, cross over a slippery mossy stream, and pass through a primeval forest to reach Muoi (Salt) Mountain.
The 2,100-meter-high Salt Mountain is a beautiful spot to catch the sunrise or sunset on the way to Bach Moc Luong Tu peak. Tourists can admire the boundless and majestic beauty of the mountain, forests and traditional villages of the ethnic minorities.
On the second day, trekkers can continue the journey from Salt Mountain to Bach Moc Luong Tu peak. This is the most difficult route of the entire trip, with a rugged terrain and craggy cliffs on both sides of the path.
Visitors should follow the small flagstones to ensure a safe journey to the peak.
At the top, and touching the Ky Quan San landmark, visitors can see the entire northwest landscape from above and enjoy the fresh air. While beautiful clouds only exist for some 10 days on the Fansipan Mountain peak, the sea of clouds in Bach Moc Luong Tu can be seen all year around.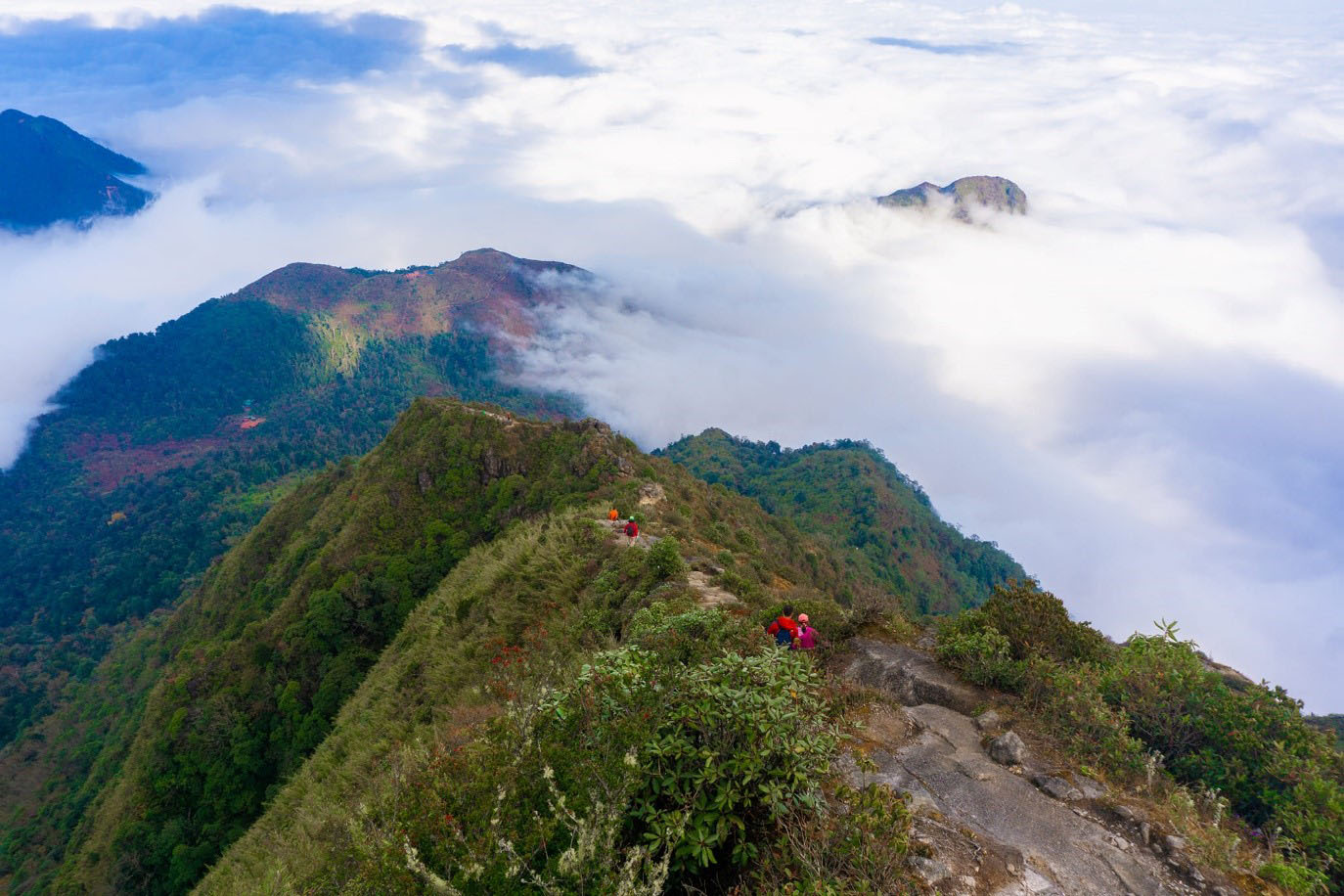 After reaching the top, trekkers can return to Salt Mountain to have dinner, rest overnight and head to Sang Ma Sao the next morning to complete their journey.
The end of August until April is the best time to travel to Bach Moc Luong Tu because the weather during this period is neither too cold nor too hot.
In addition, climbing the mountain in the winter is a challenging experience, but it also offers an eye-catching scenery of the snow-covered mountains. If trekkers experience the Bach Moc Luong Tu trekking route for the first time, it is recommended to take a guide along and carry the appropriate equipment.