From the aspiration and will of Founder and Chairman Luong Tri Thin, after 20 years of formation and development, the Dat Xanh brand has become known as a professional project developer, through hundreds of thousands of outstanding products and services quality, towards the motto "Creating a superior life".
DNA of mighty will and great desire
When the first office of Dat Xanh Real Estate Construction and Services Co., Ltd. was launched, Founder Luong Tri Thin determined that his business must have the DNA and physique of someone who dares to think big and do big to work on and contribute to solving the forthcoming challenge of providing superior products and services in the field of real estate, thereby enhancing the value of human life and Vietnam. The solution to such a great challenge is also the answer to Dat Xanh's strategy of becoming a strong real estate corporation.
With preparation made of great will and aspirations, along with a spirit of national pride, the next 5-year, 10-year, 15- and 20-year milestones shall continuously witness the outstanding development of the Dat Xanh brand. With total assets of more than VND30,000 billion, possessing the strength of extensive experience and more than 100 member companies nationwide, Dat Xanh is a pioneer, holding the largest market share in the real estate services sector with more than 33%, distributing more than 500 projects with a strong and extensive distribution system throughout 63 provinces and cities nationwide.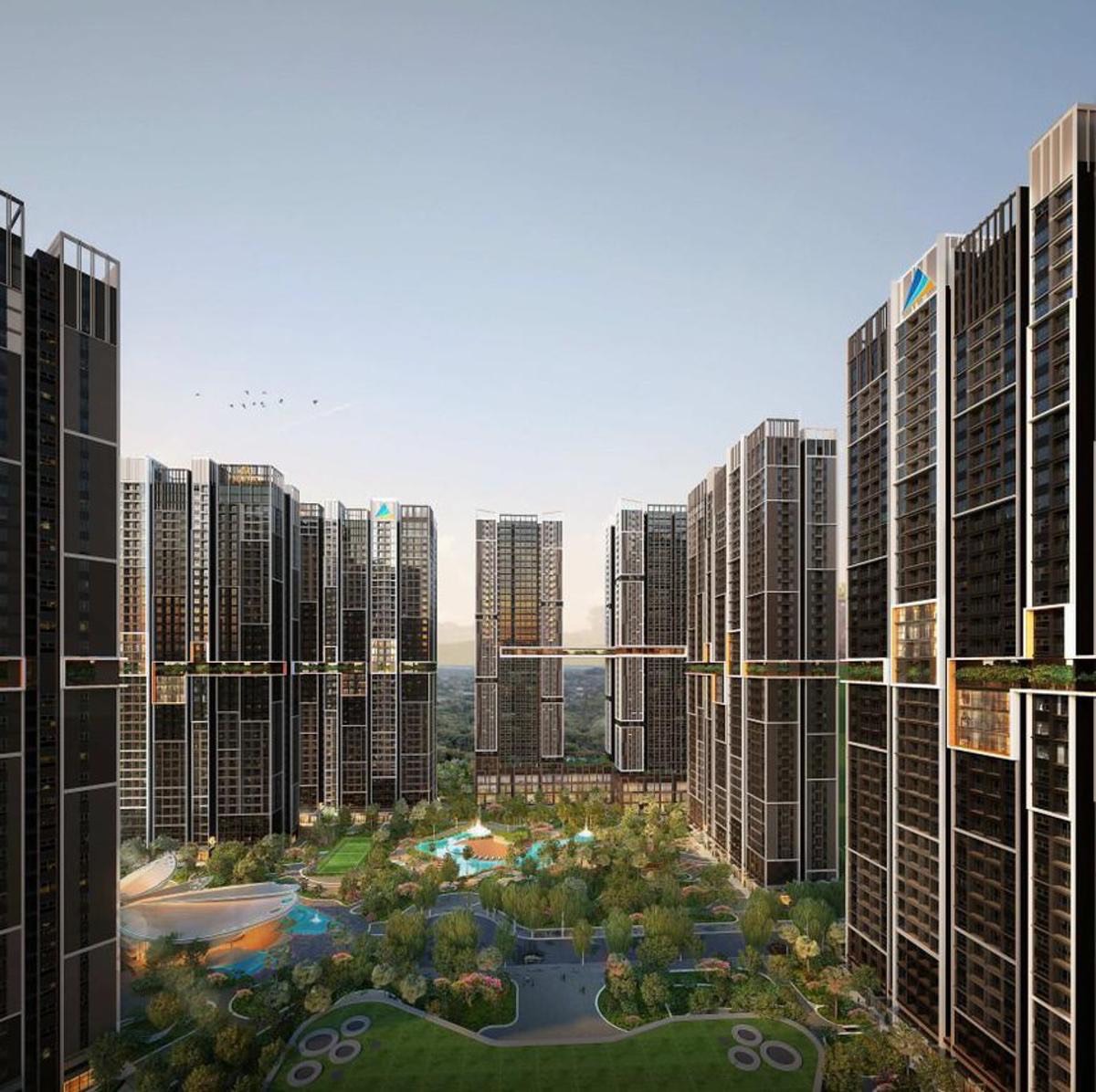 Regarding project investment, Dat Xanh Group is the developer of a series of real estate projects such as Sunview Town apartments; the luxury apartment product lines with the Lux brand: LuxCity, LuxGarden; the Opal brand: Opal Riverside, Opal Garden, Opal Boulevard, Opal Skyline; and the office – luxury apartments product line St. Moritz, Gem Sky World international airport urban area project. In addition, the Group invests in project development in localities with development potential such as Ho Chi Minh City, Vinh Phuc, Binh Thuan, Ninh Thuan, Hau Giang, Binh Duong, Dong Nai, Long An… In the medium and long-term strategy, Dat Xanh will develop more large-scale projects in prime areas that the Group holds such as DatxanhHomes Riverside, Gem Premium, Opal Luxcity, Opal Cityview,…
After 20 years of formation and development, Dat Xanh has become one of the leading corporations in Vietnam, operating in the field of real estate services; real estate development investment; civil infrastructure construction; financial investment and financial services.
In particular, in the future, Dat Xanh will continue to focus on technology development. Real estate technology ecosystems iHouzz (proptech), Fina (fintech) were quickly and successfully developed and well received by customers, determining Dat Xanh's leading position in the race for digital transformation in the Industry 4.0 era.
20-year journey of Dat Xanh – a journey of perseverance
Perseverance and determination in work are the phrases that partners use to talk about the founder of the Group. "Whenever it comes to work, the Chairman always radiates wholehearted energy and enthusiasm," Mr. Vu Cuong Quyet, General Director of Northern Dat Xanh, talked about his great teacher.
"He has been making all great efforts to bring the best jobs and remuneration to the group's employees. And more than that, the Chairman wishes that the efforts and dedication made by himself and each employee shall contribute practically to the country's journey to prosperity."
A prerequisite for Dat Xanh to become a strong real estate business is Entrepreneur Luong Tri Thin's long-term vision. He always takes this point of view seriously and reminds the leadership team and employees, especially the leaders of member companies and the units in charge of developing the market share in each region, of compliance.
Mr. Tran Ngoc Thanh, Chairman of the Board of Directors of Regal Group (formerly Dat Xanh Mien Trung), said that: "Chairman Luong Tri Thin has been famous for his business philosophy of 'Crises create opportunities, challenges create the future'. The Chairman is always ready to face up with any challenge so that each Member company can turn challenges into opportunities. He has actualized that mindset by setting a long-term vision, focusing on risk management, approaching risks scientifically and systematically, and building reserve financial resources for the Dat Xanh system."
According to the Chairman of Dat Xanh Group, recently, international and domestic socio-economic fluctuations along with a series of tightening monetary policies have imposed a strong impact on the real estate market. The market has been witnessing a critical purification. However, for him, this is an opportunity for enterprises. Only enterprises with courage, intelligence, desire, and quick adaptation can overcome difficulties.
With a multi-industry orientation, in the upcoming journey, Dat Xanh will diversify its fields of operation by exploiting its strengths, taking advantage of existing core activities, creating leverage to enter new markets besides real estate. With a team of elite personnel, Dat Xanh possesses extensive experience in the closed real estate development value chain, from trading and owning land, developing housing projects, to implementing other services such as real estate finance, real estate management, etc. Expanding into other business fields, Dat Xanh is expected to create diversity, increasing revenue, improving profitability, and growing strongly in the near future.
Challenges in business are something any business faces, however, calm acceptance, determination to overcome them and maintaining optimism are the ways Chairman Luong Tri Thin uses to run the Group, as well as inspire the leadership team and employees in the journey to build and develop the Dat Xanh Group system into a strong brand, towards the goal of "Efficiency – Longevity – Greatness".