Starting as Malaysia's leading real estate developer and entering the Vietnamese market in 2007, Gamuda Land Vietnam has since then been enhancing its corporate brand with programs that bring sustainable value for the community, along with developing long-term business goals. The company, aware of the importance of Corporate Social Responsibility (CSR) in business, has over the years made huge contributions under long-established CSR programs, while continuing to conceive new initiatives to support the community, especially disadvantaged people.
The most significant annual charity event "Run For The Heart" is an annual fundraising run that Gamuda Land has held since its inception in 2013. After a year of delay due to the Covid-19 pandemic, the 9th Run For the Heart was resumed in 2022.
This year's race track took place in the green township of Celadon City in HCMC. With the theme "Dream Run", more than 10,000 "Dream Carriers" have completed the mission of empowering young and strong hearts. On February 12, 2023, Gamuda Land announced the total amount raised in the event at over VND5.42 billion, which will be used to cover the cost of heart surgeries for 193 children.
As such, since its first year, Run For The Heart has raised over VND40 billion, helping save more than 1,500 Vietnamese children with in-born heart diseases. The strong interest in and response from the public, artists, and the strategic companionship of over 50 sponsors who are large domestic and foreign businesses this year are the driving force for Gamuda Land to maintain its regular program, trying to give strength to little angels.
It is expected that the 10th Run For The Heart edition will take place in the first quarter of 2024, at Gamuda City – an urban city located in the green area south of Hanoi developed by Gamuda Land. In the coming Run For The Heart 2024, Gamuda Land has high expectations for new fundraising milestones, stronger coverage, and access to more support from the community, so that with each passing year, there will be more children given a hope for life.
Gamuda Land also constantly strives to lend a helping hand to poor people across the country. Apart from VND200 million donated to Hanoi City's Vietnam Fatherland Front Committee on the occasion of the "For Poor People" Month and for other social initiatives in the capital city in 2023, Gamuda Land in April co-organized "Friendly Sports Festival for children with intellectual disabilities and developmental disabilities 2023".
With the theme "Let's fly together", the event welcomed the participation of more than 300 children and teenagers with physical and mental disabilities. They wholeheartedly participated in the event and spread positive energy, thereby enhancing the spirit of connection and integration with the community.
The year 2023 has also witnessed the launch of the Gamuda Land Scholarship in Vietnam – a program to support talented students who are facing financial difficulties. Developed under the management of Gamuda Group since 1996 – which has up to now provided support to nearly 650 young Malaysians to continue pursuing their studies locally and globally – the Gamuda Land Scholarship in Vietnam in its first year awarded scholaships to five students to help them continue following their dreams. Gamuda Land will maintain this annual program to promptly support talented young people in difficult circumstances throughout Vietnam.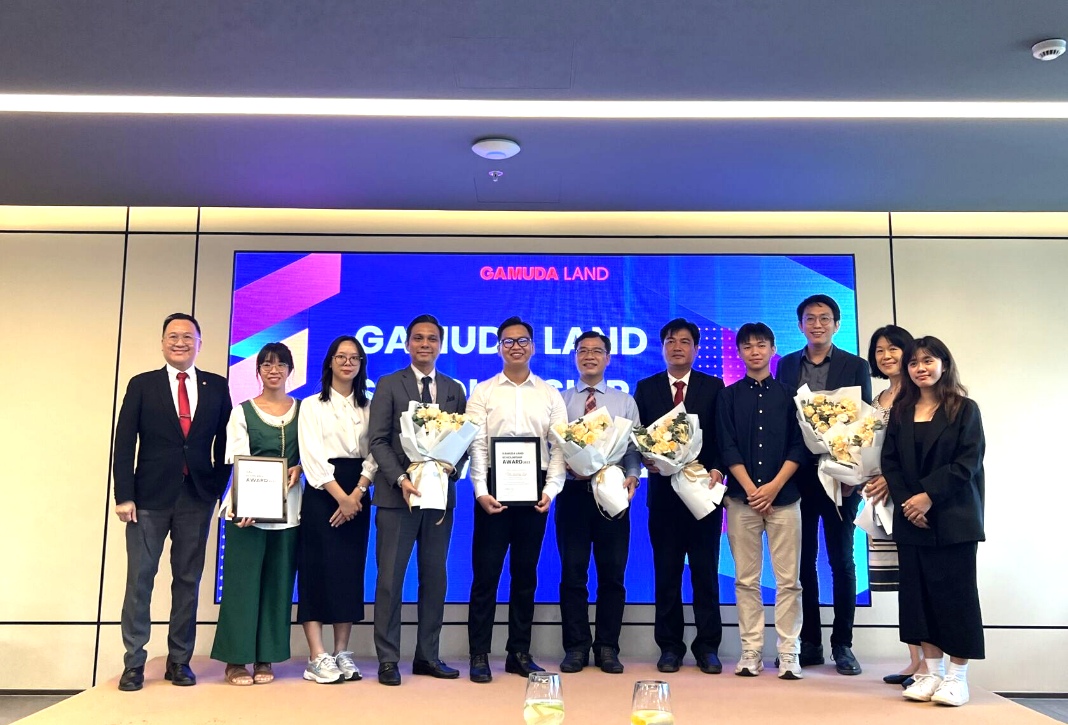 In fact, apart from its annual community programs, Gamuda Land has always readied itself in other CSR activities to support the community in need. For example, in 2020 when the Covid-19 pandemic first broke out in Vietnam, Gamuda Land launched the "GL Cares" program with a series of activities to support Vietnam in overcoming difficulties.
Through the program, Gamuda Land has donated necessities to medical staff and hospital staff, contributed to the Government's Covid-19 Vaccine Fund, donated food and cash to people in difficult circumstances, put into operation a rice dispenser in HCMC to supply free rice to those in need, provided aid to five social houses, and awarded scholarships to students in difficult circumstances and severely affected by the Covid-19 pandemic. The total value of its donations exceeded VND3 billion.