Over 80 little children of Thai and H'mong ethnic groups in the northern upland province of Dien Bien's Dien Bien Dong District must have enjoyed better care these days following the completion of a kitchen at Ban Mai Kindergarten in the district's Xa Dung Commune. On September 29, 2023, the life insurer Generali Vietnam in collaboration with the National Fund for Vietnamese Children (NFVC) inaugurated a kitchen at the kindergarten, and handed the kitchen fitted with necessary amenities to the community there.
The kitchen is developed at a cost of over VND250 million extracted from the proceeds raised by the life insurer since early this year. Other auxiliary facilities are also installed for the kitchen, including a roofed quarter for dining, a water tank, and other utensils.
With the participation of the life insurer's volunteers and support from NFVC staff, the "warm kitchen for school children" project has been successfully executed, providing a safe and hygienic dining environment for children in the remote region.
On the occasion, Generali Vietnam donated 10,000 meals to school children at the kindergarten to help improve their nutritional conditions over a lengthy period. The company also organized the Mid-Autumn Festival for the children there.
For years, Generali Vietnam has rallied support from stakeholders and the general public for protection of and caring for children, especially those in poverty-stricken areas.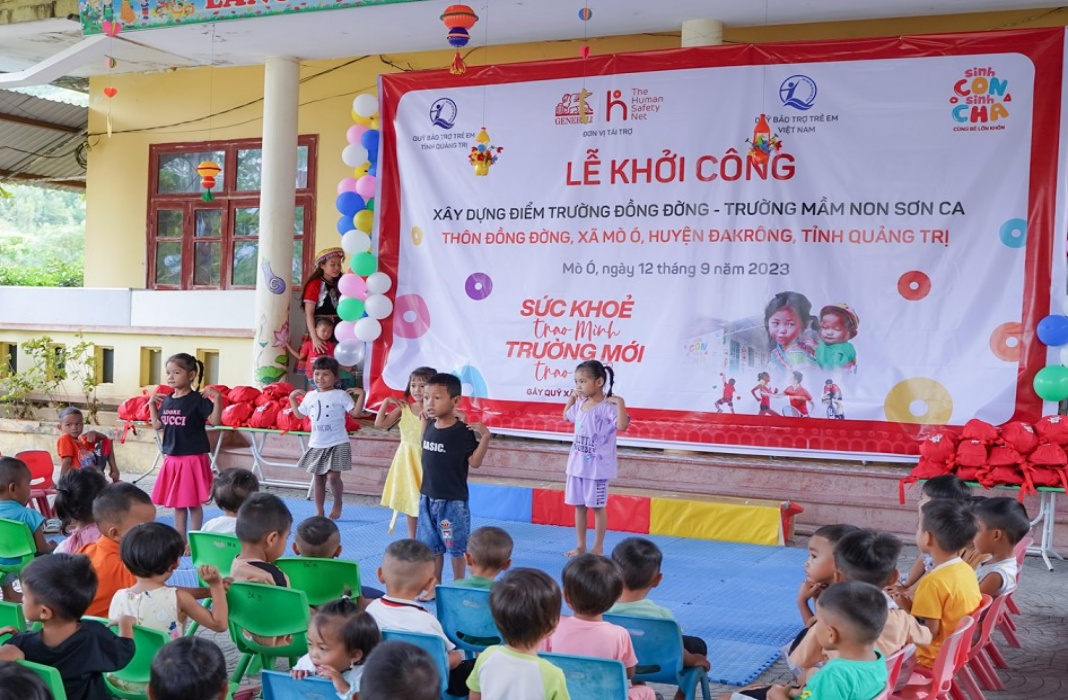 Generali Vietnam began its annual fund-raising campaign in early 2023 for the kitchen project, and has seen the active participation of its own employees, its consultants, their relatives and the community. Owing to the community spirit of the campaign, the crowdfunding effort has been successful, and the money was then transferred to NFVC to execute the kitchen project.
Also in September, Generali Vietnam and NFVC started work on a school building project in Quang Tri Province to improve education conditions for underprivileged children there. Specifically, the two parties began construction of a branch of Son Ca Kindergarten in Dakrong District's Mo O Commune, which is an out-of-the-way, poverty-stricken area.
To execute the project, the life insurer has handed VND500 million to NFVC to cover the cost of construction.
To secure funds for the project, Generali Vietnam in June 2023 launched a physical exercise campaign titled "Sức khỏe trao Mình – Trường mới trao Em" (Health for ourselves, school for children) as part of the Global Challenge 2023 initiated by Generali Group's The Human Safety Net – Global Challenge 2023 happening in 24 countries.
Within months, this community initiative has collected over VND500 million for the kindergarten.
The kindergarten's branch is being developed in Dong Dong Village, which is home to mostly people of the Bru and Van Kieu minority ethnic groups. Every day, over 70 children of between two and five years old do not have any standard classroom. They have to use an obsolete storehouse as a classroom during rainy days, and gather in a roofed yard when weather permits.
With the funding from Generali Vietnam, the school site will be developed with decent facilities, enabling the school children to have better quality education conditions. The new school is the third one jointly developed by Generali Vietnam and NFVC since last year.
Dinh Tien Hai, director of NFVC, said, "We are very happy with the rapid development of essential facilities financed by Generali Vietnam to support underprivileged children across the country. We expect the collaboration with Generali Vietnam to further grow to jointly care for, educate and protect children."
In November last year, Generali Vietnam and NFVC, in coordination with local agencies, inaugurated a new branch of Phu Loc Kindergarten in Dak Lak Province's Krong Nang District, which is also a project developed under the Global Challenge 2022 of the Human Safety Net.
The new school includes a classroom, a playground, restrooms and school utensils, at a total cost of VND550 million coming from direct contributions from the life insurer's stakeholders. The benefactors also donated a mini library with hundreds of book titles.
Last December, Generali Vietnam also campaigned for a charitable program benefiting children, and given the strong participation of the community, the company early this year donated 180 gift sets comprising confectionaries, toys and cash to pediatric patients at the cancer hospital K Tan Trieu and orphans at Thien Than Shelter in HCMC.
The above community projects and activities are well aligned with The Human Safety Net, a global foundation established by Generali Group with an aim to promote community wellbeing. Its key programs provide support to families, especially those with children aged under six.
Generali Vietnam, meanwhile, has initiated a signature program known as Sinh con-Sinh cha (Born children – Born parents) as part of The Human Safety Net to improve parenting knowledge and skills, thus contributing to Vietnamese children's early childhood development.
With practical and useful content and innovative formats for parents to take care of their children, the program has successfully reached out and benefited nearly 9,400 parents, kindergarten teachers and staff via its local workshops organized across the country to date. "Sinh Con, Sinh Cha" successfully delivered useful parenting content on its digital channels attracting millions of views, interactions and positive comments from the community.
The company also rolled out various charitable programs to support 500 orphans who lost their parents to Covid-19, and other community initiatives to actively contribute to the care education and comprehensive development of Vietnamese children.
A representative of Generali Vietnam said its community projects are always based on the values of sustainability, necessity, and participatory development, and the active involvement of the community has mirrored the values that Generali Vietnam is pursuing and its method of rallying support from society for the good of children.