HCMC's exports plunged to a 22-year low due to a nearly 17% year-on-year drop in the first quarter of this year, exposing the local manufacturing and export sectors to formidable challenges. Along with their efforts, businesses are seeking practical and timely support policies from the Government to get out of the current doldrums.
Businesses grapple with woes
Huynh Van Duc, CEO of Vi Nam Viet Production Trading Corporation (Vinavit), said that the company's new orders dropped by 40% year-on-year between January and March due to the poor demand in international markets. Its domestic customers, mainly in the wood processing industry for export, have been facing similar challenges as the U.S. and EU markets are still in hibernation.
In the second half of last year, companies like Vinavit have been worse off. The situation of the company, which is based in the Le Minh Xuan Industrial Zone, Binh Chanh District, HCMC showed no sign of getting better in January-March. Things will not improve in the engineering sector in the second half of 2022. Duc predicted a further sharp drop in new orders.
The first-quarter economic performance report of HCMC showed two key industries –engineering and electronics – posted negative growth. Engineering, in particular, suffered a 6.5% decline compared to a 4% increase during the same period last year.
According to a representative of the HCMC Association of Mechanical and Electrical Enterprises (HAMEE), fewer orders and capital shortages have made life difficult for many association members. As a result, some have been forced to sell their properties to service bank loans and even sell their businesses.
The Russia-Ukraine military conflict, the global economic downturn, high inflation and slack consumer demand have left negative impact on various industries. Companies active in transportation and logistics are a case in point. Bui Tuan Ngoc, COB of the Transimex Joint Stock Company, said that the company made VND400 billion in revenue in the first quarter, just 16% of its target.
Saigon Newport Corporation also saw its revenue down by 16% although it was a leading port operator in the country. It is responsible for up to 95% of cargo throughput in HCMC, but Saigon Newport Corporation has reported the lowest growth rate since its establishment, Nguyen Van Nen, secretary of the HCMC Party Committee, said at a recent meeting with Prime Minister Pham Minh Chinh.
Though an economic slowdown had been forecast earlier, the poor business performance in the first quarter of this year was shocking for the Government, businesses and the public.
Long-term support is a must
The HCMC Department of Industry and Trade said that many exporters in the city are in distress. According to Nguyen Nguyen Phuong, deputy director of the department, most industries, from textiles and agriculture to wood processing, posted lower-than-expected export revenue. Many businesses are concerned about the gloomy outlook for the next quarter due to the city's negative economic indicators and administrative reforms.
Exports of HCMC in January-March this year dropped 17% year-on-year to a little more than US$10 billion, the greatest first-quarter slide in 22 years, said Nguyen Khac Hieu, deputy head of the Import-Export Management Department.
"Even during the difficult period of 2008-2012, the city's exports did not decline as much. Data from the past showed that a sharp export decline in the first quarter of a year would affect the three remaining quarters," Hieu said.
Earlier, an HCMC Business Association (HUBA) representative said that member businesses of the association have been in hot water due to a sharp decline in exports. Notably, the engineering and electrical industries have been particularly hit hard, with some companies reporting a 50% reduction in orders. Their domestic exports have also fallen by 30-40%.
The handicraft and wood processing industries have seen a decrease of around 15%, with exports of specific products such as wood chips, compressed wood, pallets and furniture dropping up to 45%.
Moreover, domestic businesses are facing a fierce competition from FDI enterprises, especially small and medium ones. Some firms have had to cut working hours and downsize their workforce to lower production costs.
While businesses have been doing their utmost to stay afloat, they are now "exhausted" and in dire need of concrete and timely support from the Government to ride out their difficulties, according to Huynh Van Duc of Vinavit.
Specifically, enterprises are expecting more interest rate cuts by the State Bank of Vietnam (SBV) and value-added tax reductions and extensions.
A long-term support policy is needed to help engineering enterprises get out of the woods, according to Do Phuoc Tong, chairman of HAMEE.
HUBA's report indicated that many enterprises still find it hard to take out bank loans due to their poor cash flow. The VND120-trillion loan package for social housing, with an interest rate 1.5-2 percentage points lower than the market level, has attracted little interest from businesses.
Assets for collateral, mainly agricultural land, are determined at a very low price while the overall value of those assets decreases by up to 30%. Consequently, additional assets for collateral are required for their loans while enterprises have almost exhausted their resources.
Despite the Government's efforts to implement numerous policies to support economic development, the disbursement of loans has been much slower than expected, at around 10%.
Therefore, HUBA called for the SBV to restructure debt and extend loan repayment deadlines by one year for medium- and long-term loans. It is also necessary to give businesses a grace period of one year, instead of requiring lump-sum debt repayment in the following year, as in the 2021 low-interest loan package. The loan contract period will also be extended to correspond with the grace period.
High interest rates are also a significant obstacle to enterprises. According to HUBA, the SBV should take measures to lower deposit interest rates at commercial banks and maintain the net interest margin (NIM) below 3%. This is also a necessary solution for commercial banks to reduce lending rates.
HUBA also suggested that the Vietnam Bank for Social Policies provide low-interest loans for businesses to pay employees and stimulate consumption. The association called for the HCMC People's Committee to implement a financial package with an interest rate two percentage points lower than normal under Decree 31 and Circular 03 of the SBV, and to enhance the connection between businesses and banks to address credit difficulties.
Seeking partners for businesses
"Without proper preparations and solutions, just one or two minor economic disruptions can bring us down," said Nguyen Nguyen Phuong.
The HCMC Department of Industry and Trade has proposed several measures to reverse the decline in exports, and the first-ever multi-sectoral export expo is seen as one of the solutions. This event is approved by the HCMC People's Committee and is set to take place from May 25 to 28 at the Saigon Exhibition and Convention Center.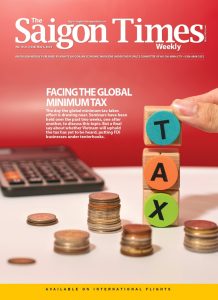 The event is expected to provide a good opportunity for businesses, experts and agencies to discuss and seek long-term solutions for the city's export sector. It will feature over 250 booths from major exporting sectors of the city, such as agriculture, textiles and garments, leather and footwear, wood products and handicrafts, food and beverages, seafood, electronics, engineering, rubber and plastics, other export sectors, and supporting services.
Particularly, up to 50% of the participation fees are funded by the State budget, equivalent to VND12 million for each booth.
Moreover, at forums and exhibitions, businesses directly exchange their views and learn more about the demand of key export markets such as the U.S., Europe, Japan and Korea. The export expo is expected to attract around 8,000 visitors, including international buyers from different countries, supermarket chains, importers, retailers, and e-commerce platforms. HCMC will provide airfare, accommodation and transportation support for international delegations.
A survey from HUBA showed that 41.2% of enterprises encountered difficulties during the first quarter of 2023 due to shrinking markets. Meanwhile, 17.6% of participants believed that their business activities were negatively affected by higher input costs. Some 11.2% of those firms lacked labor while 17.6% were short of capital. Moreover, 5.9% of the respondents mentioned a production or operational premises shortage, and the remaining 6.5% had other challenges to cope with.