Vietnam's woodworking industry has performed poorly in the year to date. Its anxiety among local exporters and manufacturers has increased further as the market outlook remains as uncertain as ever. Restructuring production, cutting costs and finding niche markets are among measures for staying afloat and retaining employees in this difficult time.
Under the current global market circumstances, the export performance of the woodworking sector might be the same as in the first months of the year. With China coming back to the global market after the easing of Covid restrictions, wooden products exporters in Vietnam would find life harder than before.
Orders in decline
Nguyen Liem, chairman of Binh Duong Province-based Lam Viet JSC, said the confirmed orders would allow his business to operate at 40% capacity. This is what is happening to other companies in the industry. "Other wood processors can turn out 35% to 40% of what they are able to make," Liem noted.
Businesses in the industry rely on each and every order they have secured and some are even without a single order. "Enterprises have long been forced to lay off employees and reduce working hours," Liem told The Saigon Times.
Liem, who is also chairman of the Binh Duong Furniture Association (BIFA), noted that it is difficult to stabilize employment.
Wood processors in HCMC and the south-central province of Binh Dinh are not in better shape than their peers in Binh Duong Province. Challenges have arisen given a fall in demand in key export markets, such as the U.S. and Europe. In Binh Dinh Province, most local firms have suspended hiring while waiting for the market to improve.
Liem added that if businesses do not choose layoffs as a measure against tough times, they would have to maintain 70% of their capacity. Given the current situation, it is impossible for BIFA members to operate at this rate.
No recovery in near term 
According to the General Department of Vietnam Customs, in the first quarter of the year, the wood processing industry's export revenue plunged by 30% over the same period in 2022 at US$3.1 billion. This is due to global economic uncertainties and geopolitical tensions. Rising costs, particularly those of logistics and materials, have put many local firms in a precarious position.
In the past decade, the industry always registered double-digit growth, according to Do Xuan Lap, chairman of Vietnam Timber and Forest Products Association (VIFOREST). In the past years, the sector was fifth among the country's top export earners behind smartphones, electronics, machinery, footwear and textiles. Wooden goods made in Vietnam have made their way to 140 countries and territories, with an annual trade surplus of US$8 billion to US$10 billion. In 2022, the industry generated export revenue of US$17.1 billion.
Factories in Phu Tai Industrial Park in Binh Dinh Province said that their American and European business partners had not placed new orders for months. Company owners are weighing new projects in other industries. Many other businesses are the brink of bankruptcy. BIFA Chairman Nguyen Liem said that the association members are planning a flexible work schedule for employees. Keeping personnel remains one of the top priorities as new hiring takes time and is complicated, particularly for skilled workers, he added. Maintaining a strong workforce is a tall order, not to mention a range of daily expenses shouldered by local firms, such as insurance, wastewater treatment and infrastructure fees.
Rising competition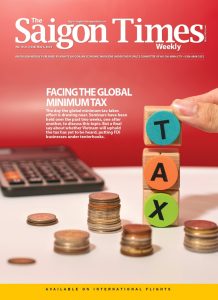 Rising inflation in Vietnam's key export markets have substantially impacted consumer demand, particularly for non-essential goods. Meanwhile, flat growth in the global real estate market would not be good for the woodworking industry. Difficulties in the wooden processing sector would continue until the end of this year.
According to a March report by VNDirect Securities Corporation, the return of Chinese firms to the global market would affect the export performance of companies in Vietnam. With market share of about 31% each, Vietnam and China are tied for first place in the U.S. As American consumer demand has remained weak, it is difficult to pin high hopes on the industry in the coming months.
Revenues of major exporters to the U.S. would decline by 10-15% over 2022, with a reduction in gross profit margin of at least 0.6% to 1%. Meanwhile, domestic production has been increasingly threatened by trade remedy measures. Proceedings have been brought against businesses in Vietnam, and investigations have been opened into a variety of goods, from bedroom furniture to kitchen cabinetry.
Local businesses that import Russian poplar trees for processing have also been affected by the sanctions imposed by the West against Russia, according to VIFOREST Chairman Do Xuan Lap.
Survival requires shifting
In the eyes of domestic firms, winning a new order now is more important than making profit. New orders give businesses an opportunity to retain their staff and cover mounting operational costs.
Cutting costs and seeking a niche market could be viable ways for firms in the second half of the year.
Expanding into new markets and broadening product profiles could be of help. In this regard, opportunities abound in Northeast Asian markets.
VIFOREST has advised the Government to construct exhibition centers in major cities, including Hanoi and the central city of Danang, to promote brand awareness and promotion. The proposal was part of a mid-April meeting chaired by Prime Minister Pham Minh Chinh on removing barriers to exporting timber and aquatic products.
The association has reached out to Vietnamese government agencies for help to explore international markets and connect with potential partners overseas. Efforts to tackle critical concerns for operations, notably tight credit, and to improve the regulatory environment could significantly benefit domestic firms in tough times.