Operating in the 3F Plus (Feed-Farm-Food) integrated food chain, GREENFEED Vietnam, since the first day of its establishment, has aimed at building a humanity brand by bringing about positive impacts on the society, especially improving the quality of women's life and nurturing underprivileged children. The firm is doing its best to create both economic and social values.
Supporting the community amid Covid pandemic
Helping and getting help are things people in HCMC felt the most strongly during the social distancing period induced by the Covid pandemic. When residents found it tough to access food due to pandemic-related travel and mobility restrictions, many philanthropists were willing to open their arms wider to bring food to the needy. GREENFEED is a typical example.
With efforts to provide residents with safe and tasty food during the stay-at-home mandate and advocate the market stabilization program launched by the Ministry of Industry and Trade, GREENFEED opened over 140 points of food sale in HCMC, Can Tho and Dong Nai to make life easier for people to access food.
The firm also donated healthy food to anti-Covid frontliners, hospitals and quarantine centers in numerous provinces and cities to ensure their health for the combat against the pandemic.
On its journey of "Sharing goodness to fight the epidemic," GREENFEED has contributed VND20 billion to the national Covid vaccine fund and presented food valued at VND5.5 billion to poor people and anti-pandemic forces.
GREENFEED is not only an active contributor to the battle against the pandemic, but also a generous benefactor. The "Meals of Smiles" program launched by its G Kitchen brand is supplying clean, safe and healthy products every day from the chain of GREENFEED to make the meals of disadvantaged children more decent.
Aligning its brand with community support, GREENFEED targets to offer three million nutritious meals to children in the three main regions of Vietnam in the 2019-2024 period. As many as 28 orphanages in HCMC, Dong Nai, Binh Duong and Long An have been receiving meals each week.
In addition, GREENFEED has partnered with many organizations and units such as the Smile Restaurant chain and Ho Chi Minh Communist Youth Union to offer free meals to people affected by the pandemic.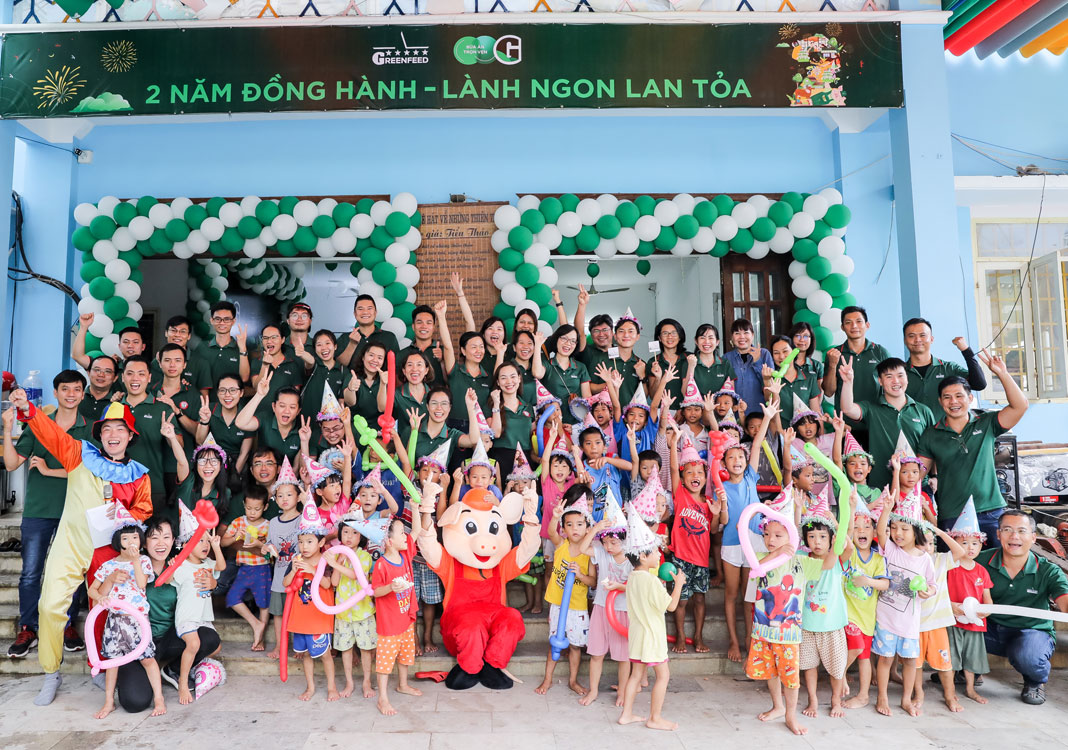 Building a humanity brand
In August last year, GREENFEED Vietnam officially announced its new identity, aimed at getting its brand better known and immensely promoting the brand characteristics, with its core values and the key to success over the past 17 years including Productivity, Innovation, Trust, Humanity and Social Responsibility.
With a desire to hep the community gain a better life, GREENFEED puts farmers as its top-priority beneficiaries by offering them effective farming solutions to increase output. Among its long-term social initiatives, the "Supporting Farmers" program, which was kicked off in 2010, is aimed at improving the livelihood of farmers, mainly rural women, so that they can escape poverty and enable their children to go to school, contributing to the country's sustainability.
Beneficiaries from the program receive interest-free loan support, animal feed cost support, and free consultation, while children with an excellent academic performance are provided with scholarships.
During the 2010-2020, GREENFEED offered loans to 2,140 farming households in 16 provinces and cities across the country. Up to 94% of these households have repaid loans, while 65% have achieved success. The program was set to give interest-free loans to farmers in seven more provinces and cities in 2021.
"We always put corporate social responsibility, with much focus on women and children, at the core of business philosophy. This is GREENFEED's strong and long-lasting commitment on the path to goodness and sustainability," says a representative of GREENFEED.
As an animal feed and food producer with a fully integrated Feed – Farm – Food chain, GREENFEED is striving to build high-quality and trusted brands that relentlessly innovate and create sustainable values for customers and the society.
GREENFEED owns lots of brands, with its feed brands comprising GREENFEED, HIGAIN, HITEK, FCR 1.5, AQUAGREEN, PANAFEED and SUPERWHITE that meet global standards (ISO 22000, HACCP, GLOBAL GAP and BAP). The firm is running 10 hi-tech feed production plants in Vietnam, Cambodia, Laos and Myanmar.
Apart from its GF24 (Camborough®48) pig breed brand, the firm also owns three main food brands, including G KITCHEN, MAMACHOICE and WYN.
G KITCHEN is part of GREENFEED's fully integrated clean food chain. G KITCHEN meat is available at some 38,000 points of sale, while MAMACHOICE provides customers with fresh and clean pork from selected GF24 breeds.
At WYN, safe and tasty processed food is available for millions of Vietnamese consumers across the nation.
Apart from being honored among 100 global animal feed producers by Feed International Magazine, GREENFEED is also ranked among 50 leading brands in Vietnam in 2020 by Forbes Vietnam and is recognized as one of Vietnam's 100 largest enterprises. Furthermore, GREENFEED is assessed as the best workplace in the agro-forestry-fishery sector in Vietnam.