The Hanoi Melody Residences project, an apartment complex located in the south-west of the Linh Dam peninsula, was inaugurated on July 10. With its prime location and green space, coupled with top-notch interior utilities, the project is expected to bring outstanding living values to households and create a new standard of living for residents there. The project was developed by Hung Thinh Land, one of Vietnam's leading real estate firms.
Hanoi Melody Residences, covering an area of over 3.28 hectares, features four blocks which will provide the market with nearly 2,000 apartments, easing the shortage of houses in the capital city of Hanoi.
Relentlessly pursuing the mission of creating real estate projects for the community, Hung Thinh Land has set aside a large area to develop a system of utilities and landscape at Hanoi Melody Residences, bringing the highest quality of living to residents. Various utilities which meet the demand of people of all ages include outdoor gym gardens, landscape gardens, swimming pools, multi-functional sports areas, pedestrian roads, playgrounds and kindergartens.
Specially, Hanoi Melody Residences is a rare inner-city project equipped with three smart underground parking lots, highlighting Hung Thinh Land's determination to raise the standard of living for residents amid a severe shortage of parking lots at many housing projects in the city.
Also, the project is tremendously impressive due to its four spacious facades. All of its apartments are designed with big windows taking in fresh air from the Linh Dam peninsula crowded with trees and endowed with lakes. Every apartment is flooded with sunlight and wind, helping the owner save energy and enjoy a green and airy space.
These advantages form a new standard of living for residents in the high-rise buildings in the Linh Dam peninsula.
Speaking at the launch ceremony, Le Trong Khuong, general director of Hung Thinh Land, said that at Hanoi Melody Residences, the living experience of each resident is taken into account. The project provides households with numerous luxury utilities to meet their demand of living, entertainment and healthcare. Hanoi Melody Residences will become a new residential hub in the southwest of the Linh Dam peninsula, where each family can feel the melody of real hearth and home.
The launch ceremony also featured the signing of a strategic agreement with operation management and consulting firm CBRE Vietnam, which has over 19 years' experience in managing housing and apartment projects nationwide based on stringent international standards, alongside 22 distributors. Under the deal, CBRE pledges to offer the residents at Hanoi Melody Residences optimal access to high-end experiences of security, sanitation and utilities.
Antoine Fuller, Senior Manager at CBRE Vietnam, said: "CBRE is honored to act as a link between the real estate developer and residents by providing luxurious services and organizing community activities for the Hanoi Melody Residences residents. Besides, CBRE will be in charge of technical work and customer services, and working with the investor to create a green, civilized and modern living environment."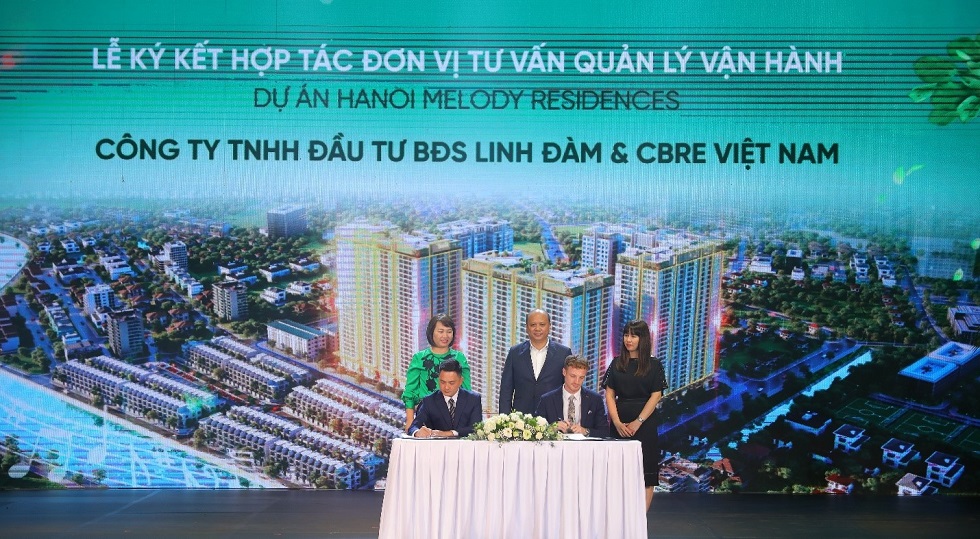 Situated southwest of Linh Dam, Hanoi Melody Residences has four wide entrances and faces several key roads, including Giai Phong, Ring Road 3 and National Highway 1A. The buildings are also close to the current Cat Linh-Ha Dong elevated urban railway, increasing the project's connectivity and heightening its added value.
In adidtion, with its convenient location, the residents at Hanoi Melody Residences can enjoy nearby high quality education, healthcare, commercial and entertainment services.
The future residents of Hanoi Melody Residences will also be entitled to fresh air every day from three green tree parks covering some 30 hectares, including the underway Chu Van An Park, the Linh Dam and Yen So parks. Multiple rivers and lakes with the total water bodies of 150 hectares help make the air there cool and pure all year round.
With its experience of 20 years, Hung Thinh Land, a key member of Hung Thinh Group, has succeeded in a slew of housing projects which are afforable and help ease the shortage of homes in the city. Up to date, Hung Thinh Land has provided the market with more than 30,000 units and served over 100,000 customers, meeting the housing demand and contributing to improving residents' quality of living.