As a member of Hanwha, the 7th largest conglomerate in South Korea, Hanwha Life Vietnam is steadfast in its commitment to sustainable development, aligning with the group's mission of "Enhancing Lives" and working hand in hand to create a prosperous community. In 2023, Hanwha Life Vietnam has been focusing on the young generation to provide a stable foundation related to some aspects such as: mental and physical health, financial support, and education.
Increasing awareness of child protection
With the child protection spearheads, in 2023, Hanwha Life Vietnam has continued its mission of accompanying parents in nurturing and safeguarding their children with "The Hug" project. When it was launched in 2022, the project focused on changing awareness, and in 2023, "The Hug" has been concentrating on changing the way parents treat their children. The project has helped adults stay aware and understand children's thoughts, emotions, and the immanent matters that might arise between parents and children, while creating opportunities for improving the family bond. From these activities, the project wants to encourage adults to understand and be willing to change themselves, to give real hugs and nurture the seeds of happiness for children.
The project has been rolling out many activities in multiple parts of the country, especially reality talkshows, family experience day, child protection workshop series, and scholarships for disadvantage children.
As a community activity, "The Hug" project event at Van Hanh Mall in HCMC in early October attracted more than 600 families – parents and their little children. Multiple fun activities like minigames and picture drawing took place at the event, alongside a reality talk show where experts fielded questions from parents regarding how to best nurture children, how parents should accompany their little kids from childhood to adulthood, and how to mend a broken relationship between parents and other little family members.
The talk show "Hugs from Hearts" records real-life moments within families, showcasing conflicts between parents and children. It offers valuable insights and advice for creating a healthy developmental environment for children. The show has garnered over 690,000 views and reached 670,000 people, receiving more than 7,000 reactions and shares from the audience. These statistics demonstrate the show's success in conveying the most genuine and relatable situations and emotions to viewers while sparking profound thoughts among the show's audience.
As part of the "The Hug" children protection project, a series of events titled 'Loving Arms' were organized in September and October. Revolving around the theme 'Loving Parents, Happy Children – Violent Parents, Hurt Children,' these events took place at three primary and secondary schools in Hue and HCMC, drawing the participation of nearly 800 parents and students.
During these three events, Hanwha Life awarded 270 scholarships, totaling more than VND400 million, to underprivileged students. Additionally, they provided over 400 gifts to the participating students. These initiatives serve as a significant source of encouragement, spreading the warmth of loving support to students with difficult backgrounds, enabling them to enhance their lives and educational pursuits.
Hanwha Life Vietnam joins hand to create a prosperous community
Regarding financial support for children, Hanwha Life Vietnam also focuses on promoting education as the company believes education plays an important role in sustanable development. Hanwha Life Vietnam in early August donated VND100 million to Thang Long English and Vocational Training School, and collaborated with the Saigon Children's Charity CIO to organize an English Fun Day for students, where disadvantaged children were given an opportunity to learn new things, practice new skills and have a better future.
The financial support will benefit some 400 students at the school with activities like information technology training within six months, and providing soft skills among others. On the occasion, the life insurer donated a bookcase with 100 English book titles donated by the company's employees.
Hanwha Life Vietnam also pays strong attention to students by organizing workshops and tours to enhance their financial management knowledge.
In May 2023, the company organized a tour to its office for students from the HCMC University of Social Sciences and Humanities, with its financial experts providing personal financial management knowledge and helping students get ready for the professional work environment. In the same month, the company held a workshop to provide life insurance knowledge to Van Lang University's lecturers.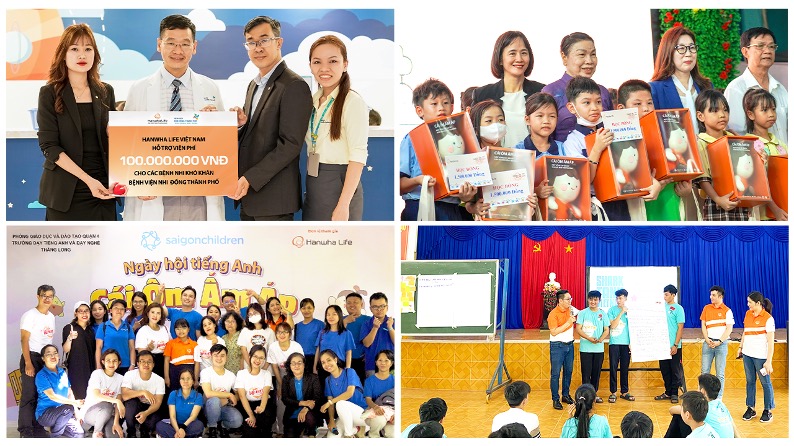 In June and July this year, Hanwha Life joined hands with the social enterprise Hands-On to organize workshops on financial management for 150 students and parents in Ben Tre and Tien Giang provinces. The workshops aimed to help students and parents to get first-hand knowledge of personal financial management in various aspects, from the daily practice of making financial plans and savings to management and investment.
In pursuit of the goal of providing students with an opportunity to explore new career fields, discover their own strengths, and, in turn, establish a more solid orientation for the future, Hanwha Life Vietnam, as the diamond sponsor, provided VND100 million to the University of Information Technology, Vietnam National University – HCMC (UIT) to organize the 'CoPlay with UIT 2023: Remotebot Al Challenge' competition. By supporting the competition right from its first year, Hanwha Life Vietnam has affirmed its commitment to create opportunities for the younger generation to access computer science early, ignite their passion, and foster their intellectual development in the era of Industry 4.0.
"The younger generation is a group that Hanwha Life prioritizes and devotes considerable efforts to. The company believes that by implementing appropriate financial education measures, the society will benefit. Not only will adults be better equipped to make well-informed financial decisions, but the younger generation will also learn and become proficient in financial matters through the strong support of financial services and products provided by financial institutions," said the company's representative.
In addition, the life insurer has supported hospital fees totaling VND100 million for 18 disadvantaged children at the City Children's Hospital in Binh Chanh District, HCMC. Part of the financial support was deducted from the company's budget, and the rest came from the company's information staff through the program "Charity Market" organized internally by Hanwha Life Vietnam in early April 2023.
The fundraiser fair not only enhanced internal cohesion but also spread the culture of sharing and helping the community to each employee, affirming the core value of "Enhancing Lives" that the company always aims for in its development journey of 15 years in Vietnam.
Speaking about the sustainable development strategy, a representative from Hanwha Life Vietnam stated: "During our 15-year presence in Vietnam, Hanwha Life has consistently pursued a sustainable development journey with a steadfast commitment to creating positive values and contributing to the well-being of society, the economy, and the environment. We actively engage with local authorities, organizations, and community groups to advocate for and establish safe, nurturing the environment for children, reflecting a deep concern for the physical and emotional welfare of the next generation. Through these efforts, our company aspires to foster comprehensive growth in these young individuals, and develop confident, dynamic, and cultured generations for our nation."