A worker shortage in the hospitality sector spurred by the Covid-19 pandemic has led to the rush for hiring
One Monday morning, Ha Nguyen (name changed), a customer service officer working for a premium real estate group based in HCMC, received a phone call from a stranger. The stranger referred to her by name, greeted her intimately and then introduced a "tremendous" new job opportunity.
"This job was appealing thanks to the high salary and ample opportunities," Ha said, admitting that it was not the first offer she had received in this way.
The post-pandemic lack of human resources in hospitality, including senior-level employees, has turned experienced customer service employees such as Ha into the most sought-after ones.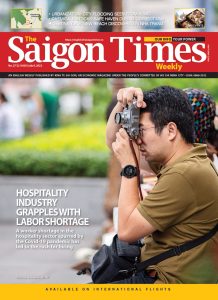 Losing employees to real estate enterprises
Ha shared that the job offer she received was from a real estate group. The company needed a customer service manager for its beach villas in Ho Tram, Ba Ria-Vung Tau and Phan Thiet, Binh Thuan. Therefore, it has hired agencies specialized in recruiting senior-level employees, or headhunters, to fill the vacancy.
Human resources in smoke-free industries, especially hospitality, were hit hard by the protracted pandemic and extended closures, which hindered many companies from retaining their employees, including the key ones.
For this reason, a number of executives are facing intense pressure in hiring.
The pressure intensified when another competitor entered the recruitment market—the real estate groups. They are willing to pay higher wages for managerial positions at the resort real estate projects they are scaling up. Currently, wages for senior managers working at villas and apartment buildings in these resort real estate projects are higher than those paid for the same positions at enterprises active in hospitality and resorts.
According to Ha, late last year, a group that owns a chain of hotels and resorts stretching from the North to the South of Vietnam offered her a salary of VND110-120 million per month to work as a general manager for a resort on Phu Quoc Island. Recently, she rejected a similar offer of VND150 million per month.
Another person who gets VND100 million per month to manage a premium beach resort in Ba Ria-Vung Tau shared that he constantly received offers from headhunters such as Michael Page, the Gerson Lehrman Group, etc.
Therefore, former employees of international hotel groups like him are more sought-after thanks to the fact that their information is already stored in the brokers' database. Normally, the commission a headhunter earns for a successful offer is worth about a month's salary. That is a strong motivation for the headhunters to look for candidates and make offers.
Recruitment of direct employees also a struggle  
In an interview with the Saigon Times, Truong Duc Hung, chairman of the Hospitality Department under the HCMC Tourism Association, agreed that hotels are under intense pressure to hire human resources. Some employers who laid off their employees during the pandemic are struggling to hire enough workers. Other employers who could not retain their employees due to low salaries cannot rehire them as they now have new jobs.
In addition, there are other reasons why employers are struggling with recruitment. Tourism has not fully recovered; thus, the wages for most positions are still lower than pre-pandemic levels. Meanwhile, other competitors are also vying to hire employees from the hospitality industry.
"We lost a significant number of top-level, qualified employees. However, senior-level employees only account for a small percentage of laborers in the hospitality industry. In my opinion, what's lacking is direct employees in room service, kitchen, reception and sales," said Hung.
The need for change
Some hotels in HCMC are also witnessing a similar state of affairs. A five-star hotel is facing a shortage of room service workers, forcing heads of the unit to do the work themselves. To recruit enough workers, some hotels have started cooperating with hospitality colleges and promoting their recruitment programs on a large scale to "hunt" employees.
In June, the premium Park Hyatt hotel organized a "Walk-in interview" for recruitment. The hotel offered several benefits such as a basic salary and VND4.8 million per month in service fees, 12-night stays at Hyatt hotels worldwide, etc. Applicants could directly "walk-in" for an interview – a recruitment approach rarely seen in hospitality.
The human resource shortage plaguing the tourism industry, especially the economy, is due to Covid-19. However, in the new normal, enterprises must alter their benefits, management and employee evaluation to retain current employees and attract new ones.
The wave of layoffs during the pandemic shattered the bond between employees and employers, as well as the sustainability of the hospitality industry. This is a problem recruiters need to resolve by offering raises, promotion opportunities or compensation for employees who decide to stay during such difficult times. For other employees, it is necessary to offer benefits, training and promotion opportunities.
According to Hung of the HCMC Hospitality Department, deputy general director of Saigontourist Group, it is essential to showcase enterprises' efforts in retaining and developing human resources. "We frequently organize advanced training programs and optimize our advantage to transfer staff to different departments, so they gain more experience and opportunities to express themselves in their new positions," said Hung.
In an interview with the Saigon Times on employee retention during the pandemic, Tran Trong Khiem, chairman of Thien Minh Group, stated that there was a change in employee evaluation after the pandemic. It is insufficient to evaluate employees based on their capacity and the revenue they bring in. Instead, enterprises need to consider their commitment, courage and resilience to come up with a reasonable policy.
From the perspective of employees, such as Ha, mentioned above, the decision to leave or stay with a company is not simply based on benefits but also on professionalism and ethics at the workplace. For example, she rejected the position of general manager of a resort in Phu Quoc for two reasons: the owners sought to recruit staff taller than 1.55 meters, and managers must constantly watch the CCTV monitors to spot at least two mistakes of each staff member per week. "These regulations do not contribute to professional management and better service to guests, nor bring value to the company's sustainable development and employees' better future," said Ha.