Although the demand for apartments in Nha Trang City is on the rise, there is still a shortage of new homes available for homebuyers, particularly at those projects with high quality and legal transparency.
Supply-demand imbalance
Statistics show that just a few apartment projects have been granted construction licenses and carried out in Nha Trang over the past three years.
Not only Nha Trang but also the whole south-central coastal province of Khanh Hoa suffered a housing undersupply. A report on the property market from the Khanh Hoa Province Department of Construction reveals that only two commercial housing projects with a total of 389 units were licensed across the province throughout 2022. The province had 10 housing projects underway with a total of 1,564 apartment units and 4,067 landed houses, along with four upcoming projects that will be eligible for sale in the future, comprising 153 apartment units and 1,876 landed homes.
However, the interest in apartments in Khanh Hoa has increased by 41% since the beginning of 2022 after the pandemic was brought under control, according to data from Batdongsan.com.vn. Previously, statistics from the Khanh Hoa Province Association of Real Estate Brokers showed that the 2011-2015 period saw only around 2,000 apartment units sold in Nha Trang City. Just five years later, this number had quadrupled to nearly 8,000 units, indicating a significant increase in demand for apartments among local residents.
The housing demand is forecast to continue surging in the near future as Khanh Hoa aims to become a centrally-governed city by 2030. Nha Trang City has huge potential to develop into a national and international seaside tourist urban center, as well as a commercial tourist city of Southeast Asia. The population of Nha Trang is expected to reach around 640,000 by 2030 and around 780,000 by 2040.
Additionally, Nha Trang has seen a strong recovery in the tourism sector. As a result, the city is expected to attract a huge workforce with desire for long-term settlement, such as experts and workers. All of these factors contribute to the high demand for apartments in the tourism capital of central Vietnam.
Bright spot in the housing market
"The number of customers searching for apartments in Nha Trang has surged suddenly since the Lunar New Year (Tet) holiday. Along with the city dwellers, many people from neighboring provinces and cities, even in HCMC, also want to settle down in Nha Trang," said Manh Tung, a real estate broker in Nha Trang.
Apartment projects at prime locations and with legal transparency, especially those which are nearing completion, are in high demand. Homebuyers feel rest-assured when learning about those projects and have a good chance to acquire a home with reasonable sale policies from investors.
With legal transparency, Grand Mark Nha Trang is one of those notable projects which can help satisfy the housing demand amid the shortage of new supply.
Grand Mark Nha Trang is located in Phuoc Long Ward in the heart of the city's new administrative center, and surrounded by mountains, rivers, and the sea. Along with an extensive utility infrastructure network, this project is conveniently located as it is near banks, shopping centers, large markets, healthcare and education units, and entertainment venues in the area.
Notably, Grand Mark Nha Trang also offers Due Key apartments, with two separate entrances and a shared entry door. With the special design of the apartment, homeowners can concurrently live in and rent out their properties.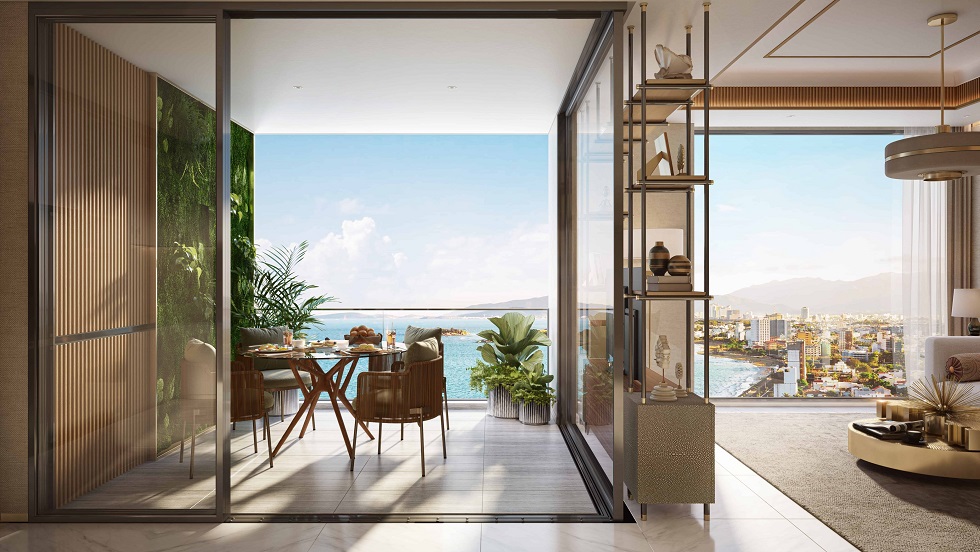 Currently, the construction on the 35th floor out of a total of 39 floors has been started, which ensures early completion and handover to the homeowners. This is a plus point and a remarkable advantage compared to other real estate projects in the Nha Trang market.
"Nha Trang City has huge potential for the development of the housing market. According to the law of supply and demand, Nha Trang apartment prices will rise sharply in the next few years, especially for projects at prime locations, modern utilities, legal transparency, and good planning like Grand Mark Nha Trang," said Manh Tung.