On June 25, 2022, at MerryLand Quy Nhon, Hung Thinh Commercial Property as a member of Hung Thinh Group signed agreements with 17 leading retail brands in three segments of F&B, fashion and services – entertainment. This is a solid step to usher in the operations of Bizhouse Canal District in the smart commerce-tourism peninsula city MerryLand Quy Nhon.
The first 17 retail brands that signed agreements to open stores and launch services at Bizhouse Canal District are leading prestigious names in their respective fields. Brands in the F&B sector are Trung Nguyen Legend, Golden Gate (which operates Gogi, Kichi Kichi, Sumo BBQ, and Hutong), Spicy Box, Chicken Fire, Toco toco Milk Tea, Asiana Foodcourt, Hoang Long Restaurant, Atrip Bar/Pub. The fashion industry players are Exullmode Fashion, The New Playground Fashion, and CATSA Fashion, while brands in the service – entertainment sector are Kho Thi Skincare & Clinic, Beta Cinema, Minigood, Miniso, Quy Nhon Tourist, and Bo Ket Spa.
The signing ceremony is one of the key activities to expedite business operations at Bizhouse Canal District of Hung Thinh Commercial Property, besides experiential activities that have been launched such as 3D mapping water music, Binh Dinh martial arts performances… The 17 retail brands participating in the signing ceremony will commence commercial business at the Bizhouse Canal District, thus perfecting service facilities to attract customers to MerryLand Quy Nhon.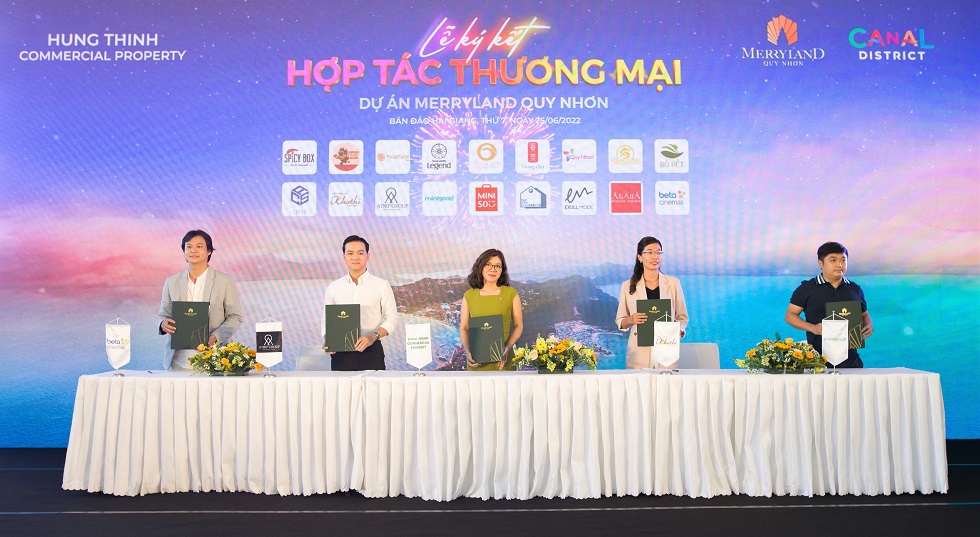 As the operator of Bizhouse Canal District in MerryLand Quy Nhon peninsula city, Hung Thinh Commercial Property will accompany partners by conducting many activities to support brands in attracting customers as well as consulting them on operation management, technology solutions, publicity… The signing parties will work together closely in information and marketing communication programs to spread and enhance brand image of each party.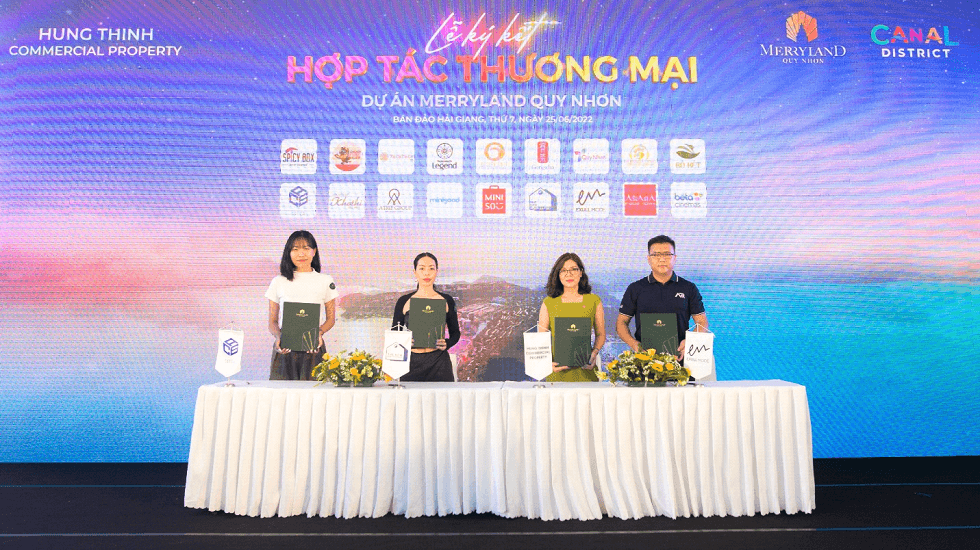 At the signing ceremony, Ms. Le Phuong Thuy, General Director of Hung Thinh Commercial Property, affirmed that along with the early operation program, the company will apply modern technology in Bizhouse operation with Merry Passport solution. This smart solution will help enrich experience for visitors, form a cohesive business community, and optimize operation and management activities for Bizhouse owners and brands.
Ms. Le Phuong Thuy affirmed: " With this strategic cooperation signing event, the synergy between partners and Hung Thinh Group will create real estate products with outstanding quality and build prosperous communities. This strategy will transform Bizhouse Canal District into "a sleepless kingdom" with multi-layered experiences for visitors, a commercial hub, a great place to live, relax and do long-term, sustainable business."
According to Ms. Le Phuong Thuy, the signing event with 17 retail brands is the first step to be followed by the appearance of a series of Vietnamese and international trade partners at Bizhouse Canal District (MerryLand Quy Nhon). Busy commercial activities from a strong diversity of businesses are planned to meet the demands of global tourists. When "the peninsula city" MerryLand Quy Nhon is officially inaugurated, it is expected to serve up to 37,000 arrivals a day.
As a representative of the signing parties, Ms. Nguyen Thi Thu Hoai, General Director of Kho Thi Skincare and Clinic, said: "We see the synergy from key sectors that will do business at Bizhouse in the near future, and feel rest-assured about the potential profit as Hung Thinh Commercial Property is determined to build a retail ecosystem with a sustainable long-term vision."
The business representatives believe that Hung Thinh Group with more than 20 years of prestige coupled with the management capacity of Hung Thinh Commercial Property will be an important basis for brands to achieve success when doing business at Bizhouse. At the same time, retail brands also contribute to attracting Vietnamese and international tourists to the Quy Nhon coastal city.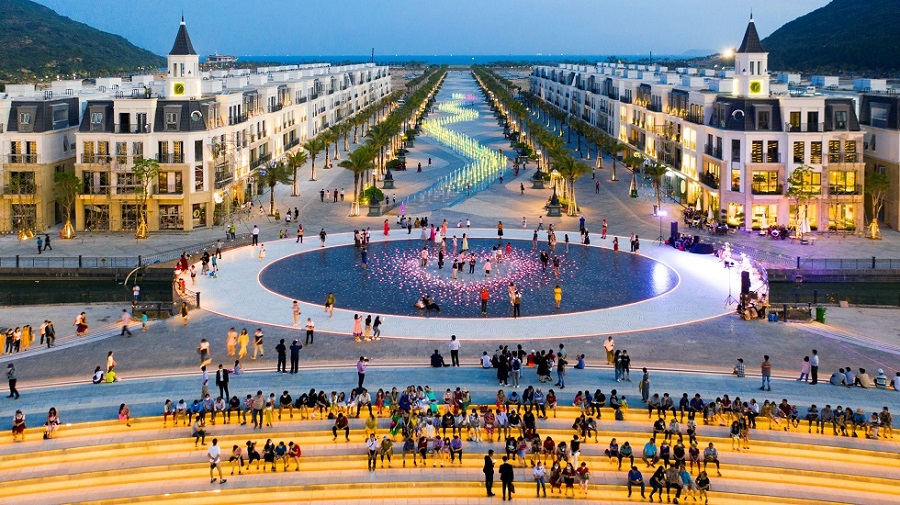 Hung Thinh Commercial Property – a member of Hung Thinh Group – is a company that owns, manages and operates many large commercial centers in HCMC and neighboring provinces. Currently, Hung Thinh Commercial Property is managing many shopping centers and shophouses belonging to Hung Thinh Group. This unit is also a reputable partner which is chosen to cooperate with by many brands such as Starbucks, Jolibee, Lotte Cinema, GS25, VNVC, and Lock&Lock among others.
The early and smart operation strategy deployed by Hung Thinh Commercial Property at Bizhouse Canal District will bring a vibrant appearance, ensuring profitable performance for owners. This is also a long-term strategy of Hung Thinh Group in order to develop this place into a bustling commercial – service center of MerryLand Quy Nhon, contribute to creating a new destination so as to promote tourist and socio-economic development of Quy Nhon – Binh Dinh.