Hung Thinh Group on July 30 signed a strategic cooperation agreement with KONE Vietnam, a Finland-headquartered global leader in the elevator and escalator industry, at MerryLand Quy Nhon in Binh Dinh Province's Quy Nhon City to build smart and sustainable cities.
The signing ceremony was attended by Keijo Norvanto, Ambassador of Finland to Vietnam, Ho Quoc Dung, Secretary of the Binh Dinh Party Committee, representatives of the Binh Dinh government, and Le Thanh An, former U.S. Consul General in HCMC who now serves as international relations consultant at Hung Thinh Corporation.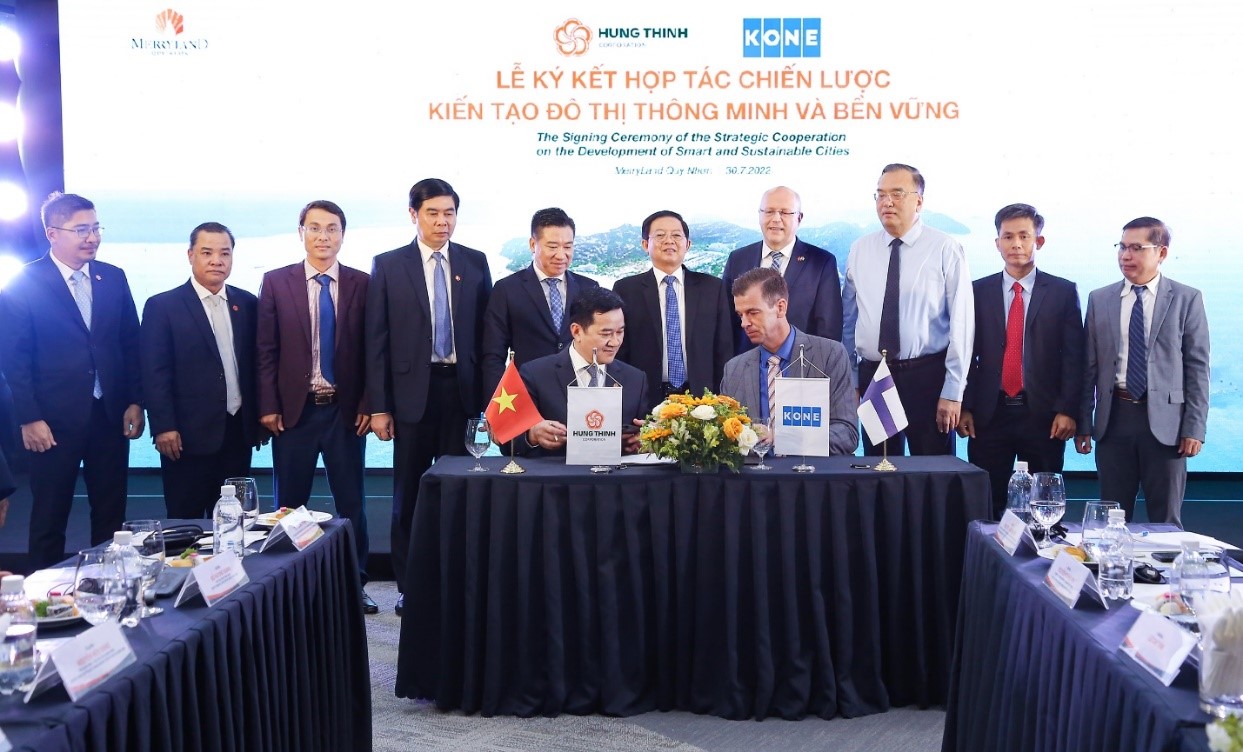 Under the deal, KONE Vietnam will provide Hung Thinh Group with KONE DX digital elevators and escalators, smart connection solutions and application programming interface services to develop the latter's housing projects.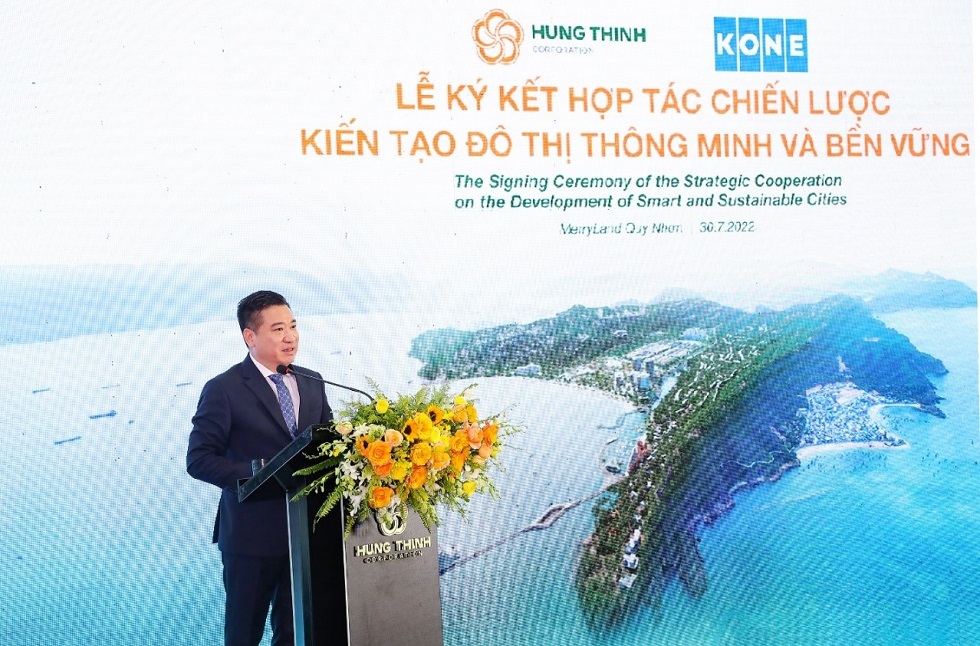 Addressing the signing ceremony, Nguyen Dinh Trung, chairman of Hung Thinh Group, said, "Through the partnership, we do believe that KONE Vietnam can help the firm with the application of the latest technologies and accompany Hung Thinh Group in its journey of developing smart and sustainable cities at MerryLand Quy Nhon and many other places in the near future. I expect the Ambassador of Finland to Vietnam to help the firm access Finnish companies and experts to complete its goal towards the global sustainable development."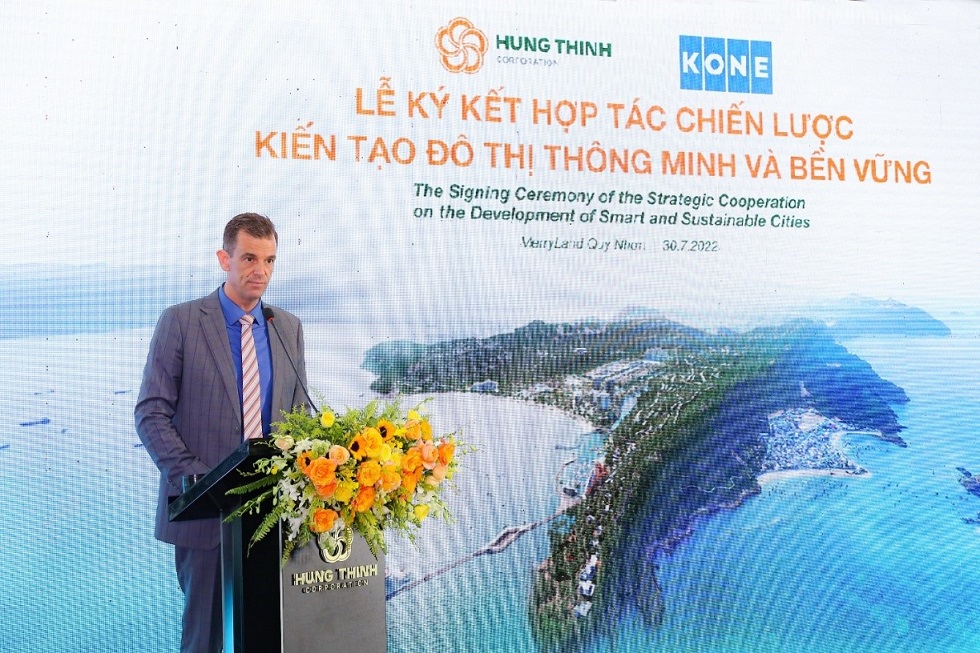 "KONE Vietnam's strength in improving people flow, coupled with its products and digital solutions applied at Hung Thinh Group's projects, will help ratchet up the quality of these projects, offer various experiences to customers and contribute to developing smart and sustainable cities," said KONE Vietnam General Director Bas Degeling.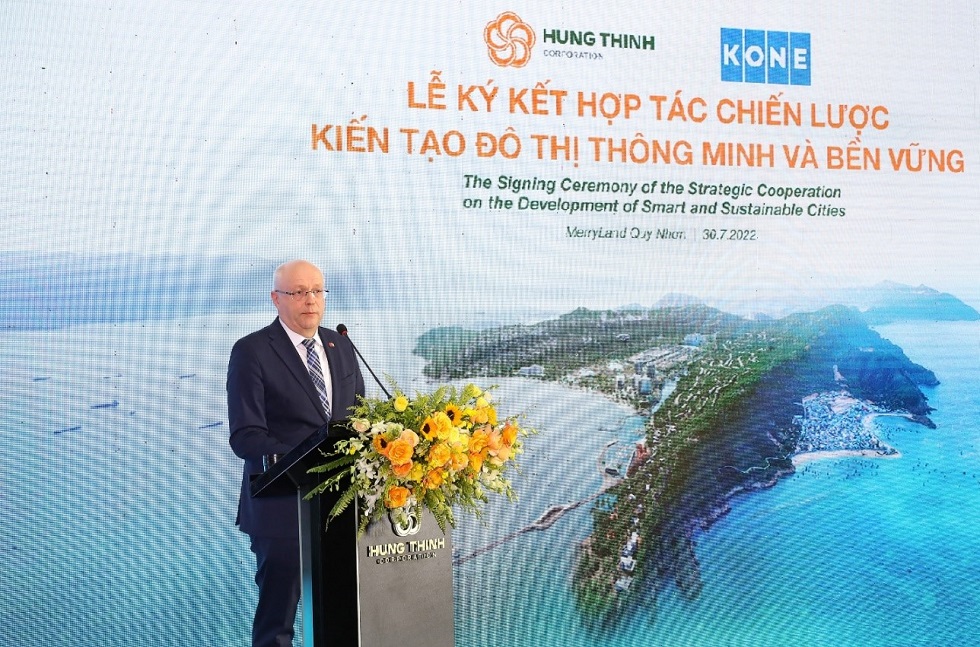 Keijo Norvanto, Ambassador of Finland to Vietnam, saw the great potential of Quy Nhon City's development and praised the importance of some key projects such as MerryLand Quy Nhon in turning the place into a global smart city.
"Quy Nhon City in the central coastal province of Binh Dinh is known as a spotlight for the science-technology, artificial intelligence and smart urban development due to a series of outstanding projects like MerryLand Quy Nhon. I hope that with their experience in smart city construction, major Finnish firms will help Quy Nhon City become a world-class smart city," he said.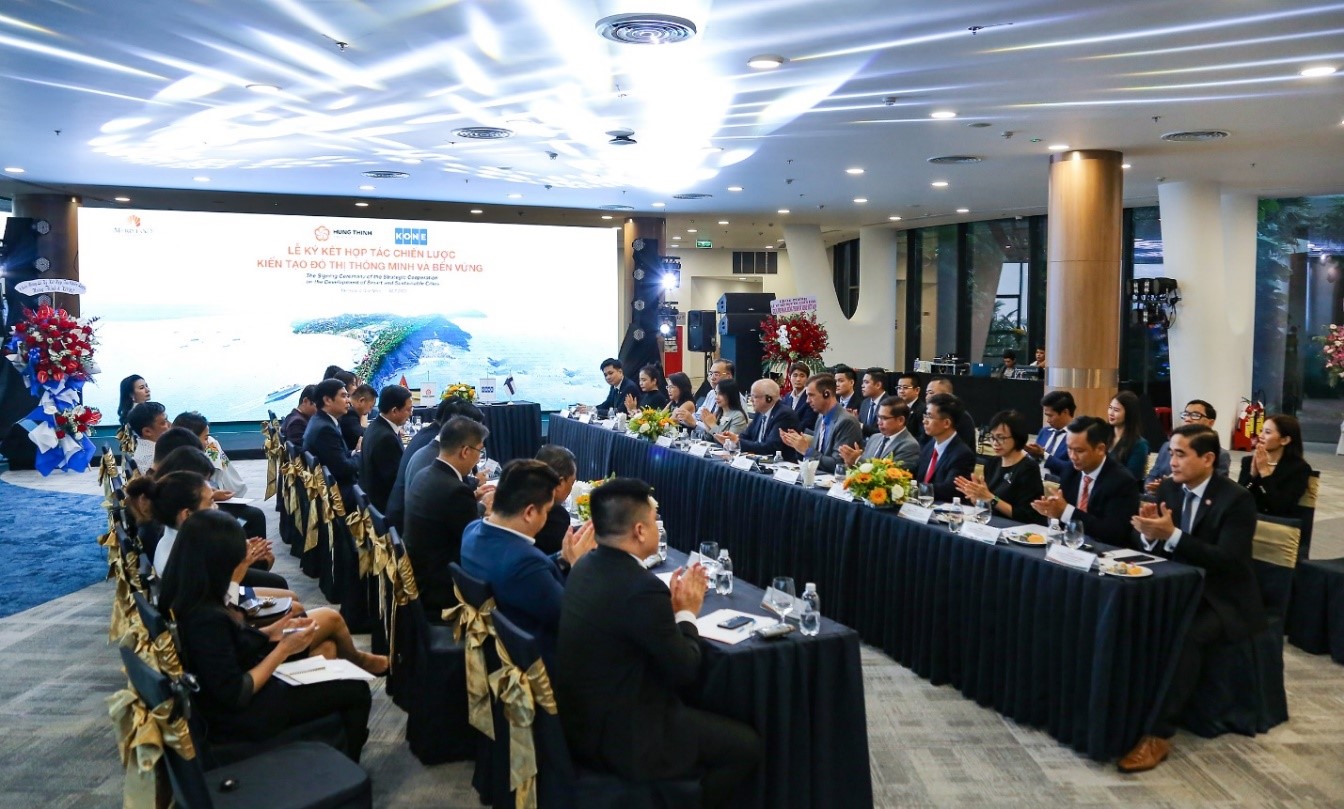 At a session, part of the signing ceremony, the two parties reached a consensus to bring a detailed plan into action at the MerryLand Quy Nhon world-class smart commercial and tourism peninsula city. The big-ticket project developed by Hung Thinh Group sits on Hai Giang Peninsula in Quy Nhon City, with its first phase requiring some US$2.5 billion and covering 695 hectares.
Lots of modern digital technology solutions are being employed at the project. For example, the Merry Passport solution is applied at MerryLand Quy Nhon to increase the efficiency of business activities and ensure profitability for investors there. Hung Thinh Group has boosted its cooperation with local and international tech firms such as Viettel and Samsung Vina to equip MerryLand Quy Nhon with numerous solutions, moving towards turning Quy Nhon into a global smart city.
Speaking at the session, Ho Quoc Dung, Secretary of the Binh Dinh Party Committee, said that MerryLand Quy Nhon will become a pioneer in the smart commercial and tourism urban area development in Vietnam. He expects Finnish businesses to actively make more investments in Binh Dinh Province to promote the green, smart and sustainable development, contributing to helping the province fulfill its targets.
The signing between Hung Thinh Group and KONE Vietnam is a stepping stone to their long-term partnership, expanding the in-depth relationship between Vietnam and Finland in Quy Nhon, Binh Dinh.
About KONE Vietnam
Founded in 1910 in Helsinki, Finland, KONE is one of the world's leading elevator and escalator suppliers. Since its inception in 2009, KONE Vietnam has opened multiple offices in the three regions of the country, with its headquarters located in HCMC. The firm also has an academy to develop a workforce for the elevator and escalator industry. As a global leader in human resources and experience, KONE is ready to expand its reach in Vietnam.
KONE is a pioneer in the elevator and escalator industry, offering various innovative solutions such as KONE DX, carbon KONE Ultraropes and KONE Monospace.
About Hung Thinh Group
Hung Thinh Group is one of Vietnam's leading real estate developers. Over the past 20 years of its development, Hung Thinh has provided the local market with over 30,000 units, creating a safe and convenient living space for residents. The firm is managing and developing 59 high-end residential projects nationwide, with a total area of more than 3,300 hectares. These projects in prime locations are expected to serve over 100,000 customers. This year marks a new stage for Hung Thinh as the group officially tapped the high-end property segment, with a series of large-scale and world-class projects.