The Board of Directors of Hung Thinh Incons Joint Stock Company (Hung Thinh Incons) convened on August 14 to announce the appointment of Truong Van Viet as the new general director and complete its Management Board.
Truong Van Viet, who previously served as vice chairman of the Board of Directors, has assumed his new role since August 14, 2023. With over 16 years of experience within Hung Thinh Incons, he has held key leadership positions, including deputy general director, vice board chairman, and head of the pivotal project management unit. Viet has been a board member since June 2020, assuming the role of permanent vice board chairman of the company.
Having been an integral part of Hung Thinh Incons since its inception, Viet has made tremendous contributions to steering Hung Thinh Incons to significant milestones, elevating its reputation as a general contractor. His leadership has been instrumental in ensuring the quality, timely completion, and impressive financial outcomes of critical projects from 2018 to 2020.
Navigating the company through the challenges posed by the impact of the Covid-19 pandemic and a slowdown in the construction sector, Viet, along with the Management Board, demonstrated resilience and adaptability. Together, they devised flexible strategies that enabled Hung Thinh Incons to deal with obstacles, weather the storm, and emerge stronger.
Alongside his appointment, the Board of Directors has also appointed three deputy general directors – Tran Tien Thanh, Tran Quoc Dung, and Thieu Le Binh. These appointments underline the company's commitment to revitalizing its executive structure to navigate future challenges effectively and stay aligned with its new growth direction.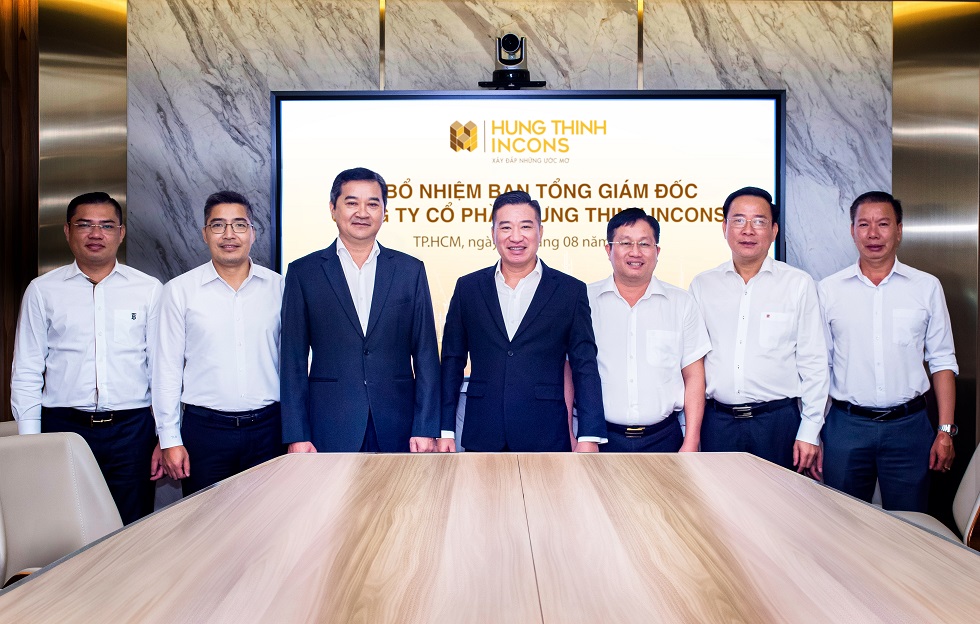 The change in the management board structure aligns with Hung Thinh Incons' commitment to its plan for organizational restructuring and enhances managerial prowess, enabling the company to be well-equipped for its next phase of growth, according to Nguyen Dinh Trung, the company's board chairman.
"While the previous management board had adeptly steered Hung Thinh Incons through the turbulent Covid-19 period, the ever-changing global economic landscape requires us to adapt and evolve. As we embark on a new strategic direction, a shift in our human resources is necessary to fulfill our commitment to shareholders – developing affordable homes for Vietnamese families through prudent investments and leveraging our 16 years of experience," said Trung.
Looking ahead, Hung Thinh Incons, under Viet's leadership as general director, will work alongside the Board of Directors and the management to carry out specific action plans. Immediate priorities include restructuring, optimizing costs, maximizing the capabilities of the workforce, and expediting the implementation of new and existing development projects.
"While the real estate sector is facing unprecedented challenges, it also holds significant opportunities. As Vietnam has a population of 100 million and with the goal of having 50% of Vietnamese citizens residing in urban areas by 2030, we can recognize the obstacles, be well-prepared, and leverage our advantages, and navigate through hardships and thrive," said Viet.
With a renewed focus on expanding and independently developing affordable housing projects, experts highlighted the viability of Hung Thinh Incons' direction. This approach capitalizes on market demand, the company's 16-year construction track record, and the in-depth real estate expertise of its restructured leadership team. This proactive engagement along the value chain is expected to help the firm boost operational efficiency, cost-effectiveness, and sustainable business practices.
The appointments of Viet as general director and three other deputy general directors reaffirm Hung Thinh Incons' commitment to restructuring and strengthening governance practices. The company is poised to "transform and elevate" itself into a new position, embracing change, and heralding a new era of growth.