Coming to Thuy Xuan beach at dawn makes one feel they are in the middle of nowhere. The water surface resembles a giant mirror reflecting the sky, as if there was no boundary between the sea and the sky, creating an infinite space.
The Thuy Xuan infinity beach is a seven-kilometer-long alluvial ground in Thuy Xuan Commune, Thai Thuy District, Thai Binh Province. It is some 120 kilometers from the Hanoi center. Visitors can get there via different means of transport such as motorbikes, private cars and passenger cars.
The beach is still an unspoiled place. There are almost no obstacles obstructing people's vision. It is for this reason that Thuy Xuan beach is termed "infinity beach" by the locals and photographers.
To be able to watch the dawn there, visitors need to get to Thuy Xuan a day before, depart at 2 a.m. the following day to get there within one hour. After parking, visitors have to walk through a mangrove forest to reach the most beautiful spot on the beach.
Tourists need to keep an eye on the tide schedule to choose an appropriate day to visit the beach. It's best when the flood tide recedes and the water is only ankle deep, as it is easier for tourists to visit the beach. It is advisable to choose calm days without wind, when the water surface lies still, creating a magnificent backdrop with limitless light for tourists, idle to capture wonderful moments.
The best seasons to watch the dawn on Thuy Xuan beach are spring and fall. At this time, the sunlight is soft and it is easy to take beautiful photos.
In addition, the infinity beach is also fit for aquaculture. Besides enjoying a surrealist landscape, visitors can also experience the lives of the local fishermen, who come to the beach early morning to harvest razor clams.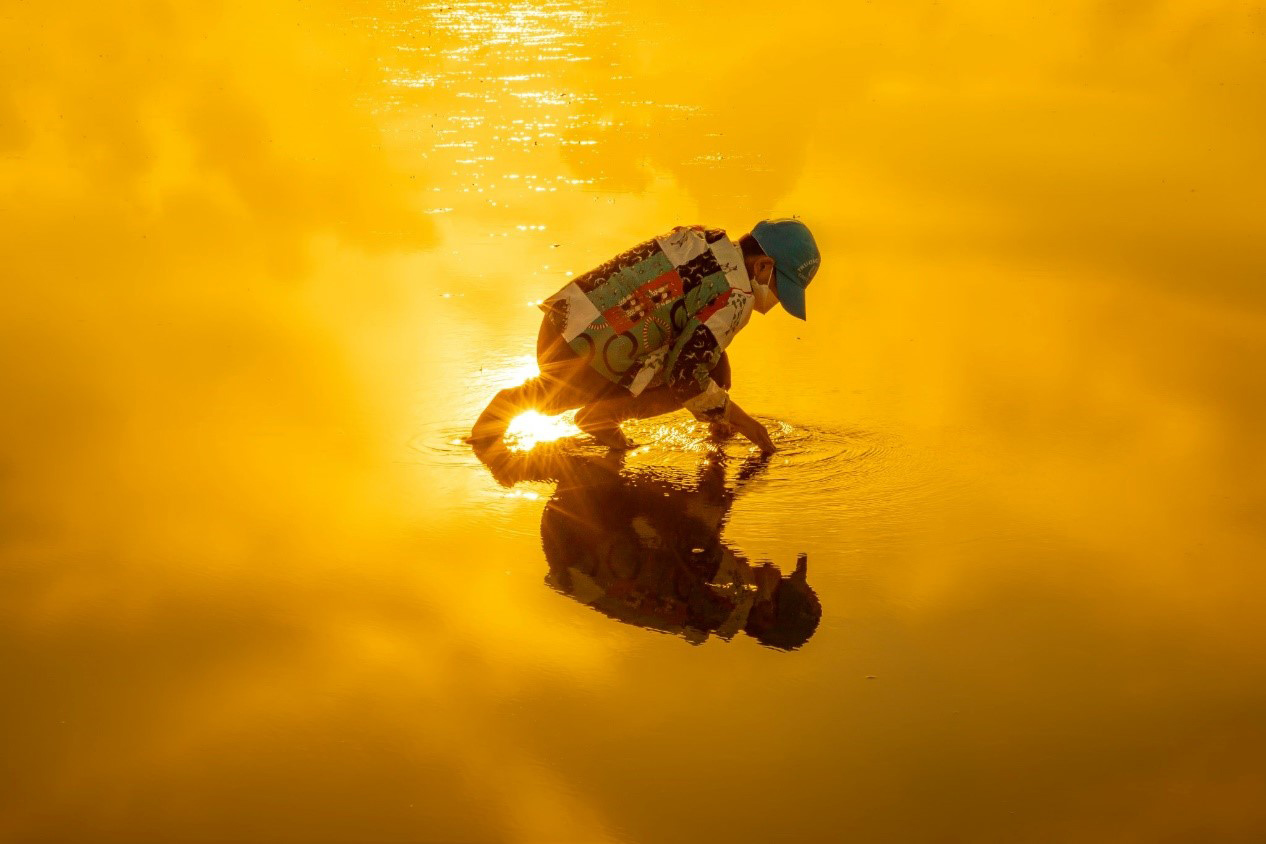 Tourists can also visit other famous destinations to enjoy a full day in the Thai Binh rice countryside, such as Dong Chau beach, Vanh Islet (Con Vanh) and Black Islet (Con Den).
When visiting the infinite sea, tourists should limit luggage as much as possible because the road is slippery. Tourists should carry along waterproof bags to ensure the safety of their devices such as phones, cameras, etc.