In 2016, I traveled to Truong Sa Islands for 10 days onboard the modern fisheries surveillance ship KN490. I chatted with the technical personnel of the ship when I was free. Knowing that I am fluent in English and IT, they asked me if I could read the catalog of a huge refrigerator on the ship, which stored vegetables and meat for 200 people to eat for a dozen days. They did not know if anyone had touched a control button that caused the refrigerator to create ice, while the vegetables in the middle had no cold air.
Since then, I've been thinking about highly skilled workers in the country.
Millions of people are wandering around, despite working hard, but are weak in foreign languages. Their communication and critical thinking skills are also limited because there is little debate in school, so they usually end up doing average jobs. There are several industrial parks with modern factories, but workers learn just a little and only assemble like robots.
Vietnam is a new place of choice
If Vietnamese are not properly trained in their profession, the risk of losing their jobs is very high. The 1986 reform policy has helped fuel Vietnam's economic growth and thus had huge impact on employment. In 1986, a majority of Vietnamese jobs were in the agricultural sector and a small percentage in state-owned enterprises. Now less than half of the jobs are in agriculture, while private sector employment has grown strongly. However, the quality of jobs does not increase accordingly as most jobs have low productivity and low wages.
The world is changing and so is Vietnam's employment picture. Vietnam has become a new favorite destination of semiconductor makers, such as Samsung Electronics and Amkor Technology. Samsung invested an extra US$3.3 billion in 2022, while Amkor will invest US$1.6 billion until 2035. Both projects will come into production in the second half of 2023. Many other investors are also expected to set up shop in Vietnam to make semiconductor parts, such as Hana Micron from South Korea, USI Electronics, a subsidiary of Taiwan's ASE Semiconductor, and Renesas Electronics from Japan.
WB's 2018 employment report
The World Bank's (WB) Vietnam's Future Jobs report "Vietnam's future jobs: Leveraging mega-trends for greater prosperity", published four years ago, looked into major trends and their impact on employment in Vietnam due to (1) The growth of the consumer class in Asia and also in Vietnam; (2) The changing trade models and new trade cooperation mechanisms; (3) The development of the knowledge economy; (4) Automation and digitization in the workplace; (5) Population structure changes and an increasing dependency ratio.
The report also pointed out the path toward future employment to change the current status, as some areas need to be reformed:
(1) Creating more job opportunities with "good jobs" in the modern economy, in which barriers should be removed to develop the domestic small and medium-sized enterprises sector; encouraging businesses to shift to highly knowledgeable stages in regional and global value chains; facilitate the development of Vietnam's agri-food system;
(2) Enhance the quality of jobs available in the traditional economy, including encouraging the agricultural sector to diversify into high-value crops; facilitate the business connection between individual business households, small and medium enterprises;
(3) Connecting qualified workers to the right jobs, including building skills for workers to meet current and future job requirements, through a radical reform of the education and training system; Creating and providing the needed information to put the right people in the right jobs and provide complementary services to facilitate workforce participation and mobility.
High skills, high incomes
According to the 2021 statistics from the International Labour Organization (ILO) in Vietnam, only 9% of occupations require high skills. Meanwhile, the figure is 50% in the UK and close to 65% in Singapore. The country aspires to become prosperous by 2045, so workers must also have high qualifications, such as complex problem solving, decision making, creativity and effective communication skills.
According to World Bank economists Judy Yang and Tran Thi Bao Tram, the Human Capital Index is adjusted for usage level (U-HCI). Over the years, Vietnam's U-HCI has fallen dramatically, from 0.69 to 0.37, reflecting that the limited number of high-quality jobs.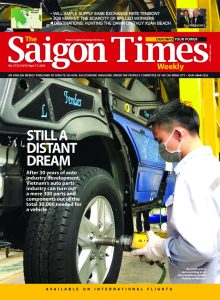 According to these experts, employment of Vietnamese youth is affected by both supply and demand factors. On the supply side, it is possible that the skills and knowledge gained from education do not match the knowledge needed in the modern work environment. One-fifth of companies surveyed in 2019 said the biggest obstacle they faced was the inadequately trained workforce. The rapid advancement of technology also increased the demand for completely different skills than what was taught in school traditionally.
To change this picture, the World Bank's Report "Educate to grow" recently emphasized that Vietnam needs to continue improving the accessibility and quality of higher education to have a high-quality workforce. Reducing the access gap in education for different social groups can help increase the rate of universal higher education. This can be done through increased academic readiness, increased financial aid, and outreach programs in disadvantaged areas.
The desire for prosperity is understandable, but to make it a reality, the country needs a workforce with qualifications different from the 20th century.