The disbursement of the VND120-trillion credit package has been much slower than expected, with very few applicants since its launch over a month ago.
Many housing developers are not eligible to access loans, while numerous new projects are still on the way to getting their legal procedures completed. Capital flow, housing supply, and those who want to acquire homes are still caught in a vicious cycle as there is almost no linkage among those.
Waiting for eligible projects
The State Bank of Vietnam (SBV) and four major State-owned commercial banks (Vietcombank, Agribank, BIDV, and VietinBank) agreed to set aside a combined VND120 trillion to make loans available for home developers and homebuyers in March this year. Each bank will allocate around VND30 trillion for individuals and businesses in need, with interest rates that are 1.5 to 2 percentage points lower than the average of the four banks at the transaction time.
On April 3, the central bank formally wrote to those banks regarding implementing this credit package. The preferential interest rates will be applicable in three years for investors and five years for homebuyers, starting from the disbursement date.
Currently, the interest rates for loans are set at 8.7% per year for investors and 8.2% per year for homebuyers, valid until June 30, 2023. Starting from July 1 this year, the SBV will periodically announce the interest rates for the loans to the participating commercial banks every six months.
Upon the expiration of the applicable period, the interest rates for loans will be determined through mutual agreement between the lender and the borrower in accordance with current regulations. The specific criteria or methods for determining the interest rates will be clearly defined or stated in the loan agreement signed between the two sides.
The VND120-trillion credit package was expected to stimulate demand for social housing among low-income earners immediately, yet the reality turned out to be the reverse.
This loan package is funded by commercial banks' self-raised capital with simplified procedures and swift access for eligible beneficiaries, Nguyen Xuan Bac, deputy head of the Department of Credits for Economic Sectors (SBV), emphasized at the recent conference on the implementation of the "Building One Million Social Housing Units Phase 2021-2030" project.
Despite clear guidelines on interest rates and the applicable period set by the SBV, the credit package has seen few takers since its rollout over a month ago.
According to Nguyen Xuan Bac, the slower-than-expected loan disbursement is attributed to the limited housing supply caused by restrictive investor selection criteria. Complicated pricing methods and strict eligibility criteria for purchasing social housing also impact loan absorption. Additionally, as many guidance documents were just issued in April, numerous localities are still preparing a list of housing projects and beneficiaries eligible to take out the loans.
Many experts believe that the shortage of social housing supply is mainly because the investors in numerous commercial housing projects neglected the requirement to allocate 20% of land for this segment. This prolonged situation has led to an imbalance in the real estate market supply.
Legal procedures for social housing projects are more complex than those for commercial housing. It often takes businesses 2-3 years to handle paperwork and another 2-3 years to complete the projects. This hurdle leads to a waste of resources and time and discourages investors. Therefore, it is understandable why the recent credit packages could not effectively address the shortage of housing projects.
Waiting for legal procedures
Social housing has always been the first segment to receive support policies, especially credit packages from the authorities, as a measure to promote the housing demand in the property market. Recent challenges have revealed a lack of coordination among relevant parties and inconsistencies in approaches to problem-solving. Consequently, loan packages remain untapped, project investors await the completion of legal procedures, and prospective homebuyers hope for relaxed eligibility criteria.
According to Le Huu Nghia, CEO of Le Thanh Company, the recent issuance of multiple documents and support measures for social housing and the real estate market is a positive step. However, businesses are eagerly awaiting a concrete tool for implementing these policies. Despite the launch of the VND120-trillion package, numerous social housing projects are unable to access loans, while new projects are yet to be developed.
"The administrative procedures related to social housing projects are complicated and quite time-consuming," said Nghia.
Many people think that numerous investors are hesitant to engage in this segment as the current regulations stipulate that social housing project investors are only allowed a maximum profit margin of 10%.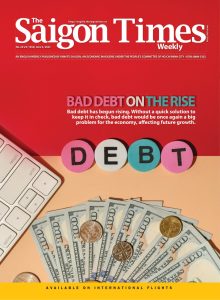 However, Nguyen Xuan Quang, chairman of Nam Long Group's Board of Directors, believes that the 10% profit cap is not a major concern if investors are determined to develop social housing projects. The main challenges faced by businesses in this segment are the slow land clearance process and the lengthy procedures to determine pricing methods, including land costs, project management, and many others.
Meanwhile, individuals in need of social housing are waiting for the conditions to buy or borrow loans to be loosened from restrictions. At a meeting with Phan Van Mai, chairman of the HCMC People's Committee and members of the National Assembly in early May, many workers in District 7 said that their dream of acquiring homes, even social housing, was extremely hard to come true due to impractical eligibility requirements for loan access.
Tran Thi Hong Phuong, a worker at a public services company in District 7, disagreed with the current rule that only individuals who earn less than VND11 million per month or are not subject to income tax can access loans for social homes. While homebuyers need a large amount of savings, many individuals earning over VND11 million per month struggle to make ends meet and find it hard to accumulate savings due to high living expenses in the city.
A social housing apartment costs from VND1 billion to VND1.6 billion, and workers are required to make a 50% down payment. If the loans are only granted to those who earn under VND11 million per month, then how do these people save enough money for the down payment? Moreover, the interest rate of 8.2% per year is considered rather high for low-income earners, according to Vu The Van, chairwoman of the Trade Union of Industrial and Export Processing Zones in HCMC.
The implementation of numerous support policies for the social housing segment has raised hopes for the property market's recovery. However, the Government and relevant authorities should carry out those measures with a synchronization among various elements such as funding, land availability, investment procedures, and market demands.
During a conference on social housing investment recently held by the Ministry of Construction, Deputy Prime Minister Tran Hong Ha emphasized that the VND120-trillion credit package is not aimed at rescuing the struggling real estate sector. Instead, it was designed to fulfill the target of building at least one million social homes by 2030. Therefore, the implementation of the credit package must be reported monthly to the Government.
At the same time, the Deputy PM also asked the SBV and the Ministry of Construction to study and propose an appropriate plan for the implementation of the credit package for investors and eligible homebuyers. This could be a positive factor for entities participating in the housing segment to break free from the current stagnant state.