Many people believe that Vietnam's tourism industry should make further efforts to draw international tourists from markets such as India, Australia and Southeast Asia.
As predicted, the process of welcoming back tourists from the Chinese market, which accounted for 30% of total international visitors before the Covid-19 outbreak, has encountered difficulties.
Since the beginning of this year, Vietnam has received only a modest number of Chinese tourists, primarily because the Chinese tourism management agency has yet to include Vietnam in the list of countries authorized for group tours.
Many people believe that Vietnam's tourism industry should make further efforts to draw international tourists from markets such as India, Australia and Southeast Asia. However, the journey to achieve this goal would require prompt and effective measures from the authorities and the tourism sector.
Businesses have considered other international markets, such as India and Australia, and segments, such as cruises, sports and conference tourism, as potential new channels to increase tourism revenue and reduce dependence on a few major traditional markets. Nevertheless, there has been a lack of research and implementation in these areas.
For example, the number of visas issued by Vietnam to Indians has increased dramatically compared to pre-pandemic levels. In addition, many wealthy Indian individuals are willing to pay generously for extravagant weddings at beach resorts in the country. However, the contribution of this market to the tourism industry remains relatively small in comparison to the total number of visitors and revenues.
Currently, India is a significant source of international tourists for Singapore and Malaysia.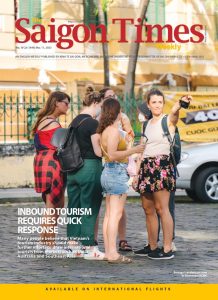 Besides their developed tourism industries, these two countries have a large community of Indian residents and businesspeople, which creates a strong cultural connection and sales channels with India. Meanwhile, Vietnam has been disadvantaged and lagging in the international tourism market. Therefore, it is necessary for Vietnamese inbound tourism to target specific customer segments, provide suitable services to tourists, and manage business relationships with Indian partners effectively.
Additionally, many businesspeople suggested reducing the visa processing time for Indian tourists from 5-7 working days to just one day and introducing attractive programs to business customers, wedding organizers and companies. This approach can attract more Indian tourists in the near future.
Similarly, the Russian tourism market has remained stagnant due to its conflict with Ukraine. However, some companies suggested organizing chartered flights to bring travelers from Russia to Vietnam. Given the situation, the Vietnamese authorities should set up an agency or a working group to support them and help attract more Russian tourists to the country.
Regarding the Chinese market, it is crucial to facilitate connectivity with neighboring countries, carry out various marketing campaigns, as well as improve the service quality to provide a better experience for visitors.
These measures will enable the industry to receive a significant influx of travelers who intend to venture overseas from the middle of this year. Despite the demand for a long-term strategy to recover the inbound tourism sector, urgent actions are necessary to address the current problems.
These actions cannot be carried out by the tourism management agency alone but also require the support of other agencies such as immigration management, finance, diplomacy and aviation. Moreover, the joint efforts from the agencies and sectors play an important role in rescuing tourism businesses when they encounter problems with the market, large groups of customers or amid market uncertainties.
It is widely known that tourism is a vital economic sector. In times of crisis, it is crucial to take immediate action and establish a quick-response team with the participation of various agencies and authorities. This team can help bring new groups of travelers to Vietnam and open up new market segments. These actions not only ensure the survival of tourism businesses but also offer opportunities for companies from other sectors and workers to overcome the challenges post pandemic.