Danang's tourism industry did well in 2019, with 8.6 million visitors, including 3.5 million foreigners, VND30,973 billion in revenue and 35 international flight routes. After three years of an unexpected suspension, the tourism sector of the central coastal city is looking for a second boom. However, there are many short- and long-term challenges that need to be solved.
In the past week, after the Danang City People's Committee and Sun Group announced that the annual Danang International Fireworks Festival 2023 (DIFF 2023) would take place this summer after a three-year pause due to the pandemic, tourism companies in Danang have also kicked off plans to attract visitors.
Many expectations and goals
They have promoted festivals on their social media sites and websites and set up plans to provide tours and services for those visiting Danang to enjoy the month-long DIFF 2023, apart from the annual beach and summer tourism programs in summer.
"The return of the fireworks festival at this time will greatly help stimulate Danang's tourism. A large number of tourists will flock to Danang. Travel companies will grasp the chance to offer proper services," said Tran Quang Trung, director of WorldTrans in Danang, adding that his company would offer ticket combos, including flight, accommodation and fireworks viewing, apart from daily city tours.
In addition to the fireworks festival, according to Trung, the upcoming tourism promotion program and the opening of the Danang beach tourism season will be other highlights to attract domestic and international tourists to the city.
Le Thai Bao Long, CEO of Truong Sa Tourist, specializing in serving guests on the OTA system, also agreed that the international fireworks festival had been the most awaited event of Danang in the past three years. This event will partly help Danang attract a large number of domestic and international visitors, Long said, adding that after the abovementioned events, Danang should organize various national and international festivals throughout the year.
"Truong Sa Tourist kicked off the plans to welcome international guests from April 2022. Up to now, we have served guests from India, South Korea and Southeast Asia. We have invested in 10 luxury Dcar Limousine cars to serve guests in Danang, especially the weddings of Indian billionaires," said Long.
Regarding accommodation, Pham Minh Tuan, vice chairman of the Danang Hotel Association, said hotels and resorts have also pinned high hopes on "Danang experiencing the spring sunshine after a long dreary winter".
Tuan analyzed that sea tourism and fireworks festivals are typical tourism products of Danang. After a long period of being affected by the pandemic, this is a good opportunity for Danang's tourism industry to recover.
"However, such events should be innovative and creative to avoid monotony and attract guests to keep returning," said Tuan. The hotelier said this benefits not only Danang's tourism industry but also restaurants and hotels.
Many challenges ahead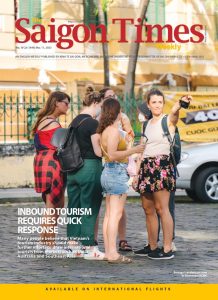 Tuan suggested that before and after the fireworks shows, tourists join eco-tours and learn about the local community in Danang as well as neighboring localities such as Quang Nam and Thua Thien-Hue.
Trung of WorldTrans had the same viewpoint, saying that the current challenge facing Danang's tourism industry is the right way to introduce new interesting products and services to delight guests during their longer stays in Danang.
Besides, the cost of flights and accommodation and rich night-time products are other challenges that the central coastal city's tourism industry needs to solve. Trung said travel agencies, hotels, resorts, airlines, as well as other suppliers, need to practically cooperate to offer guests a reasonable package of services. This helps Danang win in tourism destination competitiveness. Moreover, tourists will not have to deal with low-quality services and tricks when they book tours online.
"We must maintain service quality against the competition of other destinations in Southeast Asia. In terms of tourism quality, Danang still leads in the domestic market, but in Southeast Asia, we are facing great competition," Long from Truong Sa Tourist said, referring to the bottlenecks. More friendly visa policy and digital transformation, according to Long, are two solutions for such bottlenecks.
At the recent Danang Spring Tourism Conference 2023 held on March 3, representatives of the Danang Tourism Association reported some ideas to the city's leaders. They sought to continue reducing land taxes and better policies for foreign workers and exploiting inland waterway tourism more effectively.
They also suggested that the local government offer new tourism products such as pedestrian streets, the river of lights and a map of cafes in the city.
"We are trying our best to recover tourism," said Le Trung Chinh, chairman of the Danang City People's Committee, at the conference.
Chinh said the city would host many large-scale events and festivals this year. So, to achieve success, the Department of Tourism must play an important role.
The department must urgently work with the immigration agency at the Danang International Airport to reduce the time of entry for guests. It is also required to develop new tourist attractions apart from ensuring environmental safety and security as well as food and café maps around town.
Chinh also mentioned the cooperation of other departments.
Specifically, the Department of Natural Resources and Environment, the Department of Industry and Trade, the Department of Transport and the City Police are responsible for the environment, quality of restaurants, food hygiene and safety.
The Department of Labor, Invalids and Social Affairs will boost granting permits for foreign workers, the Department of Finance is responsible for the tax exemption and reduction for tourism companies and the Department of Health will focus on health tourism products.
The Danang Tourism Association and its member associations are also required to act as a bridge connecting businesses and the local government to handle problems (if any), contributing to creating a healthy destination.
Vietnam Airlines increases domestic and international flights to Danang

As of March 2023, Danang is expected to welcome 24 direct routes, including eight domestic and 16 international routes. The average frequency is 100-120 flights/day. Particularly, the national-flag air carrier of Vietnam Airlines operates seven out of eight domestic routes and three out of 16 international routes, including Bangkok (Thailand), Incheon (South Korea) and Narita (Japan). The Danang-Narita flight will be reopened from March 26, with a frequency of four flights/week from March to June 2023. Then it will be increased to one flight per day from July 2023.

This information was announced during the signing ceremony between the Danang City People's Committee and Vietnam Airlines on March 3 on the cooperation agreement for 2023-2027.