Dropping global consumption is a challenge for various industries in Vietnam and local businesses might lay off staff or scale down operations. Given runaway inflation and the U.S. dollar rise against the Vietnamese dong, the plunge in export orders for local manufacturers is expected to last until the first quarter of 2023.
Layoffs and factory closures
Nguyen Van Sang, director of Viet Products Import Export Corporation (Viet Products) and member of the Executive Committee of the Handicraft and Wood Industry Association of HCMC (HAWA), said that export growth had slowed after a robust start early this year.
"Our orders for the fourth quarter of this year are more than 60% lower than in the first months," Sang added, citing rising inflation and an economic slowdown in the firm's key export markets, including the U.S. and European Union member states.
According to Sang, many businesses in the wood processing sector have faced a drop in exports, which left them with little choice but to scale back production. He noted that Viet Products had had to lay off about 30% of its employees, whereas other wood processors had seen far larger staff reductions. A few companies had temporarily shut down their factories.
The U.S. and European countries account for more than 70% of Vietnam's total wood export value. Still, consumers in these two markets now seek to buy as few wood products and other non-essentials as possible, given that these economies are struggling with soaring inflation, added Sang. Other industries, including textile, clothing and footwear, have also been impacted by the manufacturing fall.
Pham Xuan Hong, chairman of the HCMC Association of Garments, Textiles, Embroidery and Knitting, emphasized that while many businesses continued exporting in August, most were backlog sales. In the remaining months of the year, there might be a significant drop in orders.
According to Hong, companies have to bite the bullet to keep their facilities humming because if a firm fails, its employees will undoubtedly find themselves in a difficult situation.
"The consumption decrease will continue for a while due to the global economic stagnation. As growth seems challenging this year, we can only try to make the slump a bitter pill to swallow. Things may get better in the upcoming year if military conflict subsides and inflation declines," said Hong.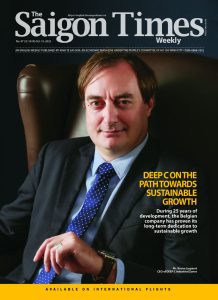 Expansion in key industries slows
In addition to non-essential aspects, the global economic slowdown has caused significant impact on domestic industries that play an important role in daily life, namely the beverage and condiment sectors.
According to Le Thi Hoai Thuong, deputy director of Viet Pepper Company Limited (Viet Pepper), spice manufacturing output has declined significantly in the preceding nine months, with the local market accounting for 30% of overall production.
Viet Pepper's exports fell by about 70% in September. The company, which normally ships eight to nine containers a month, only shipped two to three containers in the previous four weeks.
"Viet Pepper saw a significant drop in the retail industry and a tightening of consumer spending after visiting international fairs across Europe and the U.S. from May to September," added Thuong.
To make matters worse, these markets have raised the bar in terms of quality requirements. Meanwhile, businesses found that the economic prospect remains gloomy, as many retailers and restaurants have yet to reopen, while consumer behaviors have changed due to the Covid-19 pandemic.
In the last three months of the year, the company has scaled up production to meet the higher demand during the forthcoming Christmas and New Year holidays. Customers, on the other hand, do not appear to be interested in purchasing stuff right now. Thuong is worried that business will not get better anytime soon, at least until the end of 2023.
According to Nguyen Ngoc Luan, founder and CEO of Meet More Coffee, exports of coffee and other agricultural goods in the first nine months of 2022 increased about 30% year-on-year. However, purchases by the EU, particularly Germany, France, the Czech Republic and Poland, began to ebb in September.
According to Luan, the demand for the company's goods will slip from now to the end of the year due to the U.S. dollar rise against the euro and the Australian dollar. High inflation, rising interest rates and reductions in consumer spending have made the current situation worse, added Luan.
"In the fourth quarter of this year, exports to those countries would decline 10-15%, and the woes will not disappear through the first quarter of 2023," said Luan.
Difficulties remain until Q1 2023
The fall in businesses' manufacturing and export makes it more challenging for shipping lines. In fact, the number of orders in the previous two to three months had decreased by 30% compared to the first half of the year, according to service providers.
Kieu Ngoc Phuong, board member of Tan Thanh Mechanical Trading Corporation, said that the firm's semi-trailer business had edged down 30% in the last three months, while business in the first half of the year expanded just 20% compared to the same period in 2021.
"As a result of the local and global economic challenges, domestic commercial transportation has stalled in recent months, as well as trading hurdles in materials and commodities," Phuong said, adding that Vietnamese companies would continue to be hindered by global financial uncertainties in the rest of the year and early next year.
According to the S&P Global Vietnam Manufacturing Purchasing Managers' Index (PMI) released on October 3 by HS Markit, the growth rate of new orders from overseas was the slowest in 10 months, while enterprises' excess inventory increased to its highest level in nearly a year and a half.
However, the World Bank (WB) stated in its East Asia and Pacific economic update for October 2022 that Vietnam's robust economic recovery is expected to accelerate further. As domestic demand strengthens and export-oriented manufacturing expands gradually, the country's gross domestic product may rise at the region's strongest rate of 7.2% this year. Indeed, China's growth is predicted at 2.8%, whereas expansion in other developing markets is projected at 5.3%.
Still, the WB cautioned that recession risks remain due to global inflation, growing monetary concerns and the slowdown of the economies that are Vietnam's major trade partners. Faced with looming threats, policymakers may have to redress a tough balance between the need to maintain accommodative policies for recovery and the necessity to manage inflation and other financial concerns in the medium run.
In the eyes of economists, the rising U.S. dollar against the Vietnamese dong has been a particular concern to domestic manufacturing. The local currency might come under pressure as the dollar keeps rising against the dong. In this scenario, Vietnam should prepare solutions to back local businesses if the dong falls further.