Ixora Ho Tram by Fusion lured the market with its unexpectedly successful sales launch in April 2021 despite the negative impact of the Covid-19 on the industry. 100% of condotel units had been sold out ten days before the launch event, an impressive result that wowed the market and proclaimed the triumphant return of Ho Tram's second-home market after a long quiet period.
There is no denying that Ixora Ho Tram by Fusion has created strong demand in the market for both its current and upcoming inventory. Within this context, the developer, Ho Tram Project Company (HTP), has decided to unveil the second phase of this pioneering project later this month. Excitement has been growing for this rare opportunity for buyers to invest a second home property in the center of one of the biggest world-class integrated resorts in Southeast Asia – The Grand Ho Tram Strip, developed and operated by a team of international experts. This second-phase launch will end the long wait for savvy buyers and investors.
The booming post-pandemic tourism market
With the pandemic now under control, travel is one of the most pressing demands among consumers. After two years of hibernation, the industry is bouncing back stronger than ever. Vietnam's tourism market has benefited from government policies, with coastal tourism in particular selected as a key driver of economic growth. The full reopening of the country's borders was another pivotal move for the tourism industry, and the second-home market as well.
Among attractive investment options, an "all-inclusive" world-class second home property located near a bustling city is difficult to beat. Global property investment trends are moving toward owning sophisticated, elegant products operated by renowned international brands. These factors can ensure a profitable long-term investment.
And Ho Tram continues to lure investors thanks to its prime location near Ho Chi Minh City. Ho Tram sits along a 30km coastline with a landscape that includes sea, river, and forest ecosystems. Just a two-hour drive from Ho Chi Minh City and 50 minutes from the under-construction Long Thanh International Airport, Ho Tram receives strong interest from both domestic and international tourists.
With peaceful beaches and the endless green of the Phuoc Buu – Binh Chau nature reserve, a "green lung" that helps regulate the local climate, as well as the Binh Chau hot mineral area, one of 65 global sustainable eco-tourism destinations listed by UNWTO, Ho Tram has solidified its reputation as the 5-star resort capital of Vietnam's second-home market.
The long wait has ended
Ho Tram's inherent potential coupled with the development and operation expertise of HTP, a subsidiary of Asian Coast Development (ACDL), is a powerful combination. Additionally, with strong investment by Lodgis Hospitality Holdings, The Grand Ho Tram Strip is poised to expand exponentially, crafting a destination that is truly distinct in Southeast Asia. Ixora Ho Tram by Fusion – Phase 2 is the newest component project of this sparkling destination.
After the successful launch last year, it was clear that Ixora Ho Tram by Fusion had not fulfilled demand from savvy investors and buyers, as there simply was not enough supply. To meet the growing number of inquiries, HTP decided to develop a second phase with substantial investment in both scale and quality.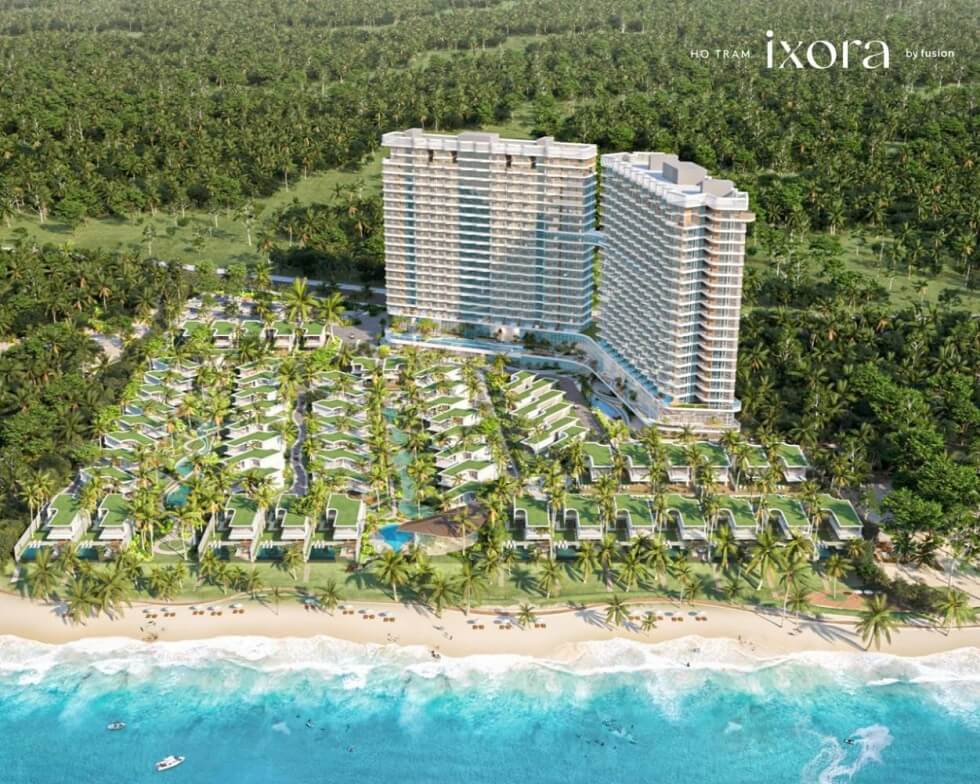 Phase 2 will include 512 condotel units with breathtaking views of the sea and the Phuoc Buu – Binh Chau nature reserve and 63 luxury villas. The project spans nearly 8 hectares along the beach. This is the fifth component project of The Grand Ho Tram Strip, one of the top destinations in Southeast Asia, featuring highly regarded global brands such as InterContinental, Holiday Inn Resort, and The Bluffs. In the future, more exciting projects will be added, including a water park and an entertainment center.
Another vital factor that defines a project's quality and long-term investment value is the developer's reputation and its team of excellence. Lodgis Hospitality Holdings is an investment partnership between Warburg Pincus, the leading global private equity firm, and VinaCapital, Vietnam's leading investment manager. Thanks to a major investment from Lodgis, HTP will continue to resonate with the second phase of Ixora, which is expected to create tremendous investment opportunities. Like the first phase, Fusion Hotel Group, the hotel management company owned by Lodgis, will operate this phase.