Every weekend, a group of local kids aged 6-15 gather along a street in Thuan Phuoc Ward, Hai Chau District, Danang City, to collect and sort waste. They then sell the recyclable waste to raise funds for the disabled and poor in the neighborhood, comprising over 100 households with around 400 residents.
Pham Cong Luong, a local official, told thanhnien.vn that this pro-environmental squad in green was established in early 2019 to raise awareness among children on environmental protection and encourage them to make the most of recyclable items.
The squad, with 42 members until now, is equipped with vehicles and protective gear. The kids also receive support from their parents, siblings and many locals who sort waste at home and put aside recyclable items for the squad.
The kids have earned VND170 million from recyclable waste until now, which was contributed to a fund to support poor students with outstanding academic performance, the disabled and those in need.
Overcoming the prejudice of an ethnic group
Born into a poor family of the Mong ethnic group in Mu Cang Chai District, Yen Bai Province, Hang Thi Ly, the third of the five children of the family, was advised to drop out of school when she was a ninth grader.
While many of her female friends got married when they were teenagers, Ly tried her best to pass the exam to continue learning for free at a boarding high school for ethnic students in Yen Bai.
Ly was granted an Odon Vallet scholarship for poor, outstanding students when she was an 11th grader. Graduating from high school, she went to Hanoi to belong to a vocational college while doing any part-time job to cover board and lodging costs in the capital city.
While in Hanoi, Ly won the RMIT University Vietnam's full-ride scholarship to belong to the tourism and hospitality management faculty.
Currently studying at the RMIT University Vietnam in HCMC, Ly told tuoitre.vn that she would return to Mu Cang Chai to develop tourism in her birthplace, thus creating more jobs for the locals, especially women, helping them escape the long-term prejudice that girls should drop out of school early to get married and have children.
Teaching the elderly, disadvantaged how to read and write
A special literacy class in Nguyen Viet Khai Commune, Phu Tan District, Ca Mau Province, over the past seven years has helped close to 100 elderly and disadvantaged adults learn how to read and write.
Nguyen Thi Thao, one of the beneficiaries of the class, was quoted by vnexpress.net as saying, "I'm so happy now as I can write my own name." The 74-year-old has attended the class three days a week for four months. She added that she rarely missed school, except when she was sick.
Living not far from Thao's home, Nguyen Van Sang, 62, one of the two male students in the class, was always punctual. Born into a low-income family during wartime, Sang never went to school when he was young. "Thanks to the enthusiastic teachers, I learned how to read quite fast. I was taught basic math skills too," Sang said.
The literacy class, which is held in the two hamlets in the commune, is run by the local women's union led by Chairwoman Dao Thi Thanh An, a former teacher with 15 years of experience. An sought the authorities' nod to open the class in 2015 after she saw many local illiterate people using fingerprint signatures for administrative procedures.
Conquering "dinosaur spine" at the age of 80
On January 17, Duong Dinh Thinh began to drive his seven-seat car with his wife, their three children and his wife's parents onboard to make a trip from HCMC to the northern localities and back.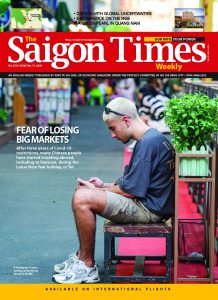 The trans-Viet roundtrip lasted for 14 days, covering over 5,500 kilometers, with the target destination being Ta Xua Commune (in Bac Yen District, Son La Province).
Staying one night at a local homestay facility in Ta Xua, in the next morning (on January 20), all the seven members of Thinh's family took motorbike taxis to the foot of Ta Xua Mountain, the trail on top of which is dubbed the "dinosaur spine."
Thinh, his wife and his 80-year-old father-in-law continued to be ridden by motorbike on that 1.5-kilometer trail. Finally, they could stand on the mountaintop to watch the sea of cloud below them, thus satisfying the long-term dream of the octogenarian.