Vingroup is better known as the country's biggest private conglomerate. It is better known as a real estate giant with numerous large-scale projects across the country. It is also a leader in the hospitality industry, with many large-scale amusement parks and resorts in major tourist destinations like Nha Trang and Phu Quoc. And, needless to say, it is also a young pioneer in the domestic automotive industry, aiming high to become a leader at home before going global.
There is also an area that Vingroup has wholeheartedly committed to over the years, with a sizeable amount of money set aside for the purpose: its corporate social responsibility programs, with support for education taking center stage.
A lifeline for poor, outstanding students
Bui Thi Kim Lien as a single mom and her daughter Bui Dinh Anh Thuy in Khanh Hoa Province's Cam Ranh City have struggled to make ends meet as she could not earn enough from her dish-washing job. The teenage girl became a tenth-grader this school year and needed a smartphone to help with her study, which was beyond the 40-year-old mother's capacity.
Luck has smiled on the poor family, as the Kind Heart Foundation under Vingroup early this year donated a smartphone to the young student, plus a scholarship to help cover the tuition fee and other schooling expenses.
The donation was not a single case though.
Early this school year, the Kind Heart Foundation donated 1,000 smartphones to senior high school students as part of the foundation's scholarship program being launched nationwide. Earlier, in late 2021, the foundation had donated 888 smartphones to poor but outstanding students to help them switch to online learning at the peak of the Covid-19 pandemic.
In this school year, the Kind Heart Foundation has worked with authorities in all cities and provinces across the country to donate nearly 8,000 scholarships. Each high school student was given VND6.3 million.
For higher-education or secondary students, the scholarship is capped at VND20 million a year to cover tuition fees. The scholarship recipient will be subject to assessment after each school year for the following year's scholarship.
Scholarships for students have been offered by the Kind Heart Foundation since 2012 in all localities across the country. After 11 years, the foundation has donated up to 49,000 scholarships to poor but outstanding students, and the donation in many instances has become a lifeline for poor students to continue their schooling.
Generous contribution to education
Apart from scholarships for students, the Kind Heart Foundation has managed to equip schools, especially those in poverty-stricken areas, with learning facilities like computers or even swimming pools.
Under new regulations by the Ministry of Education and Training, information technology is a compulsory subject for students as young as third graders this school year. Many schools in remote regions have therefore raced against time to set up IT labs equipped with computers.
Aware of such hardships facing schools, the Kind Heart Foundation has donated more than 3,000 sets of computers to 152 schools in 30 provinces. In the previous school year, the foundation had also donated 1,200 sets of computers and 20 projectors to 50 schools in 11 provinces.
As drowning among children is a big problem facing the community, the Kind Heart Foundation has since 2018 financially supported schools to build swimming pools so that students could learn basic swimming skills. To date, as many as 119 swimming pools have been built in 36 cities and provinces nationwide, with the Kind Heart Foundation bearing the construction cost.
A representative of the foundation said each swimming pool requires VND600 million for construction. As the Kind Heart Foundation pays the brunt, local authorities also make their counter contributions, which go to maintenance costs and other expenses to operate the swimming pools.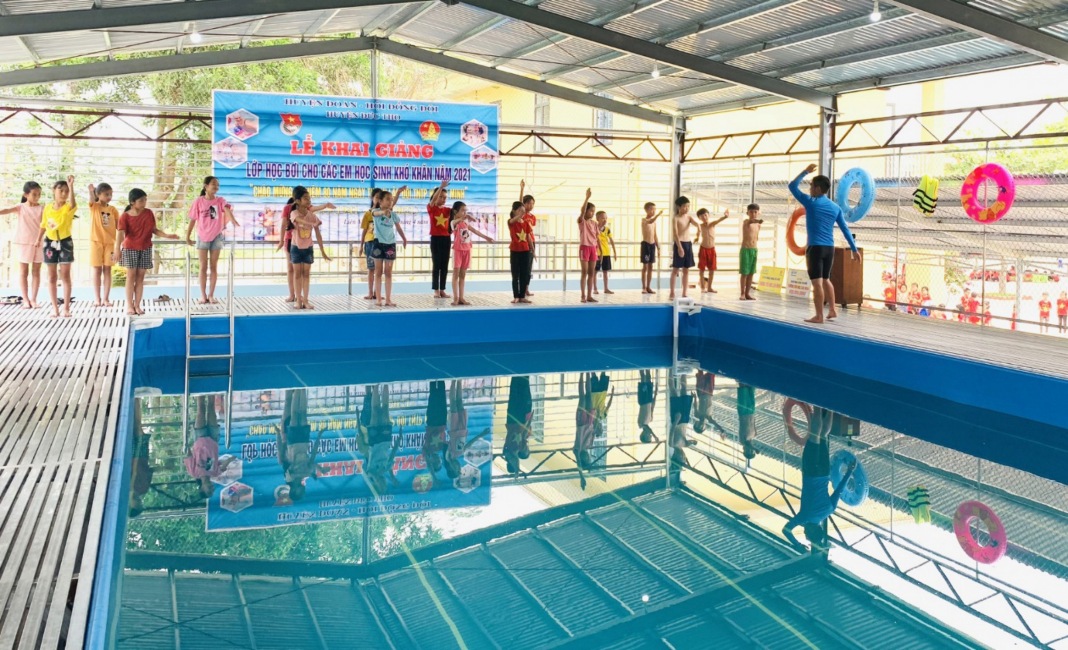 Other CSR activities
While the education sector benefits greatly from the Kind Heart Foundation's sponsorship, other sectors like healthcare, poverty reduction, or even agriculture have also come under the foundation's radar for financial support.
Phan Thu Huong, vice president of the foundation, noted that since its inception in 2006, Vingroup via its Kind Heart Foundation has launched 50 CSR programs with total financial support amounting to nearly VND13 trillion.
Hundreds of thousands of poor people have been offered free health checks and medicine. Especially up to 11,700 elderly people and poor students have undergone cataract surgeries under the foundation's sponsorship.
Meanwhile, up to 26,700 poor households have been given cattle to improve their living conditions, and 25,200 houses have been built for the poor.
Early this year, Huong said, the foundation announced a sponsorship program worth VND15 billion to help the Agricultural Genetics Institute for research to develop disease-resistant cassava strains. This project, to be executed in the 2023-2027 period, has also gained support from international organizations.
"With this sponsorship, the Kind Heart Foundation expects good outcomes from the project will help improve living conditions for farmers," said the foundation's vice president.