Since Vietnam resumed international tourism in mid-March this year, foreign tourist arrivals have increased steadily. However, tourism businesses said restrictions on entry, destination marketing and pricing might prevent them from getting back on track during the peak year-end travel season.
After sitting idle for over two years, the jeeps of Trans Travel company were finally back in action a month ago. Trans Travel welcomed hundreds of French tourists and started to receive bookings for the high season late this year and early next year.
Tourism is bouncing back, especially after Vietnam dropped its Covid-19 test requirement on entry—the last Covid restriction—in May.
The return of optimism
Another businessman, Ngo Minh Duc, chairman of HG Holdings, shared that his work schedule had become busier after they resumed transactions with foreign business partners to bring in tourists. In the aviation sector, IndiGo – the Indian airline for which HG Aviation is a general sales agent – is operating five flights to Hanoi and HCMC weekly.
"The number of passengers is still insufficient. Last week, the seat occupancy rate reached only 55%. However, the increasing number of flights and passengers is a sign of the reviving tourism," said Duc.
The Vietnam National Administration of Tourism stated that removing the Covid-19 test and medical declaration requirements on entry to Vietnam has helped woo international tourists back. Moreover, the sharp increase in tourist arrivals and searches for Vietnam's tourism raises prospects of a steady recovery of international tourism.
Data from Google showed that Vietnam has the highest growth in international searches for airlines and accommodation. Specifically, the search volume increased about 320% at the start of April and about 580% at the end of the month, compared to the same period in 2021.
The search volume for Vietnam's tourism mainly comes from the U.S., Australia, Singapore, France, Japan, and Germany, among others. The most-searched destinations are HCMC, Hanoi, Phu Quoc, Danang, Nha Trang, Hoi An, Dalat and Phan Thiet.
According to data from the General Statistics Office, Vietnam saw 172,900 international arrivals last May, 12.8 times higher than the same period last year. For the January-May period, Vietnam received 365,300 international arrivals, 95% lower than the same period of 2019, when Covid-19 restrictions were not in place. However, the whopping rise in international arrivals since the country reopened tourism is a positive signal. Specifically, there were only 41,700 arrivals in March 2022, but 101,400 in April and 172,900 May.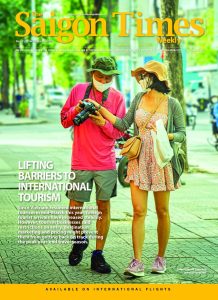 Lifting the last barriers
According to several businessmen, the data is not adequate enough to make a comprehensive evaluation after two months of reopening during the off-season. Based on the current circumstances, feedback from partners and initial bookings for the next peak season, it can be concluded that the market is warming up after the pandemic, but recovery remains slow.
"Currently, the volume of bookings for the high season at the end of this year and the start of next year is 20% lower than before the pandemic," said Ha of Trans Travel.
There are several reasons why international tourism is recovering slowly. Apart from the effects of the Russia-Ukraine conflict and export restrictions to large export markets, the three main barriers were restrictions on entry, high prices and ineffective marketing.
According to Pham Ha, CEO of Lux Group, some tourists had to cancel their bookings as they failed to get their tourist visas. The e-visa application takes longer than four working days. In addition, the website is user-unfriendly and only available in English.
Similarly, the Vietnam Tourism Advisory Board (TAB) admitted that the visa procedures had not been completely restored to where they were before the pandemic. When applying for an e-visa, applicants are not given the exact processing time and do not get a refund when their applications are rejected without explanation.
To obtain visa on arrival, tour operators must assist their guests in getting visa approval letters before leaving for Vietnam. Applying for and issuing visa approval letters is time-consuming and even more restricted after the pandemic.
According to TAB, the easing of entry procedures is a significant development that tourism businesses are looking forward to. Therefore, along with lifting the above-mentioned barriers, the Government should issue visa exemptions for tourists from potential markets, such as the U.S., India, Canada, Australia, New Zealand, Switzerland, Belgium and the Netherlands, and extend the duration of stay of a visa from 15 days to 30 days for the UK, France, Germany, Spain, Italy and Northern European countries for longer trips in Vietnam.
When it comes to pricing, it is said that the prices of Vietnam tours are not very competitive and are even higher than before the pandemic. The main cost is flight tickets. "The prices of flight tickets between Vietnam and Europe are 30% higher than pre-pandemic levels," said Ha from Lux Group.
According to Ha, before the pandemic, tour operators could buy airline tickets on Vietnam-France flights at 450 euros per ticket. The current price is 700-800 euros each. The price for hotel rooms is also up at least 15%. "The high price discourages foreign tourists from choosing Vietnam as their destination and forces them to opt for domestic or nearby destinations instead," he added.
Some businessmen suggested that the Government should facilitate enterprises in solving these pricing problems. Furthermore, the Government can grant subsidies to increase the number of flights, as Dubai is doing, or raise the marketing budget, like Korea is doing.
PR and marketing campaigns targeting international markets have also not made much of an impact. The website vietnam.travel only received 287,000 pageviews, while similar tourism websites in Thailand and Singapore attracted double the number. The number of followers on vietnam.travel's social media is only 1 million, while Thailand has a figure that is three times higher and Singapore five times higher. These statistics were recorded in March and have not changed much recently.
Therefore, it is necessary for the tourism administration departments to organize international PR campaigns, increase traffic to the vietnam.travel website and social media, and hire professional marketing officers to be in charge of interacting with international customers. For direct marketing, TAB suggested reopening overseas tourism agencies and running marketing campaigns in collaboration with airlines.
Only by doing so can the administration departments facilitate enterprises to penetrate the international market and revive international tourism after the pandemic.