Experts agree that improving textile production, fashion design and localization is needed for the long-term development of the domestic garment sector.
Increasing product quality
Most raw materials used in Vietnam's textile sector are imported from China and other countries, making the industry prone to the ups and downs of supply chains and less competitive in pricing. However, a foreign-invested firm in the southern province of Dong Nai has recently built a cutting-edge yarn manufacturing factory for textile production.
The firm developed an internal center for product research and development on its new campus. The facility enhances the business's operational efficiency, given that the fiber-to-fabric process could be carried out in one place and under a closed-loop production method. As a result, the company could introduce more products to the market when the previous ones approach the decline stage.
The 20-year-old firm has also opened a facility in the U.S. to better serve American partners. The factory was designed to promptly accommodate a certain number of orders in the U.S., which helps the firm cut delivery time and expand its market.
Finding such business strategies in Vietnam, however, has not been easy. In the marketplace, it is relatively rare to come across enterprises that could run the risk of investing substantially in R&D, let alone launching operations overseas. Arguably, there have been considerable stumbling blocks for domestic apparel firms despite the industry's immense potential.
Vietnam's textile and garment sector has posted a double-digit growth rate in exports for the last 10 years. Revenues generated from the foreign markets hit US$45 billion in 2022, with made-in-Vietnam apparel brands on the shelves of the world's leading retail stores. Though the fabric spinning and sewing sectors saw a decade-long upbeat trajectory, the fabric weaving and dying have fallen short of the industry's expectations.
By 2022, Vietnam's domestic apparel sector would need 11 billion meters of fabric, but as only four billion meters could be manufactured domestically, the industry would need outside supplies, said Nguyen Van Tuan, vice chairman of the HCMC-based Cat Tuong Group.
The dependence on imports has put the local apparel business at a disadvantage. Imported materials accounted for over half of Vietnam's fabric production, according to recent data by the Vietnam Textile and Apparel Association (VITAS).
Roughly 70% of the domestic manufacturers offer the cut-make-trim service, or CMT, which only transforms the buyer's specific requirements in designs, patterns and fabrics into fully-made products. The profit margin of CMT manufacturing is low, with some firms posting a net income after tax of US$1.7 for each product sold.
The rate will inch up to US$8 for clothes offered by an original equipment manufacturing (OEM) service. OEM factories, which can manage the supply of materials, produce garments tailor-made for apparel buyers. Meanwhile, an original design manufacturing (ODM) firm designs and produces garments bought and then branded for resale.
By and large, ODM production helps add some US$4 to the OEM company's profit to US$12 for each product sold. Nevertheless, it could be scaled up to a staggering 15-time increase in earnings when it comes to the original brand name manufacturing (OBM) businesses, which take full control over the product's first design to its very last sale under manufacturers' own brands.
To thrive, local enterprises in the apparel sector should change from CMT manufacturing to the OEM, ODM and OBM models, which means climbing up the value chain ladder and raising the localization rate of Vietnam's exports, experts said. The effort would ensure the country's products in accordance with the rules on the origin of goods when entering key markets overseas.
More importantly, maintaining a constant flow of material supply under control remains a requirement for business growth in the textile industry.
However, rising employment costs have put a burden on firms' activities. To make matters worse, Vietnamese businesses sticking with simple manufacturing or processing operations now face increased competition from growing apparel businesses in Bangladesh and India, among the countries with competitive labor costs.
Technology edge
In the eyes of businesses, technology applications appear to be a viable way to cut costs and create a competitive advantage. In other words, opportunities are here to stay when local firms can keep words and deeds aligned in pursuing sustainable development and making a digital transformation in production.
VITAS Vice Chairman and Secretary General Truong Van Cam said the lack of material supply, particularly for the dying sector, is one of the most pressing issues of the country's textile and garment industry. He added that many investors, in particular, failed to get approval for their dying facility investments that negatively impact the environment.
The Ministry of Industry and Trade and relevant agencies have worked on the establishment of some large apparel industrial park projects with high-standard wastewater treatment procedures. The Government's bodies are seeking ways to address the lingering shortage of fabric supply.
In addition to green manufacturing, digital transformation in production will optimize the operations of local companies. Many domestic businesses have tried using robotics and automation in manufacturing and seeking Internet of Things solutions to streamline production processes.
Technological advancements, for instance, have spearheaded the sustainable expansion strategy of Fashion Link JSC, or Faslink, a 10-year-old uniform provider in HCMC. The firm's Style Three-dimensional application applied two years ago has allowed its staff to build an online, extensive fabric database and made it easier for salesmen to reach out to potential customers, according to Tran Hoang Phu Xuan, Faslink general director.
"Through the app, we have worked online with our customers with real-time interactions," Xuan said, noting that the result looks mostly the same as during in-person meetings with a long line of briefs and adjustments.
According to Xuan, the difference is that it now takes just hours to have an idea with a materialized fabric sample. For the same workload earlier, the processing time of a fully-made product could last for days.
Xuan stated that the orders received through the app accounted for 15% of Faslink's operations. "It indeed opens up a cost-effective marketing channel for us," she added.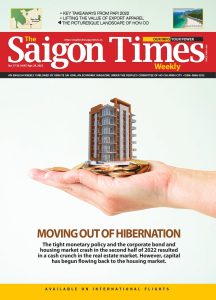 In early April, hundreds of participants in the domestic and international apparel industry joined the Fabric and Garment Accessories Expo, or Saigontex 2023, held in HCMC. The firms brought a range of manufacturing equipment, technology and fiber materials along with an eye on seeking potential partners at home and abroad.
On the sidelines of the event, Deputy Minister of Industry and Trade Phan Thi Thang said the Government plans to develop Vietnam's large-scale textile manufacturing based on high-tech operations, with priorities being laid on green production and sustainable development.
In the international market, the door is not shut for Vietnam's garment sector, according to Vu Duc Giang, VITAS chairman.
As the free trade agreements to which Vietnam is a signatory take effect in the next two years, the business community may see a springboard of hope amid global economic headwinds.
In short, the ball is now in the court of local apparel firms, and squandering chances to enhance apparel export value is no longer a choice.