Vu Van Linh, 28, is a live streamer living in District 11, HCMC. He used to go to bed at 3-4 a.m. and sleep until late in the afternoon. Last year, he weighed up to 110kg from the former weight of 70kg, mainly because of his sedentary lifestyle.
In December last year, Linh bought a mountain bike, and began to get up early to cycle around the city from 5 a.m. every day. Half a month later, he moved to live in the central coastal city of Danang and continued cycling every early morning. Then he decided to cycle farther to the neighboring city of Hue or to Quang Nam Province and back within a day. Wonderfully, he could lose up to 30kg after five months of cycling.
On April 15 this year, Linh started his trans- Vietnam cycling tour. Bringing with him some personal belongings, medicines and repairing tools, he cycled to Hue and then to Dong Ha City (Quang Tri Province). He continued cycling to the northwestern and northeastern regions, and then cycled southward.
As of June 10, Linh had arrived in Phan Thiet City, Binh Thuan Province, crossing over 3,500km by bicycle. He told thanhnien.vn that he would cycle to the southernmost province of Ca Mau to complete his trip.
The boy bravely surviving burns
Twelve years ago, at three years old, Vu Quoc Linh was burned up to 87% of his body. After four months of treatment in the hospital, undergoing many skin grafting surgeries, the little boy could be sent home in Te Tan Commune, Nong Cong District, Thanh Hoa Province, with innumerable scars from head to toes.
Le Thi Ha, Linh's mother, told vnexpress.net that at first, she had to hide all the mirrors in the house for fear that the image her son saw in there could frighten him. But Linh was not so pessimistic about his appearance. He often asked his mother humorously whether he looked like an extraterrestrial being. As for other children, who were afraid when seeing Linh's face full of scars, he asked them whether he looked like Spiderman.
Linh could go to school at the same time as his peers. He could hold the pen to write after undergoing three surgeries to separate his fingers in South Korea. Over the past nine years, he has been a good student in spite of quite a few skin grafting surgeries conducted on him over the past 12 years.
Linh could ride a bicycle when he was seven years old. Now a teenager, he loves wearing sports attire and dancing with music like any other peers.
Buying fish to help a disabled man
Nguyen Doan Mao, a 24-year-old resident of Ha Tinh Province, called for help on social media on June 13 when his 2.5 tons of fish died due to his pond's oxygen machine breakdown. The estimated damage would reach around VND200 million if he could not sell those fish.
Mao told the Tien Phong news site (tienphong. vn) that his family started raising fish for the fishing service about four months ago. At the end of May, he closed the fishing pond to upgrade it and moved his fish to a smaller pond for nurturing.
However, Mao and his relatives found that almost all of his fish died early on June 13 because the oxygen machine stopped working. When hearing the news of the incident, his relatives came to take photos and shared them online, seeking help from other people. The neighbors also came to support his family in selling the fish. Luckily, the fish was sold out within just two hours.
Mao tragically lost both hands after a gas cylinder explosion five years ago. However, he has shown incredible resilience and determination by overcoming the challenges. He shared his story on social media platforms such as TikTok, Facebook, and YouTube and received much love and support from other people.
The "godmothers" of orphaned kids
The "Godmother" program jointly launched by the Vietnam Women's Union and the General Political Department of the People's Army of Vietnam has attracted the participation of over 23,000 "godmothers" for 19,760 orphans, including more than 3,000 ones as a result of Covid-19.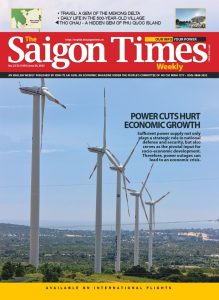 The program has also raised some VND115 billion after two years. At the event held in Hanoi on June 8 to welcome 100 "godmothers" and children coming to the capital city to attend the Hoa Huong Duong (Sunflower) Summer Camp, the organizing board announced an additional of 7,850 orphans had been registered to join the "Godmother" program by organizations, provinces and cities countrywide.
Ha Thi Nga, chairwoman of the Vietnam Women's Union Central Committee, told tuoitre.vn that thanks to the love and care of the "godmothers," most orphans have been able to live a stable life, been obedient and industrious, achieved good academic results, and actively taken part in many social and charitable activities.