TopCV has announced the new Brand Identity and official slogan "Enhanced advantages for Success" – a new strategy, a new stature.
TopCV Vietnam Joint Stock Company (TopCV) has officially announced the new Brand Identity – "The Arrow" – shaped by the complex of many circular patterns (dots) with bold hi-tech look, as a strong affirmation of the company's continuous outreach, in accordance with its positioning since 2016 as "Leading the next generation of HR Tech".
At the same time, to inherit that pioneering spirit, the official slogan "Enhanced advantages for success" has been announced as a declaration towards TopCV's strategic move into an exciting new chapter.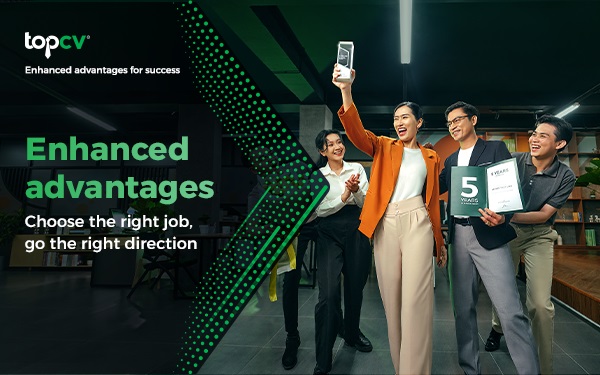 According to a representative from TopCV, "With our new development strategy, we aim to make 'advantage' a guiding principle for all activities, from internal culture, business operations to product development projects in the company. We expect that through breakthrough technological solutions, we will provide more necessary support to help candidates and businesses extend their opportunities for connection, based on three meaningful values: the right person, the right time, and the right direction!"
Over the years, TopCV has placed significant focus on developing numerous solutions for employees, ultimately aiding them in self-discovery, specialized skills and competency evaluation through tests such as Myers-Briggs Type Indicator and Multiple Intelligences Quiz; skill/ competency assessment test system… to professionalized application services. The company continuously provides TopCV users with the tools to calculate their gross – net salary, social insurance and personal income tax, which have enabled millions of individuals to gain a competitive edge in their career paths.
More to that, they also roll out modern communication channels such as live-streaming through social media platforms like TikTok and Podcast apps, in order to share in-depth knowledge regarding market trends and recruitment insights delivered by experienced experts (Senior) in various fields.
All of the features and channels are integrated across multiple platforms, from the TopCV.vn jobsite to the TopCV app, with over 5.6 million monthly users, helping increase accessibility for employees who frequently have a need to update their knowledge in the relevant fields or to track market trends, in seeking new job opportunities or making a career change.
Furthermore, this platform enables the connection of over 7.2 million TopCV users with around 200,000 businesses in different sizes across the country. By utilizing Big Data and Artificial Intelligence, Toppy AI can analyze a large amount of data and understand candidate CVs, from which the platform can suggest matching recruiters on TopCV with suitable candidates based on their job description, increasing effective connection between candidates and employers.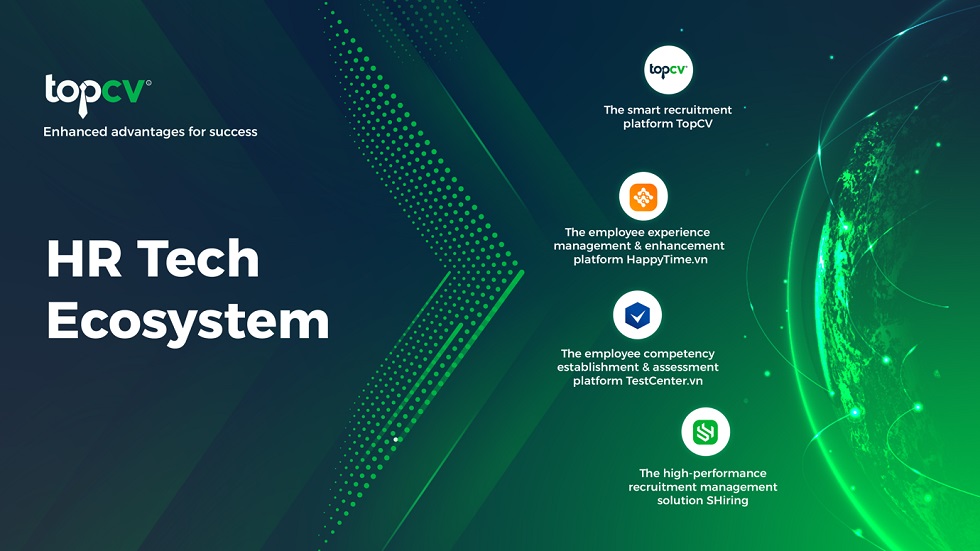 Alongside the advantages of active technology, TopCV encourages employees to create advantages for each other upon their participation into the organizations or businesses. Senior officers can, with their valuable practical experience, support and lead the next generation to a more successful career. This approach also ensures that Vietnamese businesses have a greater chance in connecting with high-quality talents who possess both specialized skills and professional mindset suitable for the organization's requirements.
Once talented employees are attracted, the strategy for retaining them within the organization that TopCV's representative advice is: "Never stop creating advantages for them!"
Owning a suitable corporate culture environment is an advantage, receiving training to enhance expertise is an advantage, being empowered with challenging opportunities is an advantage, working with a strategically-oriented leader is an advantage, … When constantly being trained and motivated, they themselves will unlock their own potential in a particularly powerful way to accompany the business: Together, we enhance advantages for success.