People talk about love all year round, but Valentine's Day made its presence more vivid than ever in February. For this special occasion, The Saigon Times spoke with Aaron Solomon Lorenz (Aaron) from Michigan of the U.S. and Ai Chi My Nguyen (Chi) from HCMC, Vietnam about their journey together.
The Saigon Times: What brought you guys together?
Aaron: We first met at a teaching workshop in our company. My first impression of her was that she was a tiny but very friendly girl. She started the conversation with me first. Then we saw each other for a while, and she finally said yes to being my girlfriend after three months. We didn't come into a relationship too fast but took our time to learn about each other to make sure we love each other for who we are.
Chi: We have a lot in common. We love to travel together, try new foods, and explore new places. We live and do not spend money on well-known brands. Most of all, I am very lucky because he likes learning about my culture and language. He likes Vietnamese food and can eat foods I cannot eat, such as bitter melon.
Is culture a big challenge for you?
Aaron: I think the main issue in our relationship regarding the difference in culture has been her having to return home at 10:00 p.m. There have been countless times over the years when we were out with friends and having a good time, and Chi will suddenly tap me on the arm and say, "it's time for us to leave because I need to be home." This confused me in the early stages of our relationship because, in American culture, it is common for young people to spend time out having meals and drinks with friends until the late hours of the night and sometimes even into the early morning. This was a significant challenge that we had to overcome as a couple, but I respect her family and the culture, so I was willing to deal with it.
Chi: Although I speak good English, there were miscommunications or misunderstandings. Non-native speakers sometimes receive information in English differently than native speakers. This sometimes causes arguments between us. For example, when he said something, it wasn't mean, but I took it negatively and took offense. But I like that we always sit down and talk about misunderstandings and how to avoid them in the future.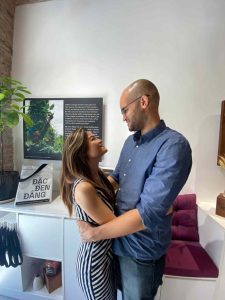 What is the key to maintaining a strong relationship?
Aaron: I think that no matter where you are in the world, your chances of finding and maintaining a relationship are the same. The key is to communicate and be willing to improve things.
Chi: For me, traveling is very helpful in building relationships because we learn and understand our partners and how they deal with problems when they arise. In addition, love, care, and respect are the key (factors) for a relationship to last.
What do you love most about your fiancée?
Aaron: Definitely, it is her positivity. She is very positive overall and friendly to everyone. I never heard her say negative things about other people, except for me, sometimes.
Chi: He is a very independent, responsible, and hardworking person. I know he will be a family man. To me, he is a loving, caring, and respectful boyfriend, and now my fiancé.
How do you prioritize your relationship and make time for each other amidst the demands of daily life?
Chi: Luckily, we do the same job, so our schedules are similar. We work in the evenings and all weekends. So weekday mornings used to be our time off. We usually worked out together, cooked, or hung out. But now he works another job in the morning, so we have less time together. We decided to have Wednesday night as our regular night off for quality time together.
Aaron: Although we are both working a lot and are not able to spend as much together as we would like, I try to keep in mind that every day we are working towards a dream that we have. That dream is to spend the rest of our lives together without worrying about the common things that cause stress in most people's lives, such as money or jobs.
What is your favorite thing about being in an interracial relationship?
Aaron: I would say that my favorite thing about being in an interracial relationship is that it has allowed me to learn a new language and experience a culture that is very different from my own in many ways. I feel that it is both challenging and rewarding at the same time.
Chi: I do not have certain assumptions about certain races. I believe every individual has a different perspective about different things, regardless of their race. Aaron is of mixed race, so he is very open-minded and has friends from different cultures and races. Being with him gives me chances to meet many different friends and learn about different cultures that have opened my mind.
How do you see your relationship evolving and growing in the future?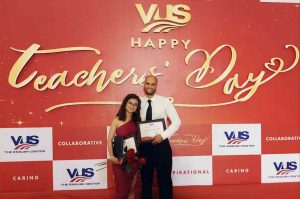 Chi: We have been together for five years now, and there have been a lot of challenges. But the more challenges we go through, the more solid our relationship gets. We just got engaged last month. Our goal right now is to work and save hard to be financially secure in order to start our dream family.
Aaron: Our relationship has gone through several rough patches in the past. We have both put an incredible amount of effort into understanding each other completely and improving our relationship. I feel that the hard work is done, and as long as we are both willing to be completely honest with each other and communicate our feelings, we will have a bright future together.
Reported by The Ky