Masan Group was named among Vietnam's Top 10 excellent brands in 2022 at the Vietnamese Brand Awards 2022 on October 12, while its two subsidiaries, WinCommerce (WCM), which runs WinMart and WinMart+ supermarket chains, and Masan High-Tech Materials (MHT), were honored in the Top 10 strong brands of the Retail and Industry fields.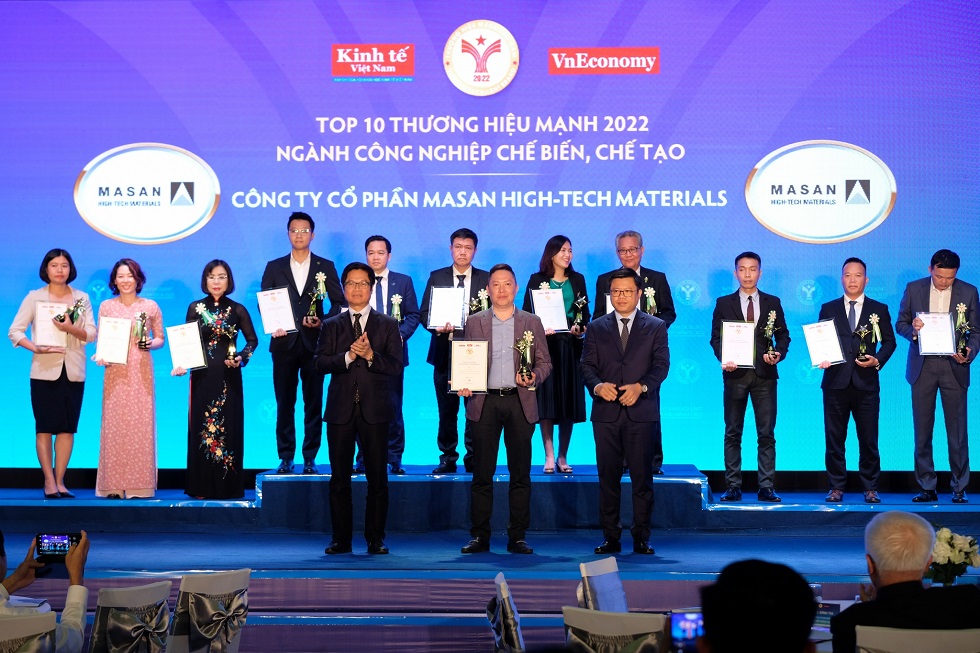 "Vietnam's Excellent Brands" is an annual event organized by Vietnam Economic Times Magazine, initiated in 2003. The 19th edition, themed "Creating and Developing Green Vietnamese Brands," honored brands with outstanding performance, resilience and growth despite the Covid-19 pandemic.
The award ceremony was attended by leaders and officials from ministries, State agencies, provincial and municipal governments, representatives of enterprises and entrepreneurs.
To secure the awards, Masan, WCM and MHT have reported impressive performance in their business operations and during their brand-building process. Besides, the firms have improved standards on sustainable and green enterprise development, sped up digital transformation and implemented corporate social responsibility programs to contribute to the development of the community.
Specially, this year's version also honored excellent entrepreneurs. Nguyen Thi Phuong, deputy general director of WinCommerce, was named among eight excellent businesspeople this year.
Efforts in digital transformation and life improvement
Starting as a fast-moving consumer goods producer, Masan quickly tapped the retail market in 2019, and built a Point-of-Life strategy toward serving 35-50 million customers. Since then, the group has been pursuing the strategy, offering a variety of products and services for the online and offline demands in the financial, education, entertainment and healthcare fields. With these products and services, Masan aims to account for up to 80% of customers' expenses.
In 2022, Masan's goal is to transform to turn it into a consumer-tech platform that can meet all demands of consumers. Nguyen Dang Quang, chairman of Masan, said, "At Masan, we believe that technology is a key factor for consumption transformation and is considered one of the prioritized strategies. We do see technology as a key tool to personalize products to offer consumers outstanding experiences rather than an independent business model. Employing technologies to meet huge demands of consumers is an effective way to increase production and profit, especially to fulfill a mission of improving Vietnamese residents' mental and physical health."
After the Covid pandemic was put under control, Masan's first deal was to buy a 25% stake in Trusting Social, a fintech company which specializes in providing artificial intelligence (AI) and machine learning (ML) solutions for credit scoring. With Trusting Social technology solutions, Masan can provide its consumers with large-scale credit services.
Apart from the use of AI and ML solutions to credit services, Masan also applies these tools to the Point-of-Life platform and the WINLife ecosystem, which was launched in September. WINLife was Masan's next breathtaking step, aimed at improving consumers' experiences with a technology consumption model.
Masan is running 27 WIN stores under the WINLife ecosystem, integrated with WinMart+, Techcombank, Phuc Long, Reddi and Dr.Win – a kiosk for healthcare. WIN stores feature more utilities than WinMart+ supermarkets and are equipped with payment kiosks, together with checkouts.
In 2022 and 2023, Masan will continue to expand its operation and investment in technology with a focus on AI and ML solutions to promote business efficiency and re-shape consumption experience to make the group a professional technology consumption ecosystem.
In addition, the group aims to optimize a product portfolio at stores, simplify sale procedures and focus on consulting services to satisfy customers. Furthermore, AI and ML solutions will be used to build a loyal consumer program to increase the group's understanding of consumers to offer customized products and services.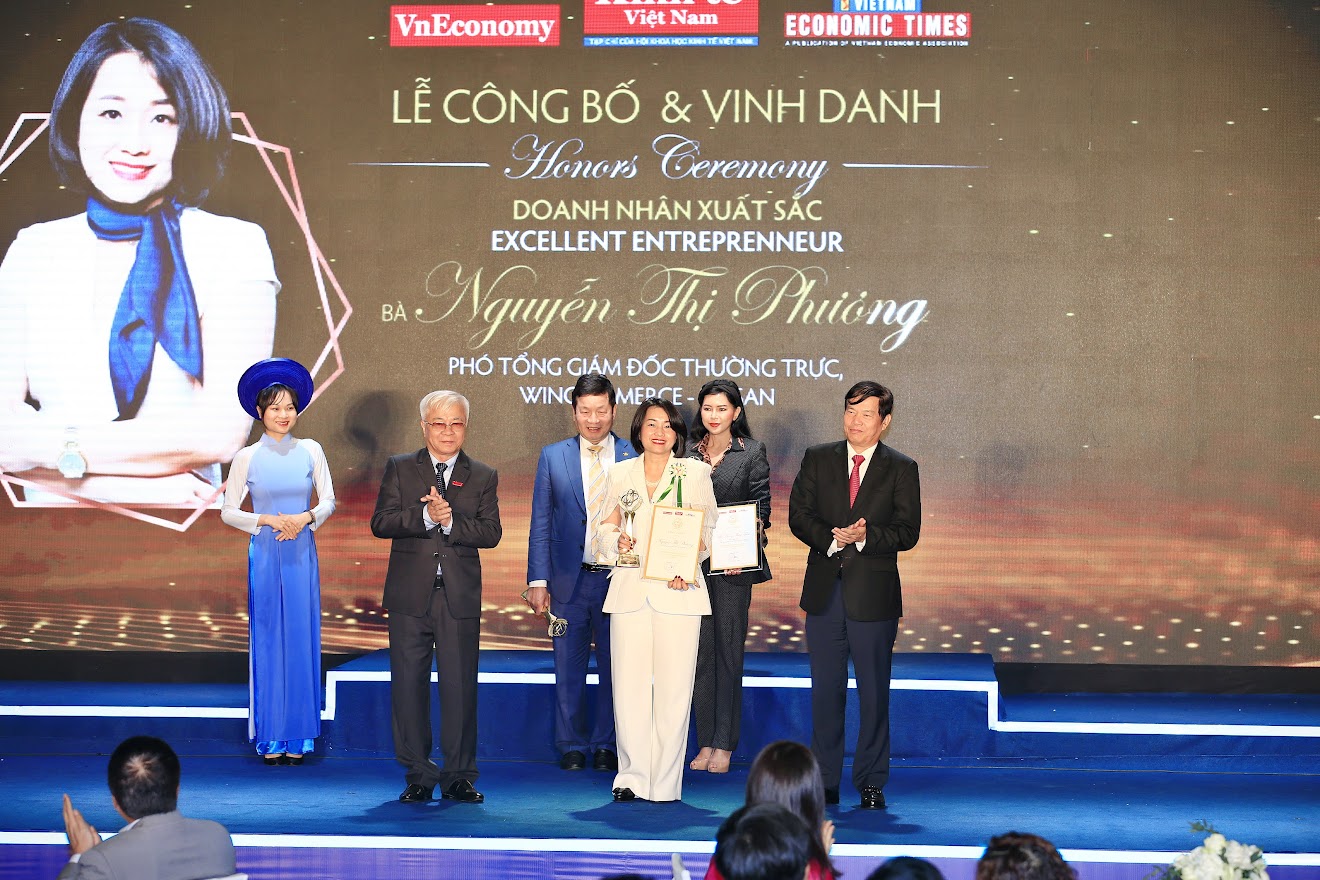 Active contributor to society
As one of Vietnam's leading consumer goods producers, Masan has been attaching much importance to corporate social responsibility (CSR) programs and has ceaselessly improved standards on sustainable development. Social development, environmental protection and business growth are Masan's priorities during its journey of serving 100 million Vietnamese people.
As for the retail field, WCM's chain of 3,000 WinMart and WinMart+ stores has relentlessly improved their operating quality, with new arrangements and models, plus various utilities. Specially, WCM always maintains a Vietnamese product rate at 90%, prompting Vietnamese producers to innovate their production methods to churn out high quality products.
Aside from its contribution to society through its high quality products and services, Masan has been initiating a series of CSR practices in terms of healthcare, education, property and infrastructure. Since 2021, the group has poured over VND500 billion into social programs to help Covid-hit residents and frontline forces, and other wellbeing activities.
The group on October 2 donated VND1 billion to the government of Ky Son District in Nghe An Province to accompany the local authority and residents to overcome the difficulties and damages caused by flash floods.