Medtronic Vietnam has been recognized as a Great Place to Work-Certified company by Great Place to Work—the global organization on workplace culture. This is the first time Medtronic Vietnam has received the award.
Medtronic Vietnam met all the criteria set by the authority including values, leadership effectiveness, innovation by all and financial growth.
A great workplace has to be able to maximize human potential through effective leaders, meaningful values, and a deep foundation of trust with all employees, according to the "Great Place to Work" organization. When these parameters are in place, a workplace is benefitted with improved innovation, collaborative environment and financial growth. The Great Place to Work organization interviews or conducts surveys with employees randomly and selects great work places based on the criteria.
Prior to this award, Medtronic Vietnam was also named as one of the Best Companies to Work for in Asia 2021 by the prestigious human resources magazine HR Asia. With the title, Medtronic received outstanding scores with Core at 4.36 points, Self at 4.42 points and Group at 4.47 points out of maximum five for each criterion. Core (Collective Organization for Real Engagement) evaluates the culture and transparency level of the business; Self (Heart, Mind, Soul) assesses the level of commitment, pride and emotion at work; and Group (Think, Feel, Do) determines the level of cooperation among employees of the company.  In terms of Core, Self and Group, Medtronic Vietnam's scores are higher than market average which is 3.67; 3.82; 3.91 respectively.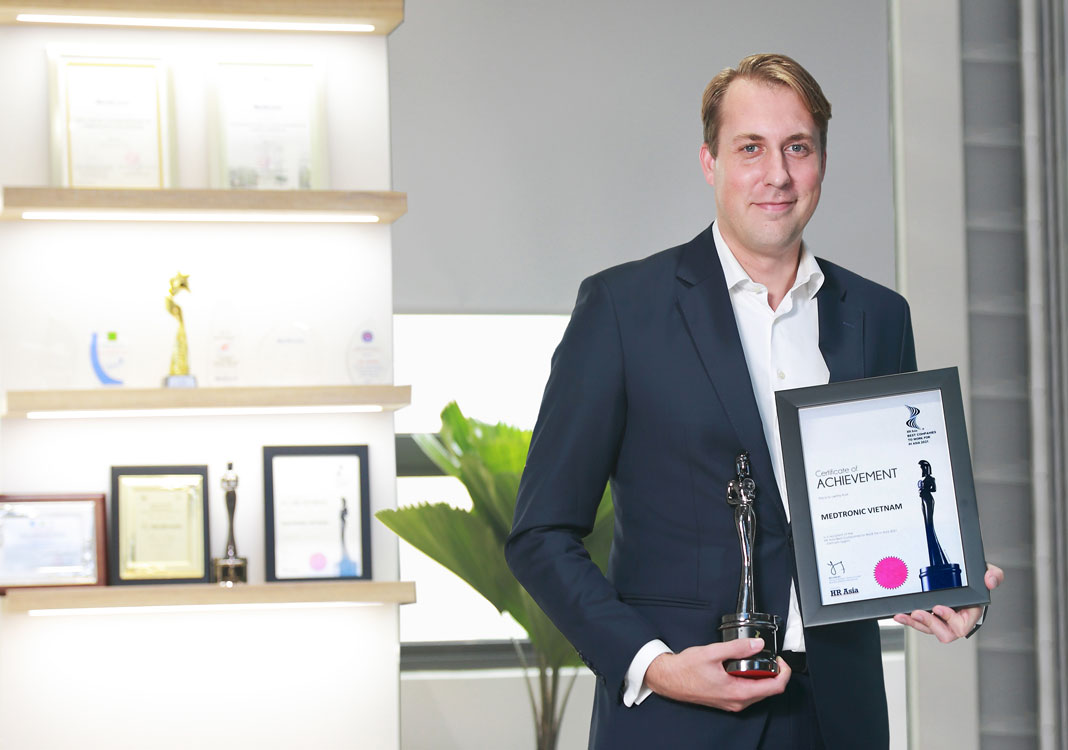 People are key pillars at Medtronic Vietnam
Paul Verhulst, managing director, Medtronic Indochina, expressed that he is grateful and proud of receiving these two significant awards. "The two first recognitions are a double win for Medtronic Vietnam in 2021, showcasing our work culture, our efforts and our commitment towards our employees. A great workplace is made by its people and I'm thankful to our employees for building our culture and making Medtronic Vietnam a great place to work especially in the healthcare sector," he said.
When Mr. Verhulst was appointed managing director of Medtronic Indochina November 2020, he started his new chapter in Vietnam working closely with his Vietnamese colleagues and team members especially to enhance the work culture and build trust.
"At Medtronic, we live by our mission to alleviate pain, restore health, and extend life," said Mr. Verhulst. "This guides our actions on a day-to-day basis and we are determined to do our best to care for our employees, their families, and the communities in Vietnam."
Engaging, positive and trustworthy working environment really counts
Medtronic Vietnam will continue its efforts to put employees first in everything the company does and keep improving to ensure its people have the resources, support and recognition they need.
During the time Vietnam fought against the fourth wave of Covid-19, Medtronic Vietnam offered solutions which helped their employees deal with the difficult situation. The company provided wellness packages with healthy food and caring bags, including a SPO2 machine, multi-vitamins and essential items to help employees with home care during the pandemic. The company also ensured regular communications and updates with its staff. Moreover, Medtronic Vietnam remained in  close contact with local health authorities to stay up to date regarding current health information.
These ways helped Medtronic Vietnam better protect the health and safety of its employees, key pillars at Medtronic. Moreover, the company focuses on building strong foundational team with new capabilities as well as work environment.
The working environment at Medtronic Vietnam has inspired and encouraged its employees in their choice of career. Talking about her experience, Do My Anh, clinical and program manager, Medtronic Vietnam, said her chances to move forward at the company are excellent. "I have the opportunity to work in different positions at Medtronic Vietnam, which has broadened my knowledge and experiences to develop the right career path to fulfil my ambitions."
Meanwhile, Ly Linh, a customer service specialist at Medtronic Vietnam, emphasized the importance of the working environment at the company. "We spend quite a substantial amount of time at work and with our colleagues. So it's important that our working environment is engaging, positive and trustworthy. Here in Medtronic Vietnam, we love what we do, we act boldly and foster a sense of belonging with the team."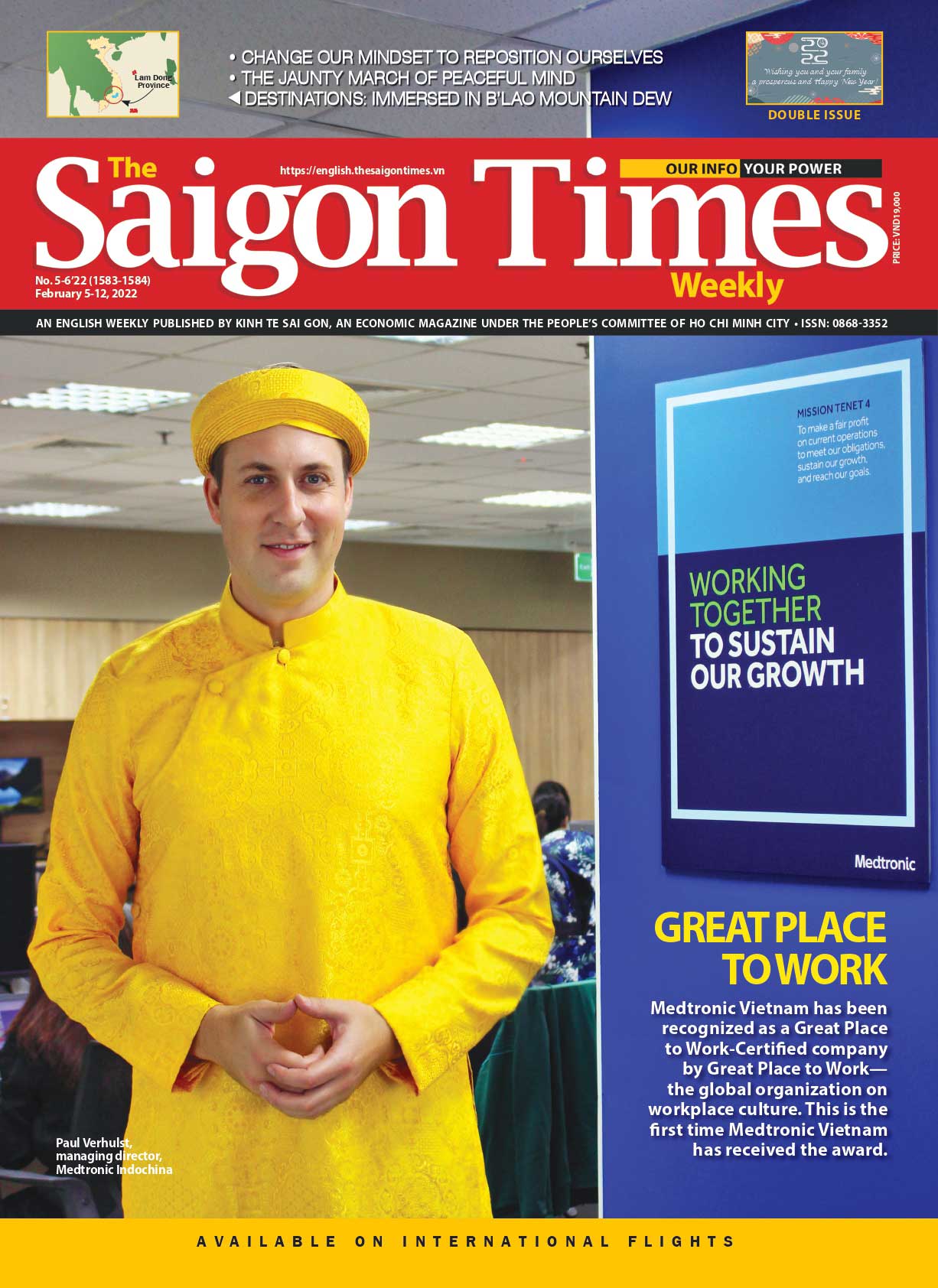 Medtronic's future plan
Medtronic has been operating in Vietnam for more than 10 years and is one of the first companies to be involved in shaping the healthcare industry and transforming technologies to provide the best treatment to patients thereby achieving better patient outcomes and improved lives.
Medtronic Vietnam is a subsidiary of Medtronic Plc.—a global leader in healthcare technology. The company has planned to expand its market in Indochina particularly in Vietnam. Medtronic's Indochina strategic initiatives feature three pillars: people, growth and efficiency. Particularly, the company is going to build strong foundational team with new capabilities as a way to be recognized as "Employer of Choice," Mr. Verhulst said.
Talking about the growth, he said despite the Covid-19 pandemic, economically Vietnam remains to be very strong with two-thirds of economic growth being estimated from outside Vietnam's key cities like HCMC and Hanoi. Therefore, Medtronic wants to capture the opportunity by working with partners to expand in Tier 2 and 3 capitals. In addition, the company will further pursue initiatives to get closer to customers and develop strategic partnerships with local governments, hospitals and manufacturers.
The final strategic pillar for Medtronic Vietnam is efficiency. According to Mr. Verhulst, Medtronic will establish data driven culture to drive growth and efficiencies. Moreover, it will utilize integrated business planning to link strategic plans with sales, operations and financial results.
Beyond its ambitious targets, Medtronic Vietnam will continue its corporate social responsibility like in the past years. In 2021, through the collaboration with the Vietnam Embassy in the U.S. and Vietnam's Ministry of Health, the company supplied 400 ventilators to help the country fight against the Covid-19 pandemic.
Mr. Verhulst hopes that all will come out of the pandemic situation soon especially in Vietnam where he is planning to celebrate Tet (Lunar New Year) for the first time, as the country has adopted a new anti-pandemic approach on living safely with Covid-19.
The "Best Companies to Work for in Asia" by HR Asia 2021 cover 13 markets across the region including mainland China, Cambodia, Hong Kong, Indonesia, India, Korea, Macau, Malaysia, the Philippines, Singapore, Taiwan, Thailand, and Vietnam making this the largest survey in the region for employee engagement and workplace excellence.
The "Great Place to Work" certification is a badge of honor that validates the employee experience a company has created for its people and the great workplace culture the company has built. It can help the company recruit new employees, retain existing ones, open partnership opportunities and more.