It goes without saying that MerryLand Quy Nhon is a mega destination in the Central Coast of Vietnam, a tropical wonder that captivates global tourists with its collection of unique Vietnamese records and many layers of rare experiences.
There's no surprise that Quy Nhon in Binh Dinh Province is an unrivaled tourist destination during the summer. In the first six months of 2022, the number of visitors to this city, dubbed "the land of martial arts and literature", surpassed the country's biggest names, such as Khanh Hoa and Da Nang, with 2.3 million arrivals.
Coming here, tourists all have a crush on hotspots in the area such as Hai Giang peninsula, or Nhon Ly with its beautiful coastal fishing village that resembles a romantic Korean movie, Ky Co boasting crystal clear beach where travelers can see the bottom of the ocean, and Green Island, referred to as the "Pearl of the Far East."
Once among the top 20 most popular travel destinations in the world, this seaside town has now become a must-see point of arrival.
Still, Quy Nhon's heavenly beauty bestowed by the nature does not stop there, as the emergence of MerryLand Quy Nhon, an amazing "tropical wonder", has added to the city's allure.
Hai Giang Peninsula: backed by mountains and faced by the ocean
The Hai Giang peninsula, where MerryLand Quy Nhon is located, has a breathtaking appearance.
Upon arrival at this location, Paul C. Steelman, founder and CEO of the world-famous design company Steelman Partners LLP, found himself standing in front of a stunning young woman whose beauty can outshine any make-up.
According to Shannon Brooks, CEO of Laservision, which produces the world's best water and light shows, the unique terrain encompassing the sea, valleys, and mountains enhances its appeal and makes it an outstanding venue for performing arts.
Besides these two famous names, people who visit this place for the first time will be lost in admiration of how beautiful it is.  With mountains backing it up, and the ocean facing its either side, Hai Giang is known for its gentle hills connected by a coast that stretches to the South. For Vietnamese and international tourists, this location is certainly worth a visit.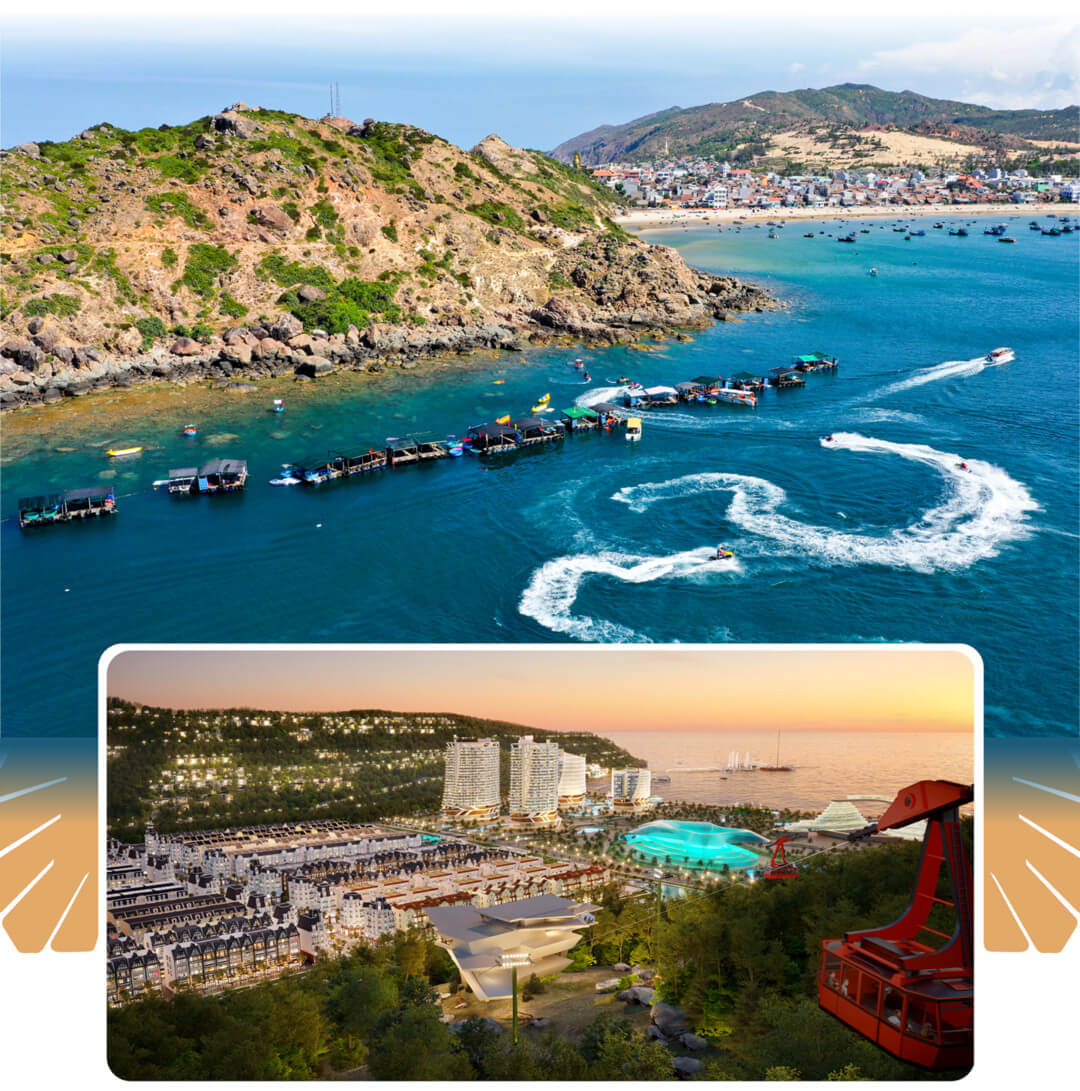 MerryLand Quy Nhon: an experience to a wonder
Located at the confluence of sea, valleys, and mountains, MerryLand Quy Nhon is step-by-step becoming the region's leading international tourist destination under the guidance of Hung Thinh Groups. It was designed, built, managed and operated in collaboration with world-renowned companies such as Laservision, Marriott International, Samsung Everland, Greg Norman and Steelman Partners.
All of these things add up to a fantastic destination of wonders right on the Central Coast awaiting travelers.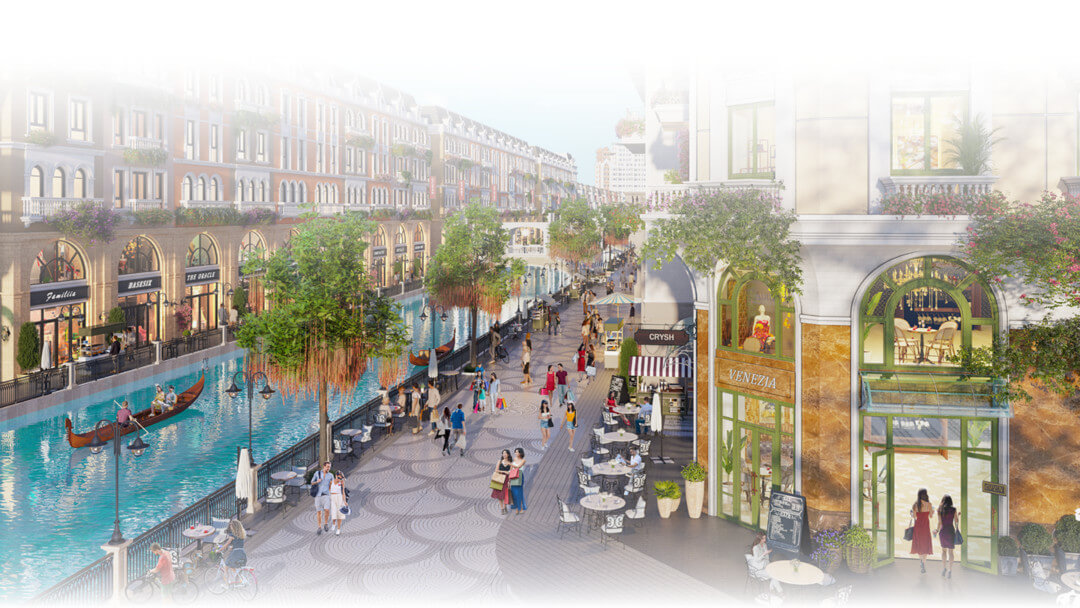 5 record channels in the valley's heart
The river strip tucked between mountains and the sea immediately catches the attention of tourists when they set foot at MerryLand Quy Nhon. A strange but charming scene is created by the 3,500-meter length of the five canals that wind through the valley and surround the 12 streets of the Bizhouse Canal District.
A stroll or sail through the canals that pass the Han River will transport you to the vibes of New York with its wealth, Paris with its romantic and dreamy look of the Seine River, or Seoul with its hustle and bustle pace of life.
Across the canals are 28 completely separate designed scenic bridges – a check-in point not to be missed by anyone.
Aside from that, tourists can stroll down a bustling shopping street and admire houses with different architectural styles in the blend between the West and the East.
Spectacular water music square
When the sun goes down, The Water Music Square, located in the Bizhouse Canal District, is another place for visitors to unwind at night.
Featuring two world records in terms of design, this place is grand and exceptionally special: With a total area of 44,283 square meters, it is Vietnam's largest music square and has the longest water music square in Vietnam with a total length of over 840 meters.
In the breathtaking view of sea and sky, the entire Hai Giang Peninsula seems to merge with light in unique holographic water music and 3D mapping performance by Laservision, "the creator of the world's greatest show".
To create amazing effects, touch the emotions of the audience, and create unforgettable moments, Laservision utilized various technologies spread over thousands of square meters. In the area, over 300 sprinklers were installed at heights between 30 and 50 meters, interrupted by huge fire nozzles up to 20 meters high. Lasted technology allows it to recreate a story of love, land, and people with breathtaking accuracy.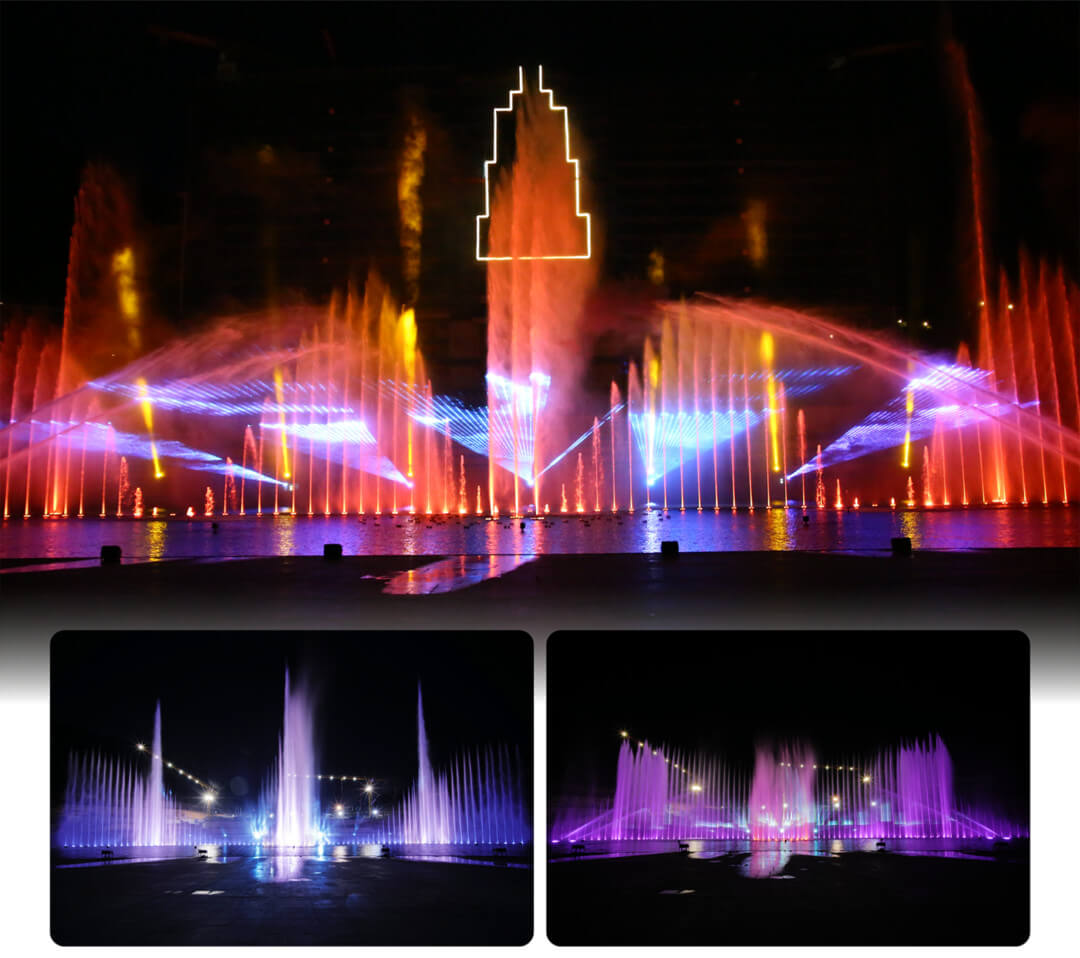 Combination of Y.O.U bridge and rose pattern heart bridge
There are more than just scenic bridges spanning the canals at Merry Land Quy Nhon. Connecting Water Music Square lies a combination of Y.O.U Bridge and Heart Bridge, romantic coordination that everyone should try to visit once in their lifetime.
Thu Thuy, the artist who created the bridge complex, said each bridge carries a broad meaning of a love story, which was restored in a special form after several months of paintaking work. Symbolizing complete happiness, the complex is centered on an O-shaped bridge, covered by hundreds of thousands of ceramic tiles and hand-fired ceramics. The heart shape in the middle of the O appears to glow.
At MerryLand Quy Nhon, the Heart Bridge has just been officially opened to the public as thousands of crimson roses bloom across its surface in the spirit of a tale about love, country and human.
At night, the heart bridge with red roses of various shapes becomes even brighter thanks to the carefully installed lighting system. MerryLand Quy Nhon's Y.O.U bridge complex with its two heart bridges symbolizing lasting love is really "well-loved" by visitors.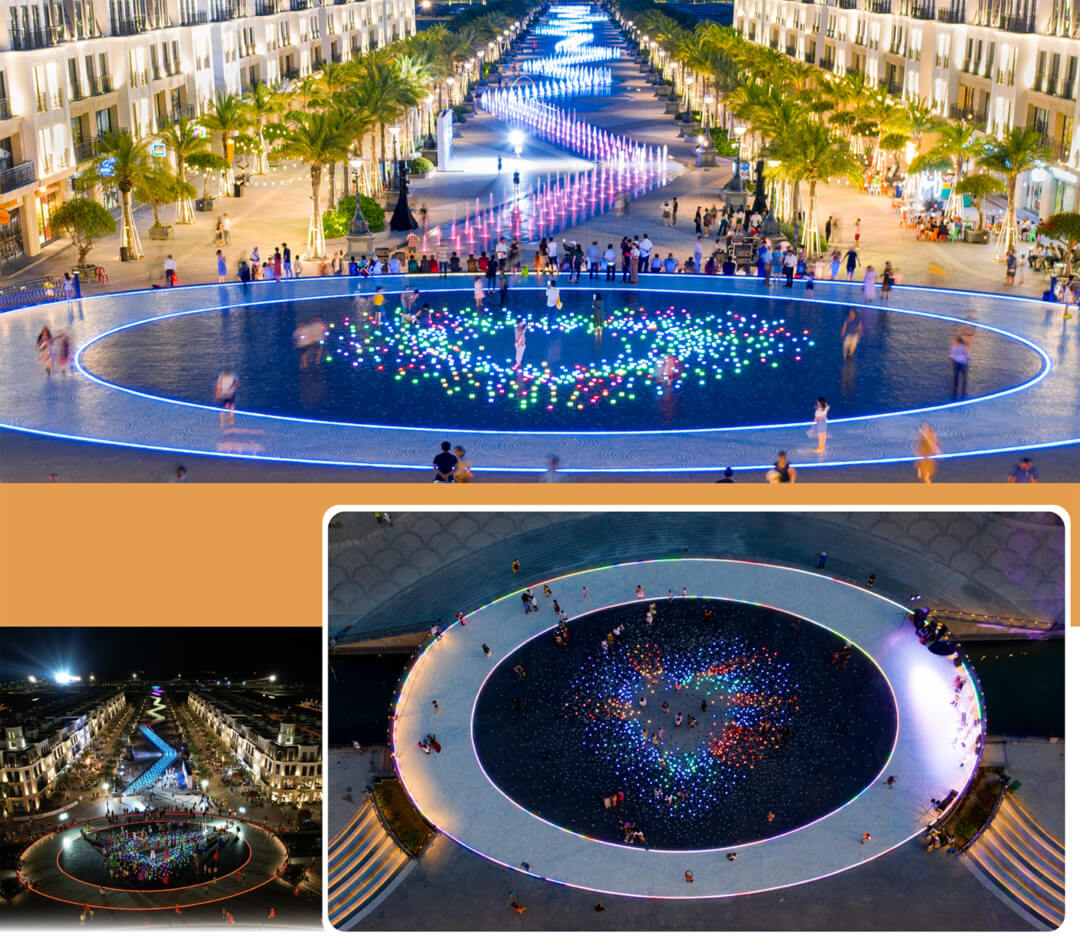 World-class amenities including a marina and 18-hole coastal golf course
MerryLand Quy Nhon's undulating marina, which stretches out to sea, invites guests to dock and enjoy an exclusive cruise as luxe as it gets.
In addition to specially designed itineraries, the premium traveler experience on board the superyacht will be serviced to the highest standards 24/7. The hotel offers guests the opportunity to enjoy vintage wine, listen to music by talented artists, and indulge themselves while watching the sea, in addition to dancing, stage performances and different kinds of entertainment.
The exclusive experience continues at MerryLand Golf Club, a world-class 18-hole coastal golf course designed by Greg Norman. Featuring over 7,200 yards, 18 holes and a variety of tees, MerryLand Golf Club can be served as a championship course. This 72-par golf course also offers stunning views about Mai Huong Bay seen from a gentle hillside.
Featuring diverse hole designs, unique terrain to isolate tees, and unique traps throughout winding fairways and manicured greens, MerryLand Golf Club provides golfers with memorable challenges, which are the hallmarks of Greg Norman's designs.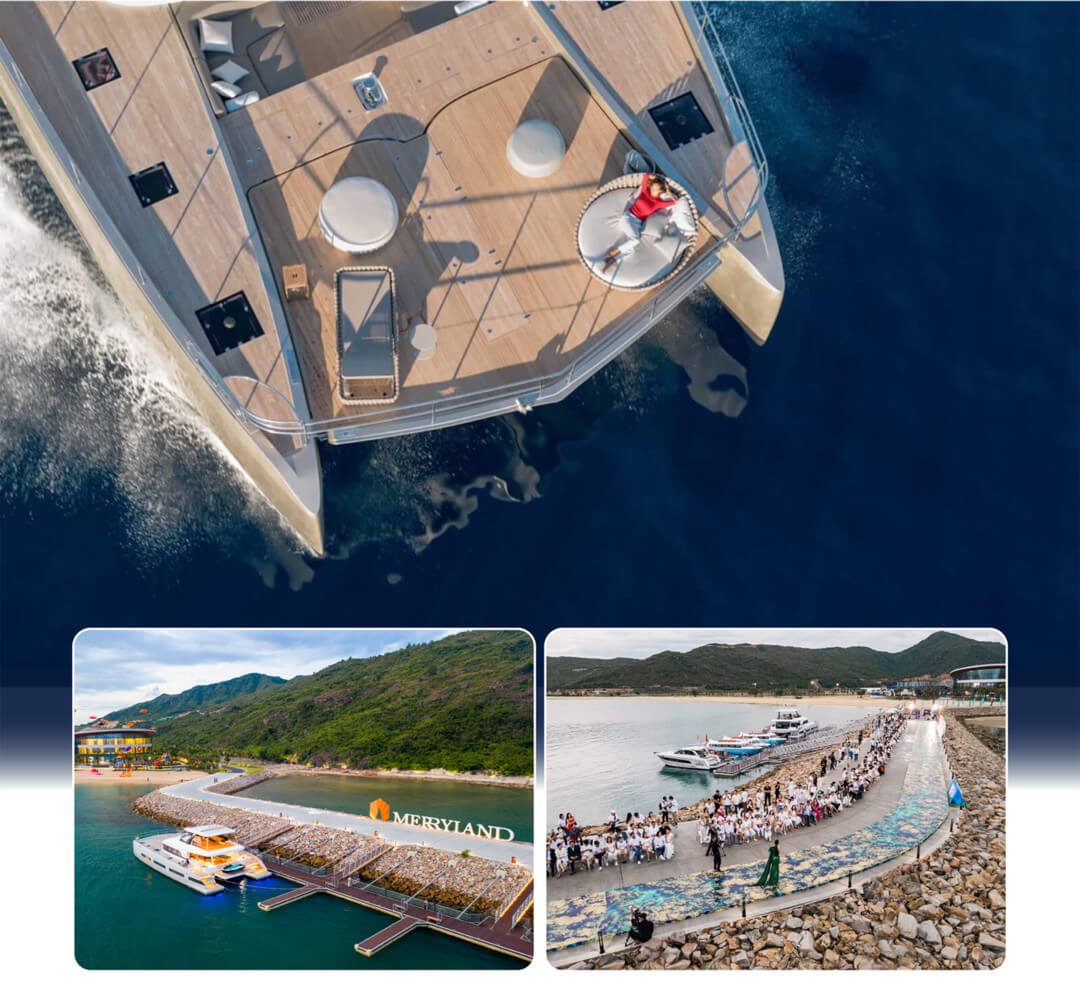 Destination of super events
MerryLand Quy Nhon just registered a record 15,000 spectators on the night of the Miss World Vietnam 2022 finals. Before that, a series of interesting activities took place in the "Peninsular City" for almost 30 days in a row, namely Sport Beauty, which became an impressive venue for the Vietnam Beauty Fashion Fest fashion show and the lively Sea Beauty festival, which was attended by nearly 7,000 people. Moreover, more than 3,000 people attended the Family Run event on April 30.
There have been a number of exciting events that have attracted tens of thousands of participants at MerryLand Quy Nhon, proving the place is becoming a gathering place for national and international events of all kinds. In addition, it plays a major role in repositioning coastal cities in Asian tourism market.
In the future, MerryLand Quy Nhon will also offer several other attractions, including a Water Park for children and families, a Botanical Garden with a natural viewing area, and an Adventure Park with various exciting adventure playgrounds.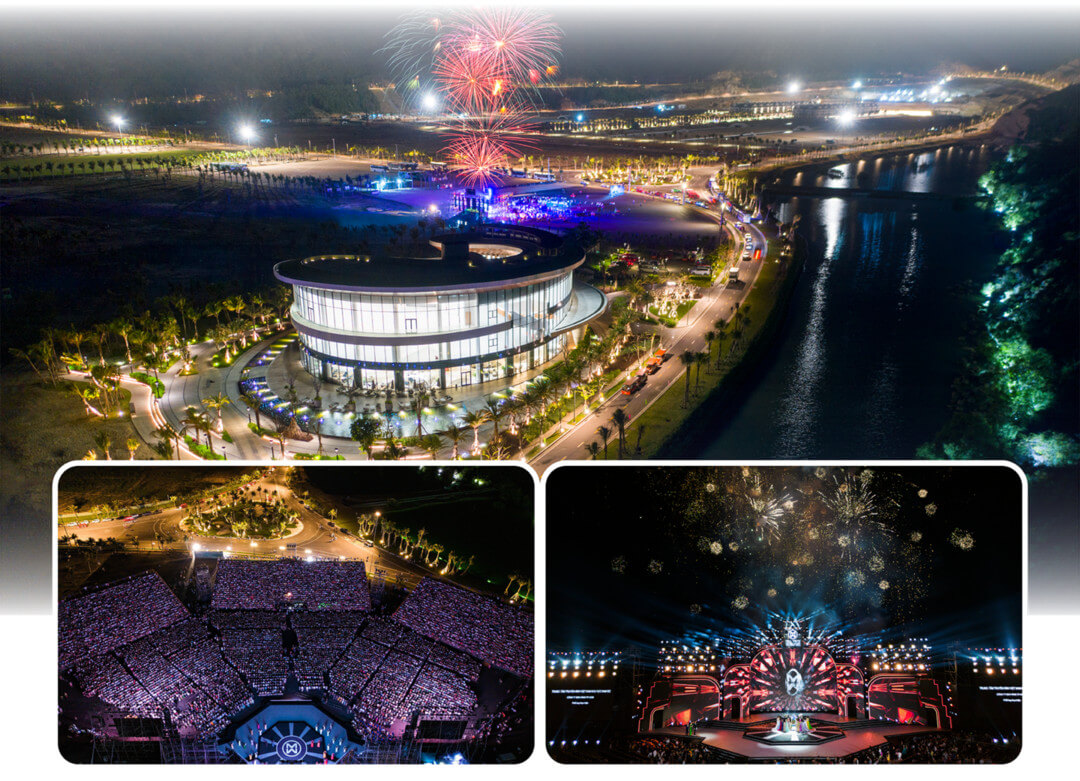 The perfect place to stay for travelers from around the world
The investor MerryLand Quy Nhon adapts and meets all the accommodation needs of global travelers, from high-end to ultra-high-end, in addition to creating entertainment destinations-experiences according to global travel trends.
A world-leading collection of YOO Inspired by Starck Art Villas is available in the Hollywood Hills Subdivision, personally realized by Philippe Starck. At an altitude of 40-100 meters above sea level, the collection of luxury art villas in the Hollywood Hills offers colorful views: to the south highlights the beautiful turquoise blue of the bay, which perfectly complements the skyline, toward the north stretches the emerald green of the golf course, to the west runs the gamut of color in the architecture of biz houses with the focus of brilliantly iconic tower, in the east is painted silver in the peace of the fishing town of Nhon Ly.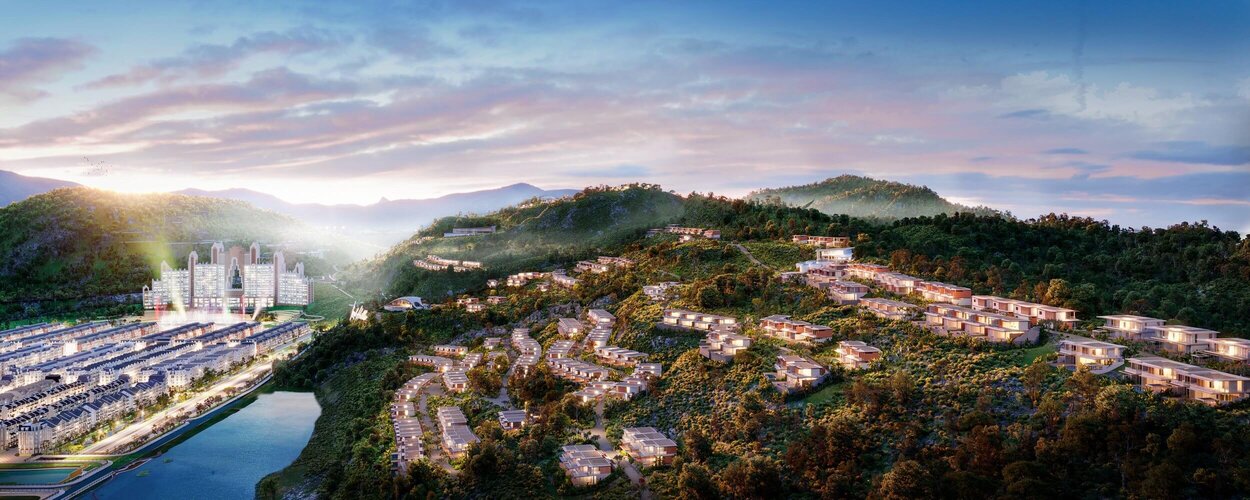 Marriott, among many other international partners, will soon complete a number of other resorts in this area. A number of international standard holiday apartments are also being developed in Quy Nhon, compensating for the lack of hotel infrastructure in the city.
In addition to a series of modern and unique facilities, MerryLand Quy Nhon mega destination promises a colorful and endless journey of discovery and relaxation.
And you, are you ready to come to MerryLand Quy Nhon?