Agrisolar, or agrivoltaics, is opening the door to sustainable development and renewable energy production worldwide. International studies show that the symbiotic relationship between renewable energy and agricultural production can help improve water, energy and food security.
Clean electricity from agriculture – referred to as agrivoltaics by some Vietnamese experts and enterprises – brings about higher economic, social and environmental benefits than pure electricity generation.
High energy potential from farmland
Agrisolar or agrivoltaics has been studied and tested in the world since the 1980s. International studies assert that the optimum benefit of agrisolar is extra income for farmers: selling power to the grid. However, the "secondary source of income" from the field in terms of crop or husbandry productivity can be reduced.
In February 2019, the Green Innovation and Development Center, or GreenID, released a report titled "Dual-use approaches for solar energy and food production: international experience and potentials for Vietnam". Studies by local and international experts in the report clarified conflicts between agricultural production and power generation in Vietnam.
Studies in Can Tho City, according to the report, showed that there were nine farming sub-sectors suitable for agrivoltaic development, comprising paddy, corn, soybean, sesame, vegetable, cassava, cattle/poultry, fish and shrimp.
Estimates showed that in the next five to eight years, electricity from purely solar-power plants could meet 40% to 70% of power demand in Can Tho. If agrisolar is developed on the paddy field, the output of clean energy would be five to seven times higher than the city's demand. Developing agrisolar in Can Tho could help reduce greenhouse gas emissions by 8-13 million tons a year.
The total area under corn, potato, cassava and fishery farming in Vietnam is put at 3.8 million hectares. Suppose that the area is converted for agrisolar, and with a technical efficiency ratio of 10%, there will be an extra output of 12.5 gigawatts, or an additional electricity production of 16,000 GWh a year, which is equal to 8% of Vietnam's power demand in 2017, according to the Vietnam Institute of Energy.
If agrisolar is developed on 7.7 million hectares of paddy, and also with a technical efficiency ratio of 10%, power generation would be 32,000 GWh, equivalent to 15% of the nation's power demand in 2018-2019. And if the model is applied on all farmland, the rate could be 25% of power demand.
However, the GreenID report also pointed out many challenges. The biggest problems were how to develop a capable transmission system and how to find models to test the suitability of crop and husbandry farming under the diverse ecological systems of localities.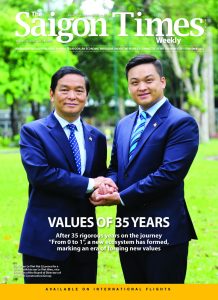 Some initial agrisolar models
Agrisolar systems offer multiple benefits. In an agrisolar system, plants are grown beneath airier solar panels than plastic greenhouses, said Prof. Duong Van Chin, former chair of Dinh Thanh Agricultural Research Center (of Loc Troi Group). Agri-machines can still work beneath the panels. Water evaporation from the surface and the plant help reduce temperatures of solar panels, thus making them more productive in terms of power generation.
Dr. Nguyen Quoc Khanh from GreenID estimated that if all the country's farmland is converted to agrisolar, then the agricultural output will be reduced by 10%, but the energy output created will be 386 GW, or some 550 billion kWh a year.
Three years since the GreenID report, some agrisolar models have yielded initial results, such as the mushroom farm under solar panels in Tien Giang Province, or the earthworm farm in Ninh Thuan. Dr. Nguyen Thanh My, CEO of Rynan Technologies, even invented the three-layer agrisolar model: a layer for shrimp farming, a layer of solar panels, and a layer of shrimp processing in between.
In An Giang Province, there are two dozen farms using solar power to operate watering and fertilizing systems inside plastic greenhouses. These models help save 50-60% of labor, and cut use of fertilizer and insecticide by 30% while productivity increases by 20-30%.
While many Vietnamese enterprises use solar power for irrigation, Rang Dong and Dien Quang have introduced solutions to use LED lamps – charged with solar power during the daytime – to help stimulate dragon fruit plants at night to boost productivity.
Bottlenecks for solar power
The conflict between shrinking farmland and rising power generation is being addressed in many countries. In Vietnam, that conflict seems to be bigger when taking into account bottlenecks regarding law, infrastructure and power price.
Regarding the legal bottleneck, Dr. Tran Huu Hiep, an advisor to a partnership on sustainable energy transition in the Mekong Delta, said overlapping regulations have resulted in the inconsistent implementation of preferential policies for solar power. Resolution 55/TU offers "incentives for the generation of rooftop or over-the-water solar power", but documents guiding its implementation have limited the objects to "house-roof solar power" or "rooftop solar power" only. Because of the word "house" contained therein, solar panels on supporting frames, often seen in the farm, are excluded.
Solar power schemes at schools or factories are rejected, especially when such schemes are not associated with farming and fish rearing. For solar power schemes over water surface (for fish cultivation) or farmland, dual-use investments by farms are more difficult to realize.
The project appraisal fee, sometimes at VND300-500 million, discourages investors, many of whom have sought to avoid zoning restrictions when opting for smaller-scale schemes below 1MW. Regulations on land and land use purposes have no provisions on using farmland or fish-farming areas for power generation.
The next problem is the overload of the power grid in the face of fast rooftop solar power development.
Finally, the power price remains a big issue, more so for power from farms. Only rooftop solar power from private houses can be sold at a high price to EVN. But if a solar power project is lucky enough to find a buyer, the settlement is another big problem. A fortnight ago, some 2,100 owners of rooftop power schemes selling power to Dong Nai Power Company sent a class-action petition, complaining they have not been paid for the power sold to the company since March 2022. Dong Nai said that of more than 5,900 solar power project owners who have signed contracts to sell power to the State utility company, only 3,800 projects have completed paperwork to get paid.
The call for help comes not only from farms in Dong Nai.