A press conference on the national final round and a signing ceremony for the venue of the Miss World Vietnam 2023 took place at the five-star hotel Pullman Saigon Centre on May 29, 2023. The organizing committee of Miss World Vietnam announced their decision on selecting MerryLand Quy Nhon as a venue for Miss World Vietnam 2023. After the success of Miss World Vietnam 2022, the peninsula city MerryLand Quy Nhon once again wins the trust of the organizing committee to become a venue where the final round of the most prestigous beauty contest will be held.
As a national beauty contest held periodically with an aim to look for and honor talented beautiful girls who have positive influence on the public, besides honoring the appearance, beauty, confidence, bravery, and intellect of the contestants, Miss World Vietnam also appreciates their enthusiasm in charity work and contributions to the community.
In 2022, Binh Dinh Province held for the first time the final round of Miss World Vietnam. After thorough consideration, the location which was selected by the organizing committee was the world-class commercial and tourism peninsula city MerryLand Quy Nhon. At this location, for the first time, local residents and tourists coming to Quy Nhon City were able to witness, experience special activities, programs and shows of a national-scale beauty contest. Especially, on the final-round night, with a stadium of over 15,000 seats, the musical dancing fountain with colorful lights, MerryLand Quy Nhon became more splendid, giving pride to the organizing committee, local residents and visitors to this beautiful coastal city of Quy Nhon.
The great success of Miss World Vietnam 2022 is the reason for Binh Dinh Province to host Miss World Vietnam for the second time. The organizing committee right after that selected MerryLand Quy Nhon as a venue for Miss World Vietnam 2023 due to its advantages in location, well-developed infrastructure, international standard landscape, and a stadium able to seat tens of thousands of people. MerryLand Quy Nhon is the most ideal place to organize a national scale event like Miss World Vietnam. This proves the attractiveness, capacity and scale of MerryLand Quy Nhon project.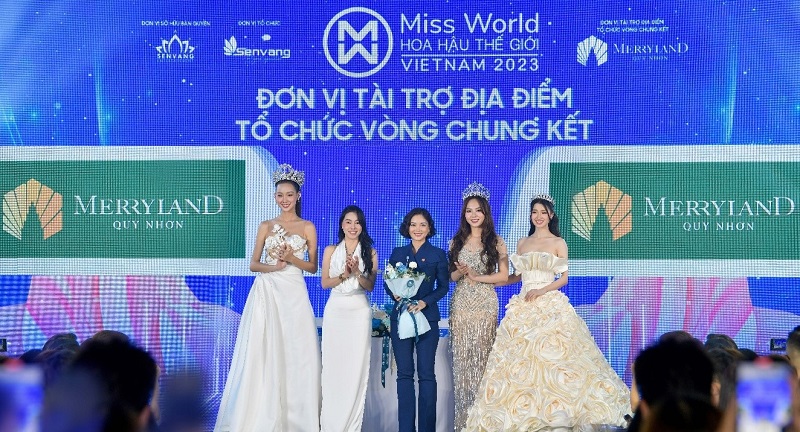 Miss World Vietnam 2023 to be held at the world-class commercial and tourism peninsula city MerryLand Quy Nhon promises contributing to promoting local tourism. This is a good opportunity for Quy Nhon to further promote its culture, beauty, modernity and friendliness of a coastal city to domestic and international guests. Each contestant and guest participating in the final round of Miss World Vietnam 2023 will be an amazing ambassador for this locality, helping to realize Quy Nhon's desire to become Asia's leading tourist destination by 2030.
Being selected as a venue for organizing the final round of Miss World Vietnam in two consecutive years, MerryLand Quy Nhon has proved its position as an outstanding peninsula city in its journey to become a new destination with a rich diversity of accommodation services, resorts, entertainment, food, investment and business development, and as an ideal venue for organizing national and international cultural events.
Becoming a sponsor for location of the final round of Miss World Vietnam 2023, the developer of MerryLand Quy Nhon, Hung Thinh Corporation, shows its willingness to accompany many special entertainment and cultural programs, bringing attractive events to Quy Nhon – Binh Dinh, launching different types of entertainment to local residents, and luring guests to the coastal city. In so doing, Hung Thinh Corporation will contribute to the economic growth of the province and improving local residents' living standards. This is the vision and mission that Hung Thinh Corporation has persistently pursued over the past 21 years.
General information about MerryLand Quy Nhon
Located on Hai Giang peninsula, Quy Nhon City – MerryLand Quy Nhon is the world-class commercial and tourism peninsula city covering nearly 1,000 hectares of land. The project offers a wide range of products such as condotel, shophouse, bizhouse, resort villa, hotel together with a modern utility system, namely the musical dancing fountain, world-class golf courses, amusement park, and a large-scale function complex.